October 25, 2021
Canva Next Level: Become a Canva Expert Review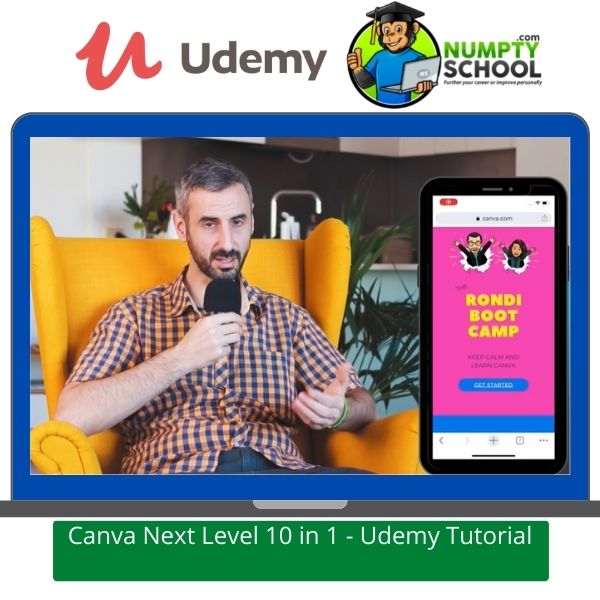 A detailed 10 in 1 course to take your visual communication skills a notch higher and make greater impacts this year through Canva.
Description of the Course
Are you running your own business, cultivating your brand, or want to start doing it as a money-making venture? Whichever the case, here is a great place to start.
I know how much you'd like to make an impact this year onwards. But where to begin from is daunting because the available resources are few and very shallow.
Sigh! Detailed courses like this one by Diana and Ronny are what you need. It might not have tens and thousands of enrolments but the reviews are wholesome. Currently, it is rated at 4.6 stars with 2,500+ students enrolled.
I am not shocked by the figures because very few people know about Canva and among them, even a smaller number is willing to increase their knowledge. Be among them today and change the look of your brand.
This is a 12-hour on-demand course with step-by-step tutorials on how to scale from beginner to pro level. I love that the course is updated from time to time to ensure it remains relevant with the latest version of the platform.
Once enrolled, you enjoy full access to the course and can check it out at any time to see what is new. There are tasks and projects to attempt. This should help you measure your progress and see if there are sections that need more attention.
There is a 30-days money-back guarantee in case you are dissatisfied with the course. But, I doubt if this will happen. The reviews have spoken so much praise and having taken the course, will 100% recommend it to anyone interested in knowing how Canva works.


Course Overview and Content
You might have heard or read this elsewhere but Canva remains and vital tool if you want to grow. It is great for growing your business and career. Even non-profit organizations value it.
I run several websites and manage a few pages and I use Canva often. It has been a commendable turning point in my professional life and that of many people.
Some users have reported tripling their online income from using this platform. You will be taught by experienced instructors.
Diana is a creative certified by Canva while Ronny is Canva's head of communities. This duo being within the platform's management has vast experience on the topic.
This is an advanced course that covers ten minor courses to help you improve the visual identity of your brand and that of others. This should make you more successful overall whether you are doing web design, business proposals, corporate presentations, videos, social media, or anything else.
Upon enrolling, you will learn vital elements of the design theory. There are hands-on practical examples that you can relate to the real-time world and execute in your projects.
The two share tips and tricks that work around the Canva platform. They also share their experiences to help you understand how to use the program and the dos and don'ts.
---
Here are a few things talked about in the 10 in 1 course:
1 Building Quick and Easy Websites using Canva

This is the first mini-course that explains how to build a website using Canva. It is easy to design and build a simple landing page or a website to help you in promoting any business or new projects you want to launch.
---
2 Using Canva to create Zoom Backgrounds

Here, you learn how to use Canva to create video and still backgrounds you will use on zoom. It is an interesting method of adding fun to your conversations.
---
3 Creating and using your Bitmoji using Canva

The course explains step-by-step how to build your Bitmoji and learn how to connect it with the program. You will enjoy designing using the cartoon characters you choose. This offers a newer set of visuals for developing your brand.
---
4 Using Canva to create Animated Stories of Instagram and Facebook

The instructors show you how to design a four-page story as they promote a certain offer they have for their business. They use an animated story and they use moving elements from the Canva program to add movement to their design.
---
5 Creating Irresistible YouTube Thumbnails using Canva

Your thumbnails need to attract viewers who will take action. That is what this course talks about. You want to give a perfect reason for anyone to click on your YouTube video and watch everything to the end including the ads.
---
6 Creating Killer Resumes using Canva

If you have ever wondered why your resumes are bland and not appealing even to you, you could be using the wrong tools. This course shows how you can use Canva to design a punchy resume that stands out from the others.
Do you want to get noticed ASAP? Use Canva. The instructors share the latest trends in CV writing and design and how you can create yours on Canva.
In the course, you can see Ronny's true CV as a sample as he explains how he created it. This is a hands-on course like the others in the detailed course and you should have a ready-to-use resume after this section.
---
7 Shooting Professional Photos without needing a Professional Studio

There is a comparison to note here as the instructors will be taking photos using two different phones. One will be a high-end option and the other an older one. Both of them are Android devices but can work with iOS.
You will see how to use Canva for desktops or computers. If you'd like to follow along, here is another practical session. The course covers the entire process from preparing a home photoshoot session to processing all the material.
You don't need advanced photography knowledge. Only the basics and you can use the practical tips they give to complete the task in this course.
Watch how they replicate the advertising poster professionally. This is based on product photos and portraits takes from home.
---
8 Creating Animated Social Media Posts using Canva

As a practical course, there will be creating process here as well. This course shows you can create two animated posts using Canva that you can use on Instagram and Facebook.
You can use them for promoting e-commerce services or products. The course explains the key elements of Canva and teaches you how to create striking moving designs.
The instructors are generous enough to share some tricks that work-those you wouldn't be told by random YouTubers and instructors.
---
9 Creating Beautiful Mockups using Canva

You might be new to Canva and not understand what mockups are and their functions. Well, that's fine as you will learn everything here.
There is a practical tutorial on how you can bring services, designs, or products to real life. This helps your client to quickly notice the potential you have. They will show how much you are needed to improve their brand or business.
---
10 Using Canva to create convincing Proposals

If you have just started your journey, you will learn how to turn many prospects into clients. The two work for a non-profit organization and have their online courses business.
They have their real-time professional and personal experiences that they share. This course teaches you how to make brilliant, irresistible, and punchy proposals.
Your clients will quickly understand your importance and know that you match what they are looking for.
You need a little bit of dedication and effort to work everything out. If you are afraid of bulky theoretical courses, this isn't one of them. This one is more practical and isn't boring.
If you need to learn the skill urgently, this can be completed in a day or less. But if you are on a fixed schedule, take it at your pace.
---
Who is this Course for?
Anyone who wants to learn Canva and understand how it works
Those interested in improving their design skills
Anyone who wants to grow with Canva
Novices who want to improve their skills to pro-level
Entrepreneurs
YouTubers
Social media influencers
Business owners
Unemployed buddies looking for jobs
Self-employed people
Social media managers
Content creators
Bloggers
---
What you will learn
Mastering Canva and cutting your section in the design space both online and offline
Getting more clients and finding jobs using Canva
Designing awesome animated stories for Facebook and Instagram
Building striking landing pages and websites with ease
Shooting professional photos even if you don't have a studio
Designing irresistible thumbnails for videos
Designing convincing business proposals
Boosting your brand's awareness and business growth using Canva
Standing out on social media platforms using animated stories and creative posts
Creating your Bitmojis and designing using them
Putting together killer resumes
Creating animated social media posts
Using stunning mockups to bring any design to life
Creating unique backgrounds to use for zoom calls
---
Lessons
Building landing pages using Canva
Using Canva to create zoom backgrounds
Creating and using Bitmojis with Canva
Creating animated stories for Instagram and Facebook using Canva
Designing irresistible YouTube thumbnails using Canva
Write killer resumes using Canva
Shooting professional photos minus a professional studio
Creating animated social media posts using Canva
Smart mockups using Canva
Creating convincing business proposals using Canva
---
Course Requirements
Willingness to learn and practice
A free version of Canva but if you are already subscribed that's fine.
Basic knowledge of the program but not mandatory
---
FAQ's – Questions about Canva Next Level: Become a Canva Expert Course
Q) The course requires basic knowledge on how to use Canva. What level of learners should enroll?
A) This course is for learners of all levels of skill. Knowledge of Canva is a bonus but not a must as the course is geared towards beginners.
Q) Does the video have captions for people who love to read along unheard sections?
A) Sure, this has captions if that is a consideration for you.
Q) Do I get a certificate once I complete the course?
A) Yes, there is an Udemy certificate that you can download to show that you have completed the entire course. Add it to your portfolio as it could be helpful when looking for jobs.
Q) Is this an updated course or does it just give an overview of how the platform works?
A) This is an updated course. You can check on the notes section to see new highlights from Ronny and Dianna on added templates and features. A recent one was made in June.
---
Conclusion
From boosting followers on social media to creating brand identities, good designs are vital and this remains a fact in the competitive and ever-changing world. Thanks to this course, you will not stare at blank canvases anymore awaiting inspiration.
This is the best place to start to grow your skill, job, or career. After enrolling in this course, your confidence to kick-start projects is built and it will never be a daunting prospect again.
The instructors here are generous enough to share their tricks, hacks, and tips to help you maneuver the platform with ease. After completing this course you should be able to create clever, clean, and very meaningful designs that sell.
But, there is always some homework to see if the student is catching up well with the lessons. Attempt the assignments and share them with the instructors. This is one of the best ways to learn your areas of improvement.
Of course, everyone wants their designs to be the best. In fact, perfect! But, before reaching this point, there will be mistakes and this is natural. For you to offer fresh and new ideas to anyone, accepting mistakes and learning from rejections is important.
It isn't too late to dump your brand in the bin yet. Enroll now and let Canva change your brand's identity.
---
What Students are saying about the Course
I have learned so much from this course than I did in my graphics and design course in college.
You should see how popping my YouTube thumbnails are. This course has improved how fast viewers watch my content.
The tricks in different sections are my take-homes. No one is as generous as these guys.