March 9, 2022
The Advanced Guide to Design Social Media Graphics With Canva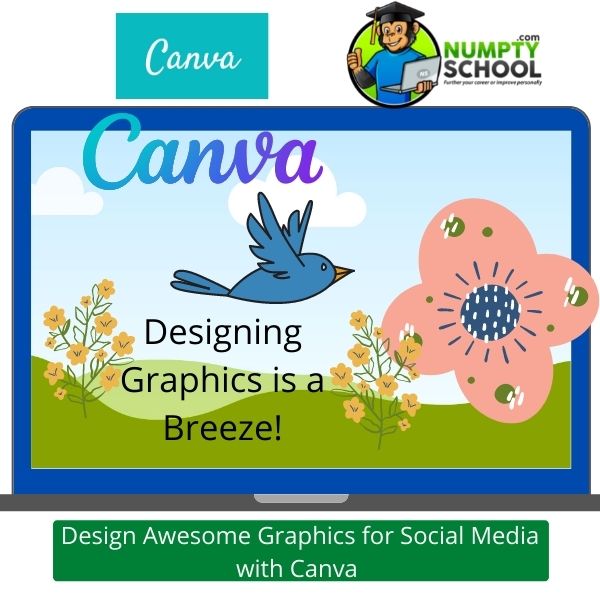 Learn the fundamentals of graphic design and the best way to use them to design great ones for social media.
---
Description of the Course on Udemy
---
Do you need a simpler yet quicker way of creating punchy graphics?
Learning how to use Canva should be on your mind.
But when the internet is flooded with resources and it is almost impossible to choose the best from the rest, Udemy helps.
Yes. Here, you find great courses like these that have been rated and reviewed by other students.
The statistics should help you quickly gauge if it is the right course for you.
This one on Canva is rated at 4.3 stars which is way above average. Over 1800 students have enrolled with a good number leaving reviews.
It is instructed by Kevin, an instructional technologist who specializes in social media, video editing, graphic design, and more.
For freshers, it can be daunting to understand course concepts that need practical work without putting in the work.
This is different here. As a fully practical course, you will be hands-on almost all the time.
It is a design class and not a literature type full of theory.
Also, I love that Kevin keeps it to the simplest level with his explanations and terms.
Jargon scares me and I know this is the case with most people.
The delivery of the course is on another level. Indeed, he targets beginners and wouldn't want you to quit halfway because of terminologies that are difficult to pronounce and explain.
Not all browser-based or application design tools are easy to use.
He focuses on Canva to teach designers and non-designers how to create attractive images.
Luckily, there is a handy application you can use on your smartphone when on the move.
He explains the benefits of using Canva over other graphic design tools first.
I love that the course is procedural and isn't haphazardly delivered.
Basically, it goes from one step to another and the flow is great.
There is much about social media templates that any curious user will find helpful.
We are in a period where images and graphics speak louder than text.
Readers, buyers, or viewers' attention will first be grabbed by the design of your photos and graphics.
So, designing striking ones and adding the best descriptions, captions, and text to them will be the best thing to do.
Beginners need a place to start from before they can independently work on their graphics.
The instructor shows how to use the designer types of templates to help you kick-start your journey.
With more practice as you build on your skill and experience, you can design your graphics from scratch.
There are so many shapes and size options on the program that a novice needs to familiarize themselves with before they can work on templates.
Kevin is patient to explain the commonest and most important one for starters.
Sometimes, when your creativity is low or you need to come up with a design quickly, he shows how you can access stock images at a small fee.
He shares a few tips and tricks on how to use free stuff to make your own designs.
The duration of a course doesn't determine its quality.
Until you enrol and watch the tutorials, then you can know if it was a gem or a waste of resources.
This one takes 6.5 hours to complete. It is a very short time to cover the basics compared to walking into an institution to learn the same. And, it is cheap too.
You will plan on how often to work on the sections until completion.
That is the flexibility of taking online courses. Once done, Udemy avails a certificate for you to download.
The certificate is digital but you can print it if you wish. This is proof that you are knowledgeable about the topic.
Add it to your CV or portfolio. You never know, it could help you land clients in the future.
Kevin updates the course from time to time. He wants you to learn with the current version of Canva and get the best out of the course and program.
Once you enrol, you have lifetime access to this course and can keep checking for any omissions and additions.
Also, there is a 30-days money-back guarantee in case you are dissatisfied with the course.
If you find it helpful already, enrol and learn how to use Canva to better your social media photos and graphics.
---

---
Course Content and Overview
---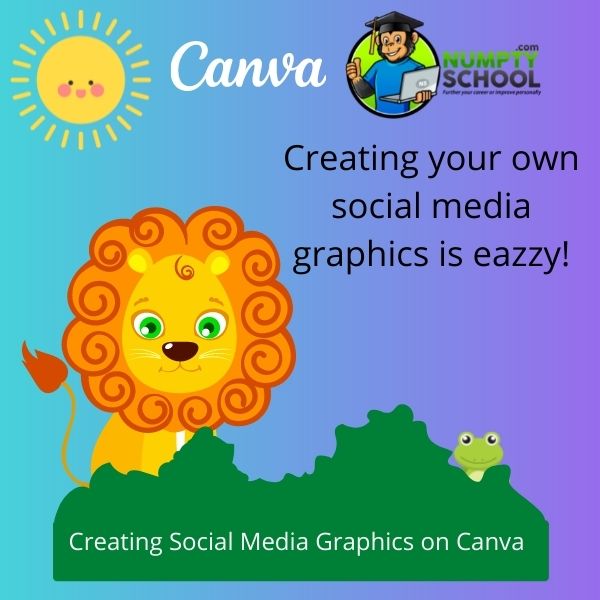 Do you have the vision but don't know how to execute it? Canva is here to save you from the stress and bring your visions to life.
Kevin through the course, helps you turn your imagination into a completed design in the shortest time possible.#
The step-by-step tutorials are great for both novices and amateurs who want to improve their skills.
The course explains how to your Canva templates as shortcuts for good designs. You will learn how to customize them to your liking.
There is more on altering images and colours to your preference. Regardless of the design need, there are thousands of templates that you can't exhaust.
These are for starters and when you need something quick done.
On some days, you will feel a dire urge to create a custom-made design from scratch.
No template, no shortcut! You want to do this and ensure it looks awesome.
The instructor shares how to go about self-customization. You will learn some quick tips and tricks to make the designs punchy.
I didn't know that sketching rough outlines of your designs on paper is helpful even when using programs like Canva.
The sketches might be imperfect but they give a direction on what to do and how the design should be like. Of course, better than the sketch!
Whether you want to create professional graphics for social media or memes to keep the humour, this course will help you get started.
It is difficult to combine information from different places like YouTube and Google.
Most people end up being confused. Either there is too much jargon in the content, the resources are shallow, or most are outdated.
There is no need to hire graphic designers who charge expensively to work on your tasks. Yes, they might do it perfectly but you will cough a lot.
Investing your time in a great course like this will save you a lot of money.
Also, it helps you improve your creativity and express yourself through graphics.
This could be a thing you do to pass time or create a hustle out of it. With time, it could be your sole source of income.
As a graphic designer, you are a content creator too and you need to be constantly creating content.
You can spend hours editing videos but until you design an eye-catching thumbnail, then you aren't done yet.
Slapping something together will not help. The results will not look professional.
The class comes in handy in such situations. Being a free tool, the costs to incur from start to finish are few.
The most important thing is to learn how to create real-world projects.
While at it, you will be covering the basics of graphic design to help elevate your social media. Here are some fundamentals the course covers:
Hierarchy
Repetition
Line
Space
Kevin shows you how to use these fundamentals to create your dummy brand. You can apply the same when creating your own.
It isn't only about creating images. It is about creating images that will fit cohesively into the right brands.
Since the course is on Canva for social media, you will learn to use the program to create the below:
Logos
Facebook covers
Facebook posts
YouTube thumbnails
YouTube channel arts
Twitter headers
Twitter posts
Blog title images
Infographics
Google+ photos
Pinterest graphics
LinkedIn images
If you have been procrastinating, this is the time to learn how to make eye-catching graphics for social media.
You will be surprised how it elevates your brand.
---
Who is the Course for?
---
Social media influencers
Novice graphic designers
Social media users who want to learn how to make graphics
Small businesses
Corporations
Brands
Anyone who wants to design more professional graphics for social media
---
What you will learn
---
The basic principles and fundamentals of graphic design to help you create awesome social media images.
How to create fantastic graphics to help your brand stand out and set you apart from the competition.
How to design images for social media using the principles you have learned. They cut across all social media networks.
How to get more likes, clicks, and conversions to a site, blog, or social media account using professional design basics.
---
Lessons
---
Introduction
Tools of trade
The principles of graphic design
Basic elements of graphics and design
Canva
Logo
Facebook profile cover images
Facebook inspirational quote posts
Instagram posts
YouTube channel art
YouTube thumbnail
Twitter header
Twitter post
Blog title images
Pinterest
Google+ images
EBook covers
Infographics
Twitch TV
LinkedIn
Stock image resources
Free font resources
YouTube template file
---
Course Requirements
---
A computer with an internet connection
Willingness to learn and practice
---
FAQs – Questions about the Design Awesome Graphics for Social Media with Canva Course
---
Q) If using my smartphone, do I need to access Canva via the web?
A) There is a mobile application of the software that you can download and use. It works the same as the web-based version for computers and should help you meet your design creation needs.
Q) Do I need to sign in to Canva before using it?
A) You need to create an account and sign in to use the program. The process is simple as there are no onboarding steps.
Q) Does Canva support other languages?
A) Yes. Canva will use your browser language. This will help it determine the language the program will display. There are no limitations to who can use it.
Q) Does this course show how to use Canva for my presentations and marketing?
A) No. This one focuses on social media only. Although, Canva is diverse and can help you with almost anything that needs graphic design input. There are separate courses on marketing and presentations that you can check on our site.
Q) Can I sign up for the Pro package even if I am a beginner?
A) Yes. If you have plans of collaborating and growing your business, the pro version will help too. There is more on brand management, social scheduling, and team templates among others.
---
Conclusion
---
Social media has grown rapidly over the past few hours.
Unlike when the networks were for social interaction, nowadays, you can network, market, and sell on these platforms.
As networks that hugely depend on images and graphics, there is the need to improve our outcomes.
It is easier with great courses like this. Whether you want to learn this for personal use or business, the course will help.
It is a detailed one with step-by-step tutorials. You can watch over the instructor's shoulder and attempt everything later.
Or, work along with him. Also, it doesn't end at the conclusion.
There is still much that needs to be done. You need tons of practice and patience. U
sing Canva needs creativity. Even though there are templates to use and wrap up something quickly, some need your creativity from scratch.
Since the free version is available, you will spend almost nothing unless you want to source for stock images to use. These don't cost much though.
It is time you change how your social media images and videos look if you want more clicks and conversions.
---
What Students are saying about the Course
---
Kevin is humorous and while learning, you'll have fun too. Forget the boring courses that can lull you to sleep in the first session.
Not knowing anything about graphics design but in dire need of improving posters for my new store, this came in handy.
This course has helped me start my side-hustle. I now create logos for brands who need a great visual representation of their businesses.
---

---