April 24, 2021
Social Media Graphic Design for Beginners Review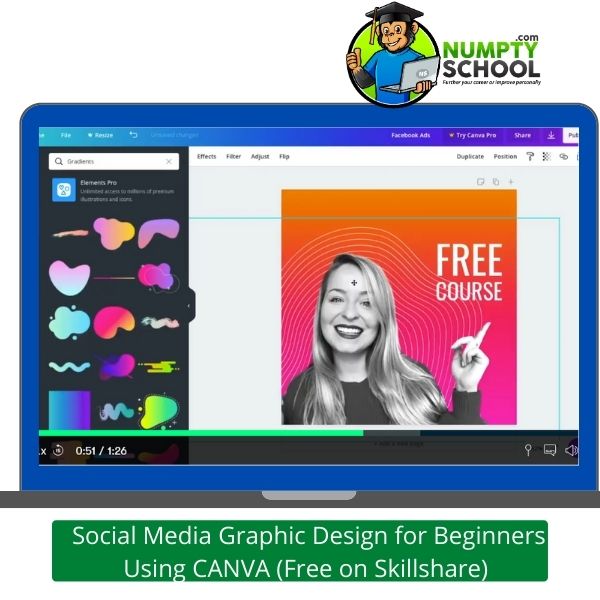 (A Free Course on Skillshare)
A free graphic design course for novices that can transform you into a professional designer.
You don't have to own and use expensive software.
Learn how to use free tools with lessons from a popular online digital marketing strategist.
Description of Social Media Graphic Design for Beginners
What's the secret to being a Canva guru?
The secret is taking on an exclusive course that can help you sharpen your design skills.
You can do it!
It might be mostly recommended for novices who need to learn graphic design from scratch.
But,
experts too can drop by to pick a few tips and tricks that could help.
So far, over 1,200 students have taken the course with the majority highly recommending it.
There is one project to work on to certify your skills after the course.
Maggie uploads a 4-paged workbook as the only learning resource.
The good news is that it is downloadable and can be used for future reference.
While some punchy graphics you see online are created using costly software, others are from free online tools.
We all love an exciting class.
That's it with this course!
It is packed with important lessons that can teach you how to design and create your graphics from scratch.
For anyone who wants to convert their online presence and time into something profitable, they won't regret it.
Do you love the convenience of some online courses?
This one makes you learn at your pace.
If it is a priority, deal with it first.
If it isn't, take it during your free time.
Maggie is generous enough to include her customized yet downloadable templates that are mobile-friendly.
For now,
what are available will suit the 2020 specifications.
Whether you create a graphic on PC or mobile, it will still look awesome.

---
Who the Course is for?
Here is a good deal if you are a novice who wants to learn about graphic design and are on a budget or prefer free courses.
It has been highly recommended.
If you are a social media marketer and are looking to be more professional in your graphics, this is what you need.
Amateur graphic designers who want to learn a few tricks and tips to advance their skills will find it useful.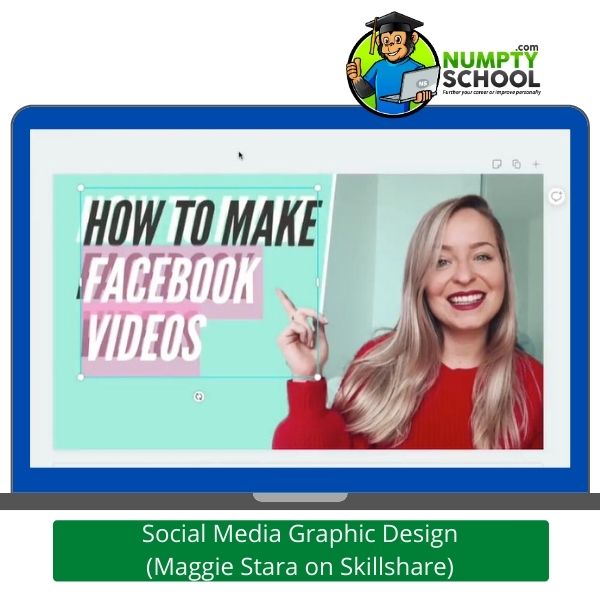 ---
Contents of the Course
Maggie introduces you to the basics of graphic design and how to use Canva at no cost.
Canva is one of the most popular online design studios that you can use for free.
It has a Pro version for designers who want more images and tools.
Not everything FREE is garbage.
The free version of Canva has proven this as you can create catchy images for business or personal use.
If you used the program a few years back, you must have noticed hitches here and there.
However, this changed for the better after a few upgrades to make the site more user-friendly.
Here's a fact: it takes some time to learn how to use Canva especially with no training or prior knowledge.
But,
with this course at hand, the burden is eased.
The instructor explains the use of every tool and how to use each.
With the pre-customized templates, you can choose any that suits your needs.
However, if you are the outgoing and creative type, you will need to take a more advanced course to improve your social media presence.
Unfortunately,
                                this course is only a beginner's guide.
This course covers the basics that create a solid foundation for your confidence when using Canva.
Even if you opt for a paid course, you will still have a strong background if you take Maggie's course.
You can now start bidding goodbye to very costly graphic design services that don't match your quality and sophisticated software.
It is a short course and upon completion, you should have created a beautiful sample of a social media graphic.
You can share this graphic across all your social media accounts if you wouldn't want to make different ones for each.
You must be able to integrate the color palette of your style guide to improve brand recognition.
This is part of one of the best social medial marketing strategies as it includes a basic introduction to Canva.
You will be able to identify your social media post's canvas size, incorporate photos that are business-specific into the post then prepare them for posting.
Maggie's course helps in creating lasting impacts online for freelancers and business owners. Here are some of the things that you should achieve at the end of the course:
Understand the basics of Canva and use its graphics offline or online.
You should be able to print them with ease too.
Create inspirational quote graphics for Instagram.
Multi-post moving GIFs and images for your Insta stories.
Create Facebook cover photos, graphics, and ad Graphics.
Create board covers and Pinterest pins.
Design image cut-outs, video thumbnails, and art for your YouTube channel
Create compressed images and mockups to fasten your website.
Create business eBooks.
If you aren't fully engaged with other duties, you can take this course in under four hours. The project isn't complicated. It entails creating a free account on Canva and creating a beautiful graphic for your Insta stories. You can upload your project to the course for others to critique.
Unlike other sites that don't consider individuals of other abilities, this one does. Maggie's course has transcripts of this course introduction available for you to read through.
---
Lessons
An introduction to the course and what you should expect from it
Terminologies and the basics of creation
Colors and their psychology
Color palettes and Hex codes
Licenses and more about them
Finding free videos and images
Terminologies of design and its do's and don'ts
Facebook and Instagram overview
About Canva
Creating an Instagram story
Optimizing an Instagram story
Designing inspirational quote graphics
Creating multi-image posts
Creating catchy cover photos for Facebook
Designing impactful Facebook ads
Creating animated GIFs
YouTube and Pinterest overview
Creating pin templates
Customizing your tall pins and pin templates
Creating board covers for Pinterest
Creating image cut-outs
Creating arts for your YouTube channel
Creating thumbnails for YouTube videos
Designing YouTube end screens using a free template
An overview of extra web and business materials
Designing captivating eBooks
Learning how to resize your images and PDFs
How to use mockups
---
Requirements for the Course
A functional PC with an internet connection to access Canva, sign up, and practice to sharpen your skills.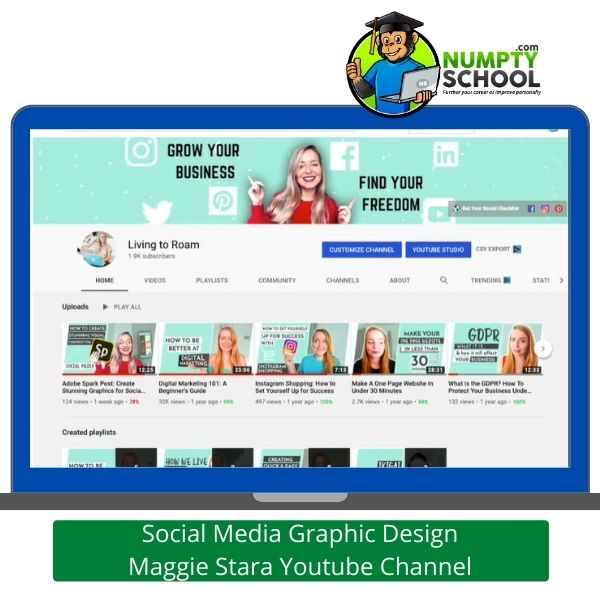 ---
FAQ's – Questions about the Social Media Graphic Design for Beginners
Q) Do I get a certificate after completing this course?
A) No, you don't get a certificate after completing the course. Udemy does but not for free courses. Skillshare is yet to offer certificates to students who have completed the course.
However, a good way to confirm that you have is by attempting the projects.
The site also allows you to add these projects to your portfolios.
Q) I only need information on font pairings. Does this course cover this?
A) Yes, the course covers font pairings and has links to the various resource pages.
Download the workbook and click on the underlined pointers under the fonts section to learn more.
Q) What are some of the tools on social media that the instructor talks about?
A) For Facebook, you'll learn about 20% text tools and AdEspresso. Pixlr Editor covers the YouTube section.
Q) How can one access momentum from the Google Chrome extension?
A) Maggie gives a link from the webstore to access it. However, some students reported failure on their gadgets.
Type Momentum Chrome Extensions on Google and you will be directed to the link.
Ensure that you download and install Google Chrome before downloading the extension.
Q) Is this an updated course? Social media is very dynamic and I wouldn't want to breach any rules and regulations.
A) The lessons on social media have been updated to meet the 2021 requirements.
This is specific for Facebook when creating cover photos for your groups, banners, or business pages.
Q) Can I ask questions and be answered by the instructor considering it is a free course?
A) Yes. Maggie is very engaging and responsive enough.
You can ask your questions once you click the discussion icon section.
You can also go through the questions to see if a similar one has been asked so that you can save time and get help at the same time.
Q) Can I access the resources on my mobile phones?
A) The resources are accessible on both mobile phones and PC.
Even the templates can be used on the two with ease.
---
Conclusion
Digital marketing has come a long way since the birth of social media platforms.
How we market products and businesses today is very different from how it was done a century ago.
Maggie in this course teaches you how to create eye-catching cover photos and banners for your social media pages.
This helps you to greatly improve your online presence and make the best out of your profession.
Maggie frequently updates the course and templates in it.
This allows students to work with the current Facebook standards as these interfaces are dynamic.
Self-learning on Canva might not be enough to make you at the same level as competitive graphic designers of digital marketers.
For instance, its core purpose is to give the designs a catchy look in the templates but not across other devices.
You need a course like this to help you make the graphics look as eye-popping as possible across PCs, tablets, and smartphones.
The ratios you have on the software might not be the best for an advanced or pro designer.
Maggie's workbook has templates to make things better for you.
You can choose to use them as you improve your skills or use them as inspirations to customize yours.
In social media marketing, graphic design remains one of the most decisive parts of your general content strategy.
Regardless of how great and captivating your text will be, very few people will notice it if you don't accompany it with striking visuals.
This helps to grab their attention as they browse. Others are more convinced by the graphics before reading through the text.
Of all the integral parts of social media marketing plans, visual graphics tops the list.
Yes, a designer's contribution to the marketing strategy's success is undeniable but without an attractive presentation, there isn't much to gain.
So far, social media remains a highly competitive field.
It takes a lot of hard work and tactful planning for one to succeed whether it is on the design or content front.
If you are starting and are tight on finances, starting with a free course like this one will create a stepping stone in your business.
As you attract leads, convert customers, and create awareness for your brand, you can invest in paid courses and pro versions of this software.
The reason why it is referred to as social media is that it is meant to be fun.
---
What Students Say About the Course
I never knew that Canva can be this easy to use. I have been using it for a while now but have been struggling. This workbook and templates will help promote most of my designs.
Maggie has used very unique resources and examples which makes the course more fun. You can get inspiration from the template or use what she has created.
It might not be very deep considering it is a free course and mostly for beginners but the content clarity is what amazes me. So far, everything's fine. No queries!
Short courses like this are some of the best for guys like us who rush through time and have no time for ourselves. I've taken this course through a road trip upcountry and was done before I arrived. Such a convenience!
As one of my first courses on Skillshare, it has set the pace for my graphic design journey. I recommend it.
For more tutorials and tips check out Maggie's Youtube Channel.