August 18, 2021
YouTube Marketing Tips – YouTube SEO and Algorithms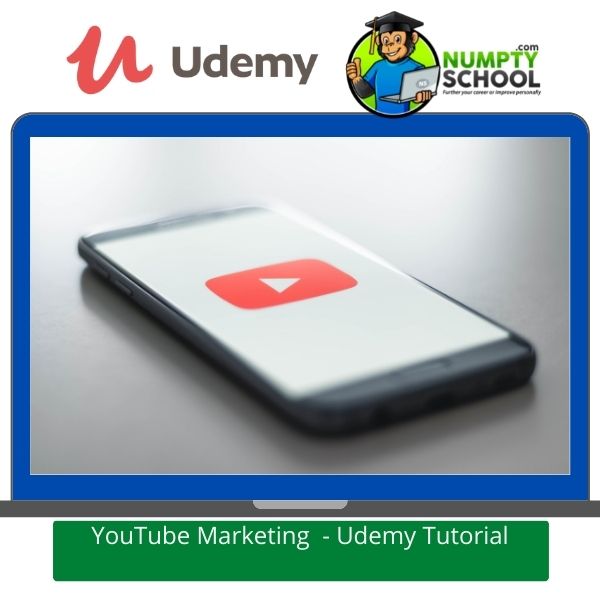 Learn some of the quickest ways to rank highly on YouTube.
More on optimizing your tags, keyword selection, captioning, and more in this course.
Description of the Course
I know! I know! I know!
You probably think I am confused or used the wrong words.
But yes! YouTube SEO exists.
You might know more about Google and SEO but nothing about YouTube and SEO.
I understand this because Google is one of the most powerful and widely used search engines.
But, you are forgetting something.
Google is just among the search engines available today. Neil Patel says that some search engines are more powerful and displace Google on the list.
They aren't as popular or big. Among them is YouTube. Tapping into this search engine can boost search presence incredibly and triple your conversions.
YouTube is a search engine but for videos.
This site is controlled by a similar search bar you find on any engine.
Since it is a search engine on its own, there are specific SEO practices that govern it.
If you own websites like me, you want them higher on SERPs so would any YouTuber want their videos ranked higher on YouTube SERPs.
Alex explains all this in his course. Any YouTuber who wants to cut their section in the huge field will appreciate enrolling.
It is a 10-hour course with everything about YouTube SEO and how the platform's algorithms work.
Alex shows how he created his channel and automated everything. He shares how he gained over 3 million views.
Anyone interested in learning how to make money from YouTube, grow their brand, and generate sales and leads should plan on signing up.
Finding success on YouTube doesn't have to be difficult.
It has taken him years to figure out what works and what doesn't.
So, documenting this in a course was the best way to help anyone interested in creating and growing their YouTube channel.
What pushed me to enroll in the course is the frequent updates he makes.
YouTube is dynamic so are its algorithms and strategies.
The guy ensures you are at par with the latest changes to the platform.
He includes an entire section on YouTube Live.
If you have been binging on your favorite YouTubers, you might have noticed a few of their live shows.
This is among the latest addition to the platform.
It is cool and a great way of promoting your businesses and products.
There is more on YouTube ads and why you should use them to boost your videos and channels.
This is among the legit ways of brand promotion instead of relying on freelancers and influencers who don't deliver.
You will learn the available types, advantages, disadvantages, and how to use them correctly.
Another new section is monetizing your channel.
Here, he adds a few monetization strategies and promises to keep updating the section as soon as he discovers more that work.
While penning this review, the course is currently at 4.4 stars with an enrolment of 20,000+ students.
So far, it has 2700+ reviews and going through this section, it is worth the money.
There is a 30-days money-back guarantee on the course in case of dissatisfaction.
But, why would you do this when you can go through the reviews before spending your money.
I promise you that every section at least has something new to carry home.
Do you want to increase your YouTube views on videos?
First, understand the newest updates on the YouTube algorithm and how this is important in ranking your content.
People in the world spend over one billion hours on YouTube daily.
They watch everything. Even the unimaginable to you.
Things like popping pimples, removing ingrown nails or hair, and other videos like this are in fact having hundreds of thousands of views.
YouTube algorithm is a recommendation system that will decide the videos that YouTube suggests to those viewing.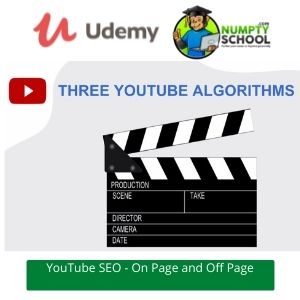 Influencers, creators, and marketers need to ask themselves what they can do so that the YouTube algorithm recommends their videos and allow you to get more likes.
The course comes with a ton of downloadable worksheets, more freebies, and tasks to help you practice and sharpen your skills.
Enrolling in the course will give you entry into Alex's Facebook community.
Here, you will meet experts and veterans in the industry who have a lot to share.
Once you complete the course, he shares his list of 50 skills for business success.
The instructor is responsive and ensures that besides getting value for your money, you comprehend one section at a time until you are comfortable on your own.
Unlike other courses that don't give certificates of completion, this one does.
Note that courses not issuing certificates shouldn't be underrated.
The certificate is a bonus to your portfolio.
You never know who might ask for such before hiring you for YouTube marketing tasks.
Who is the Course for?
New YouTubers
Amateurs who want to gain more organic traffic and steadily grow their YouTube channels
Influencers
Brand owners
Small business
Corporations
What you will learn
How to create and build a successful channel that earns a lot of views per video
How to grow steadily without experiencing creation blocks
How to increase your engagement on every YouTube video
Ways of building audiences and establishing a brand on YouTube
How to sell services and products on your YouTube channel
How to promote the channel and videos in a professional way
Ways of boosting YouTube SEO using YouTube videos.
How to monetize your channel
Lessons
An introduction to YouTube marketing
YouTube SEO and more about off-page SEO, on-page SEO, and keyword research
Extra YouTube keyword research tools like TubeBuddy, Vidlq, and AnswerTheRepublic
An introduction to on-page SEO
Factors that influence YouTube ranking and help your videos rank highly
YouTube recommendation algorithms
How to better your thumbnails and video titles to earn you more views
How to create awesome thumbnail images using the free version of Canva
YouTube policy on strikes and violations
How to use YouTube analytics to know areas that need improvement on your videos
How to make your videos visible on both YouTube and Google search results
Viral videos
Extra viral hacks and how to get influencers and celebrities to promote your content and channel
An example of a successful YouTuber
How Alex built his channel and things you can copy from him
YouTube monetization
YouTube Live
Some channel branding tips
Some things to follow and implement for any show
YouTube ads and how you can use them to boost your videos – A form of cheap advertising
Ad scripts for AdWords/YouTube ads
Using social media platforms to improve your YouTube ranking
How to promote various types of YouTube channels
Planning and preparing for YouTube videos
Tips to improve lighting and doing away with shadows to improve your video quality
An introduction to improving the audio in your videos
More about on-screen appearance, presenting, and body language
How to fix speech problems
How to set up a new channel from the beginning
Conclusion

Course Requirements
Willingness to learn and implement the concepts in the course
The course is geared towards beginners whether or not you have a YouTube channel'
FAQ's – Questions on YouTube Marketing 2021: YouTube SEO & YouTube Algorithms Course
Q) Does changing the thumbnail and title of a video that isn't performing as expected going to make things better? Or, with the YouTube algorithm be disinterested in the same video?
A) YouTube doesn't go against changing titles and thumbnails as it is a great way of increasing views. YouTube algorithm will respond to changes in the user behavior and not a title or thumbnail changes.
If you have any underperforming videos, you can opt to make such changes. Maybe people might interact with the new video differently.
Q) Will old or inactive subscribers affect the performance of my videos negatively? I fear having a low CTR and this could make my video get fewer recommendations.
A) Your subscription feed isn't a crucial signal that YouTube algorithms can use for video recommendations. The algorithm focuses on the video performance and context in which it is shown.
Never worry about inactive subscribers.
Q) How does the platform rank its search results?
A) Some factors that affect the ranking of videos on YouTube include description, title, and video content if they match with the user's question. Mostly, YouTube considers performance and relevance.
Another factor it considers is the engagement metrics like the duration and frequency a user chooses to watch the video.
Q) Can I upload videos in two or three different languages on one channel? Can this affect the way videos from this channel will be recommended?
A) First, you don't want to confuse viewers. YouTube will recommend creating different channels for different languages. But if your channel can cater to viewers who are multiple language speakers, maintain all the content on one channel.
Q) Won't videos be recommended to people unless they unsubscribe from the channel?
A) YouTube recommendation systems will never push videos to viewers. It will only pull in videos and rank them for various users depending on what they will most likely watch.
Subscribers remain among the signals YouTube uses to rank its videos to users.
Q) Do you need certain hours' worth of watch time before YouTube recommends your videos using its algorithm?
A) No, you don't need any amount of watch time hours before video recommendations. YouTubers might notice older videos doing better months after posting them. Users are beginning to develop an interest in older videos depending on trending topics.
Also, new viewers could have decided to start binging from older videos.
Conclusion
SEO is very crucial for YouTube. Being the second-largest search engine so far, the platform critically needs this for its success.
Remember that optimizing your titles, videos, and descriptions will increase your brand's awareness, drive more sales, and allow you to reach more people.
YouTube isn't only for those uber-famous celebrities and superstars.
You too can take action and get on this bus.
You might be scared but it isn't as tricky as you think.
Forget all those YouTubers who give you such answers in their Q and A videos.
If you will be persistent and consistent in making thoughtful yet helpful videos, you will sit and watch as the views increase.
From there, send the same traffic to your site.
Or, ask more people to click the subscribe button and join your list for more and better content.
Most businesses in the world are running AdWords and Facebook ads.
This is why it is tricky to stand out from the rest on these platforms.
YouTube is very different as you can read from this review.
It is easy to get more views if you tactfully use YouTube SEO and the tips that Alex shares in his course.
By now, you can agree that you don't need to break the bank to start a YouTube channel and share great videos.
You can use your phone to create a viral video.
Free video editors exist so if you have been procrastinating, you are your own limit.
For you to be among the best channels, you need to offer something unique.
What Students are saying about the Course
Alex has done well. As a social media marketer who uses all platforms to advertise for my clients and brands, this came in handy.
It is interesting, precise, yet very helpful with relevant examples that I needed.
I love the material.
The resources are very detailed and with tons of information and tools, I didn't know I could use to improve my daily vlogging.
The updates are excellent and I will keep revisiting for more.


About Author
Mark