December 13, 2021
How to become a YouTuber for Beginners Tutorial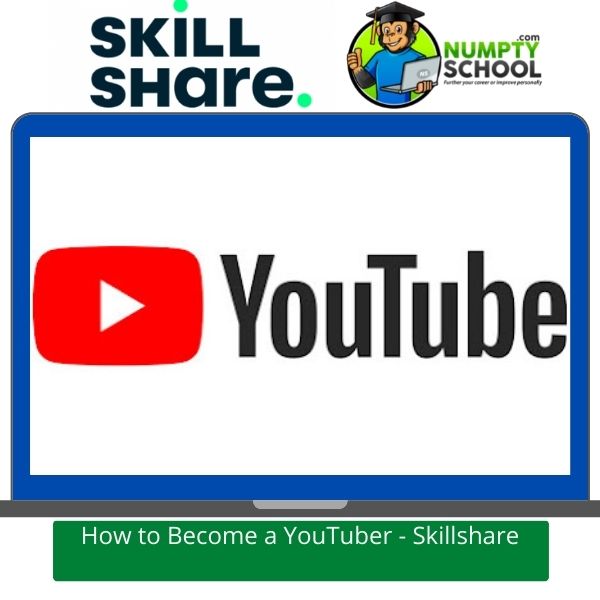 Learn how to kick-start your YouTube journey and start sharing and promoting your video content on YouTube. Most importantly, know how to optimize your channel correctly.
Description of the Course on Skillshare
You might be wondering why more people are requesting you to subscribe to their YouTube channels and watch their content. Yes, this is a way of supporting YouTubers.
For whatever reason they are there, it takes a lot for a channel to be recognized by YouTube. Are you hoping to jump on the bandwagon and be a content creator on there as well?
Here's how to start: First, you need to know why want to join the platform. Next is enrolling in a great course to learn everything a novice needs to know step-by-step.
Why take a course when you can get anything you want on Google and the same YouTube space? I don't disagree. There is so much information on the web, courses, and tutorials included.
But, here are my concerns: The commonest issue is un-updated content. YouTube's terms, regulations, and systems have changed over the years.
Most content available on the internet is outdated. Very few blog posts explain how the site works today.
Among those that do, the majority don't give all the details. Also, why read without help when you can learn through video tutorials, engage with the instructor and other students, get help ASAP, and see how things are practically done?
No hate but I find video the newest and best way of learning. Similarly, it is great for engaging and growing an audience. Because of that, you can also learn how to do it on this platform.
This is a beginner's course and the scope is awesome. I love the flow from the introduction through to its conclusion. Unlike others haphazardly delivered, this one made me think more about joining the space.
Over 5,900 students have enrolled and the number keeps growing. Jeremy is knowledgeable in the topic and from the discussion section, he is a responsive instructor. This means your queries will be responded to faster and earlier.
Short or long courses, the critical thing is learning and implementing what works for you. This one is short running for 3 hours and 39 minutes.
Depending on your schedule, you can complete this in a day or longer. The course is broken down into 39 sections or 2 to 20 minutes depending on the complexity of the topic being covered.
In between the lessons, there are projects to attempt. Not so much but crucial things a novice needs to do to cross to the amateur level. If you are serious about pursuing this path, working on the assignments is important.
Share your projects with the instructor in the discussion section. You will get feedback on your progress and pointers to polish. Other students might engage you as well. It is a great way to learn from other creators-to-be.
Jeremy suggests that you share your channel link as well. You never know, your channel might catch the eyes of many and that's how you gain subscribers. He is a generous chap and shares the gear he uses. As he says, it doesn't have to be complex.
There are downloadable resources with tons of information on creating and growing a YouTube channel. You can access them offline and use them during and after the course.


---
Course Content and Overview
YouTube has changed how most people consume content today. You must have read somewhere of all the thousand hours of content creators upload each day on the platform.
Every month visitors watch over a billion hours of content and today, it is the second-largest search engine in the world after Google. Surprising, right?
With such huge popularity, it has gained might and other video content platforms following suit are pale when it comes to comparison. A good number have built successful careers off of video creation and vlogging.
Millions live on the platform and the phenomenon is in response to consumer behavior. As more people are consuming content on this platform, more advertisers pay handsomely to put their info and messages there.
This makes more influencers regardless of the size earn more. Golden days and months of minting money from YouTube might have passed. But, the opportunities for brands and individuals to market themselves effectively are real.
The number of newcomers struggling to break into this space is massive. Statistics show that the number of new channels on YouTube doubled between early 2017 and late 2019.
The figure shot from 15 million to more than 30 million channels. You might be new to it, begin vlogging, even daily if you can, but your content will remain buried under millions of them uploaded that month.
No worries, Jeremy is here to rescue you from such situations. I know this can be demoralizing and demotivating. For starters who are experiencing this, signing up for the course will help.
You might not be a good creator of engaging content but you will learn how to be one in the course. Sometimes, how you set up your channel could be the issue.
Channel setup and outlook aren't as straightforward as you think. This course will teach you how a self-respecting SEO expert would work it out.
Jeremy set up his channel and grew it to more than 10k subscribers with 850K views in a short time. He shares how he did this and you can pick a few gems from him.
Having done it and being in the space, he has learned some of the tips and tricks that work from content ideas and shooting to editing and delivery. If you want to learn how to grow your YouTube channel into a sustainable one and earn decently from it, enrolling will be the best thing to do.
Here's is a glimpse of what he covers in the course:
How to create and set up your channel step-by-step from scratch.
More practical tips to help you grow your channel, increase your subscribers, watch time, and views.
How to research trending content ideas that will get more traffic to your channel.
How to make more people notice and click through your thumbnails.
How to create trendier YouTube banners that will attract viewers-both subscribers and non-subscribers.
Ways of monetizing your channel and earning more revenue from it.
How to use proven strategies to create punchy content.
Video gear and tools you can use to improve your content.
Top plugins, and video editing workflow.
Ways of increasing engagement and views.
---
Who is the Course for?
Brands and organizations that want to publicize their product, services, and work through YouTube.
Upcoming YouTube influencers.
Freshers who are yet to set up their channels and start creating and sharing content.
Anyone with a YouTube channel that isn't performing well and wants to change this without so much struggle.
---
What you will learn
Expectations and why you should create a YouTube channel
More about the mindset of a YouTuber
How to earn a living from your YouTube channel
Tips for speaking through your camera
The audio and video gear used by the instructor
Some of the best vlogging cameras
How to properly use the Nano teleprompter
How to gain more subscribers
Inspiration to grow on YouTube
How to set up your Google account correctly
YouTube studio
Channel settings
The most recommended royalty-free sites to get the music to use on your YouTube channel
Advanced channel analytics
YouTube revenue structures
Google AdSense and ways of getting monetized
How to get content ideas
How to upload video content on YouTube
Ways of using and customizing tags
Research tools
Proper keyword research for your content ideas
Tube Buddy plugin
VIDIQ plugin
Video editing and screen recording software
How to create black and white images
How to Photoshop to create channel banners
How to Photoshop to create attractive thumbnails
How to Illustrator to create thumbnails
Effective tips for creating thumbnails
How to use Camtasia
How to use Adobe Bridge to import your videos
The instructor's basic editing process
How to export high-quality videos
How to increase engagement and views
Channel presentation
How to stream live on YouTube
Ways of using a stream deck
---
Lessons
Class preview
Expectations and why you should start a YouTube channel and grow it
YouTuber mind-set
How to make money off of YouTube
Camera speaking tips
The instructor's audio and video gear
Some of the best vlogging cameras
How to use the Nano teleprompter
Ways of gaining subscribers
YouTube inspiration growth
How to set up your Google account
YouTube studio
Channel settings
Fantastic royalty-free sites to get music
Advanced channel analytics
Revenue structures on YouTube
Google AdSense and how to get monetized
Getting content ideas
Uploading video content on YouTube
How to use and customize tags
Research tools
Keyword research for content ideas
Tube Buddy plugin
Video editing and screen recording software
Creating black and white images
Using Photoshop to create channel banners
Using Photoshop to create thumbnails
Using Illustrator to create thumbnails
Thumbnail tips
Using Camtasia
Using Adobe Bridge to import videos
The instructor's basic editing process
Exporting high-quality videos
Increasing engagement and views
Channel presentation
Streaming live on YouTube
How to use a stream deck
Conclusion
---
Course Requirements
A computer with an internet connection
Willingness to learn
No prior experience on the topic as the course is geared towards beginners
---
FAQs – Questions on the YouTube for Beginners Course
Q) Why do my videos go black at the end after uploading them? Is YouTube set this way?
A) No, that isn't how YouTube is set. Ensure you export all your content without adding extra time. The extra time is what causes it to be black at the end.
Q) Can I start promoting merchandise on my first YouTube channel after setting it up?
A) First, this will depend if it is a channel to share personal content or it is a business channel. Also, it will be more important to get an audience first, engage, and allow them to familiarize themselves with you and your content or brand before promoting anything.
Q) Does this course explain how to start a channel using my phone as I don't have any other equipment or gadget?
A) Sure, it does! A smartphone with an internet connection will work as you plan on investing in more gear to improve your videos.
Q) Is this an updated course?
A) Yes. Jeremy recently updated the course and has so far added two new sections and changed a few outdated things here and there.
---
What Next?
Video content creation isn't something to enter into lightly. There is stiff competition in the space and what you offer will determine if you will scale in the area or stagnate.
This course has educative tutorials, tools, and resources to help you set up your channel with ease. However, take time to wet your optimization feet as this is crucial for ranking highly on YouTube.
Doing it well and right will need commitment, willingness to practice and learn, and lots of editing hours for novices. With time, you will be a pro at it or have your channel at a level where its revenue can pay for outsourcing editing services.
You can take up a challenge Jeremy started in October 2020 for posting a video daily for the whole month. Be patient through it and watch its impact on your channel.
If you are stranded setting up your YouTube channel and growing it, join Jeremy on this side as he makes your journey easier
---
What other students are saying about the Course
Overall, this is an educative class. At least, I could create my channel, set it up, and post my first vlog without any hitches.
I can't imagine how many subscribers and views I have gained in six months after enrolling in this course.
The editing section might have been short but what's covered was interesting to learn. Enrolling in an advanced editing class won't be a big issue.


About Author
Mark