November 23, 2021
The Ultimate Facebook Ads and Marketing Guide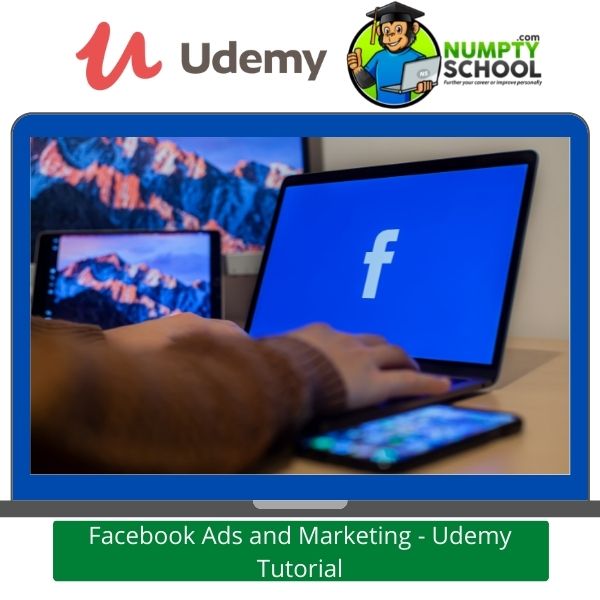 Learn the ins and outs of Facebook marketing. Start creating ads from scratch and triple your business using the advertising and marketing strategies in this course.
Description of the Course (Udemy)
In an era where Facebook is not for social interactions only, there is so much this platform can do to your business. Currently, most businesses have pages on the network and are using them to grow their audience and conversions.
But how well do you know the marketing side of this social network? You might not be well informed but you will after enrolling in this course. I am a sucker for both short and long courses as long as they deliver. That's it!
If it is trashy in the first sections, it isn't worth my time. I'd rather lose the course fee but not waste my time. This is a thorough 3-hour course that will change how you use Facebook.
If you have been using it only for social networking, this will change into spending more time business networking, researching, communicating, and advertising.
This can be a one seating class to complete the course but there is no rush whatsoever. Take it at your pace. The most important thing is understanding the strategies, tips, and tricks.
With everything at hand, you can implement what works in your business and keep experimenting with others you can tweak to suit your needs and audience.
I am moved by how frequently the course is updated. First, Facebook is a dynamic platform and there are changes from time to time. An instructor who considers this ensures they make their course relevant to the latest version of the network.
Also, after enrolment, you have full-time access to the course and you can see what's new even if you return a year after. Use the resources to help you master the concepts in the course and for future reference if need be.
With a rating of 4.6 stars after enrolment of 13,400+ students, there is no doubt that most people are considering using this platform for marketing their businesses.


---
Course Content and Overview
Of all the digital marketing courses on Udemy, this one by IIDE is among the recommended ones because it is comprehensive on how you can use Facebook to market your products or services.
If you want to learn how to create Facebook ads from scratch or are curious to know how they work, this is the best course to take.
It is a procedural guide with no fluff or filler content to run through the course hours. Power boosting your advertising and marketing on Facebook doesn't have to be difficult. You will learn everything here from scratch.
Karan the instructor is a digital marketing expert and part of the team at IIDE. He has compiled this course from his real-time experiences and examples. I love that the course is more practical than theoretical.
You will learn by doing and the approach makes it easy for students to comprehend each section. The instructor shares all the tricks, tips, and techniques that have worked for him as he grew his business.
If you want to grow yours to ten times what it is now, enrol in this course.
Some of the areas the instructor speaks and explains about are:
Learning the best way of defining your target audience and ensuring your Facebook Ads are visible to those who are interested in buying your products or services.
Understanding different ad formats, placements, and designs.
Understanding the Facebook pixels.
Retargeting in Facebook ads.
Understanding the Facebook ads manager.
Allocating enough money to ensure you are maximizing the return on investment on the ad spend.
Understanding Facebook ad analytics and how they work
Facebook sales funnel and methods of using it to increase your sales.
Learning the smartest ways of penetrating customers' smartphones and laptops using Facebook ads.
From my experience, you will not just be buying this course, you will be investing in it. So if the review triggers you to take action, do it. You will learn so much from Karan and have fun while at it. If you are tactful and consistent, you will see the results soon.
The course teaches you how to use paid adverts and organic posts. You will put your brand and services to a massive audience. Facebook is currently one of the biggest marketplaces so you are sure to reap from it if you plan your strategies well.
Here, Karan gives some of the reasons why Facebook marketing is worth considering:
It has a wide and global coverage.
Offers high and well-targeted paid ads.
It is possible to make organic reach
You can integrate it with other marketing platforms and channels.
Close to 1.5 billion users are on Facebook daily. Monthly, the figure shoots to 2.3 billion monthly. Over 7 million companies and brands that are active create ads to reach search a huge audience.
When using Facebook ads, it is possible to tailor all your promotions to specific audiences based on age, location, gender, interests, jobs, and other demographics. You can use any behavioral data as well. Users are willing to share their behavioral and demographic data on this platform.
Some people don't have the necessary resources to use Facebook ads. To counter this, build your relationships organically. Share materials that add value to consumers on your page.
Your posts will be visible on the newsfeed. However, higher competition levels make it tricky to build audiences naturally.
Unlike other platforms, Facebook marketing isn't an isolated or single system. You can integrate it with more marketing channels like mobile marketing, email marketing, Facebook messenger ads, and search engine marketing.
This helps in developing a promotional mix to increase the outreach of your brand.
Everyone with the technical know-how knows about Facebook but they aren't sure of the best way to maximize Facebook advertising. You must have severally scrolled through the network and saw ads that you almost didn't notice.
For marketers, Facebook advertising is a crucial and powerful tool. With the numbers visiting Facebook daily, many see ads regularly. Maybe it is time to improve your business with these two aspects.
---
Who is the Course for?
Digital marketers
Small businesses
Corporations
Influencers
Novices who want to learn about Facebook ads and marketing
Start-ups that want to attract new buyers using Facebook ads
Marketing managers who want to increase the ROI from the much they spend on ads
Digital media purchases who want to reach the correct audience and want to run targeted Facebook advertisements
Those who want to master Facebook marketing and know-how the ads work
---
What you will learn
How to master how to go about Facebook advertising and creating ROI-driven Facebook ad campaigns.
Understand retargeting and Facebook pixels.
The ins and outs of the Facebook ads manager and how it works.
Understand various ad formats available, placements, and designs that will thrive on Facebook.
How to filter the correct target audience. You will use various targeting parameters present on Facebook.
How to reduce the cost of Facebook ads and keep the ad CTR higher using advanced audience targeting features.
Know more about Facebook sales funnels and ad analytics.
The procedural way of deploy targeting strategies and retargeting them.
The tips, tricks, and strategies used by experts in the industry to optimize and run Facebook ads.
Know the benefits of a lookalike audience when working with Facebook ads.
Understand the methods of creating quality content and achieving maximum engagement and outreach for Facebook ads.
Using Facebook ad and marketing tools to help in growing loyal audiences.
How to use CRM tools to optimize and improve Facebook marketing.
How to track the audience journeys from Facebook ads impressions to conversions.
---
Lessons
An introduction to Facebook ads and Facebook marketing
Ways of building a good online customer base even if you have no experience
Detailed targeting on Facebook using interests, behaviour, and demographics
Budgeting and Facebook ad placement-mastering the subtle art of creating Facebook ads
Facebook ad formats
The importance of landing pages
Bonus lectures
Conclusion
---
Course Requirements
No prior experience of Facebook ads or marketing
A computer with an internet connection
---
FAQs – Questions about the SEO Training for Beginners: Complete SEO Guide by IIDE Course
Q) What are the examples of Facebook ad options that the instructor talks about in the course?
A) There is so much to learn in this section and enrolling will help. Some that he explains are video ads, boosted posts, and image carousels among others. Taking the course means you have access to so much in this area and will easily know what works and what doesn't.
Q) I didn't know that Facebook uses demographics to give you an audience that could be right for your business. What are the currently available parameters that the platform gives?
A) Some of the targeting aspects to use on Facebook include gender, age, location, connections, interests, languages, relationship status, workplaces, and education. You can use all of them or those that you think are more relevant to help you get the right target audience for your business.
Q) Does the course talk about retargeting ads? I would like to know this as it is my main area of interest right now.
A) Karan has a whole section on this. Retargeting ads help you capture the users who visited your business or site before but haven't converted yet. You can the device means of converting and winning them.
Q) What should my Facebook ad copy contain? I would like to make it as detailed and helpful as possible without including filler content.
A) It would help if you uses the popular AIDA copywriting method to write winning ads. You will start by crafting a punchy headline that grabs attention.
Drive user interests by including benefits. Create a desire for the products or services you are advertising. Ensure to end with a call to action.
Q) Do I get a certificate of completion after I am done with the course?
A) Yes, a certificate of completion is available for you to download after completing the course. This is a digital copy and you can print it if you wish. You can add it to your portfolio as proof of experience in Facebook advertisement and marketing.
---
Conclusion
There could be a learning curve depending on how fast you comprehend and master the concepts and strategies in the course. Facebook advertising and marketing are great marketing. If well used, they can work in your favour.
Karan is a generous soul and shares what has worked for him in his digital marketing journey. You can pick his pointers and try to implement them as they are. Or, you can tweak them to suit your needs.
The secret is in experimenting until you get what works for you. Some pointers that he insists on are targeting specific interests, using attractive images, giving users low-friction conversions, and tracking each aspect.
Follow the tips he shares and you will learn how to grab the attention of most people even on a crowded network like Facebook. You should use your Facebook advertising and marketing skills to encourage readers and viewers to take action.
After a day or more of learning things that work for your business, you can generate steady sources of conversions on the platform.
If you want to increase your marketing return on investment, this course will come in handy. Before you know it, you will have achieved your goals and become a top-notch Facebook marketer.
Enrol now!
---
What Students are saying about the Course
The instructor delivers it as it is and I love that he has been an asset to me. I have changed how my business runs and I am happy with the results.
Down to the micro details of Facebook campaign creations and management, this is what I needed the most.
A highly recommended course for anyone who wants to increase their ROI.


About Author
Mark