April 17, 2023
Best Online Canva Tutorials for Social Media Marketing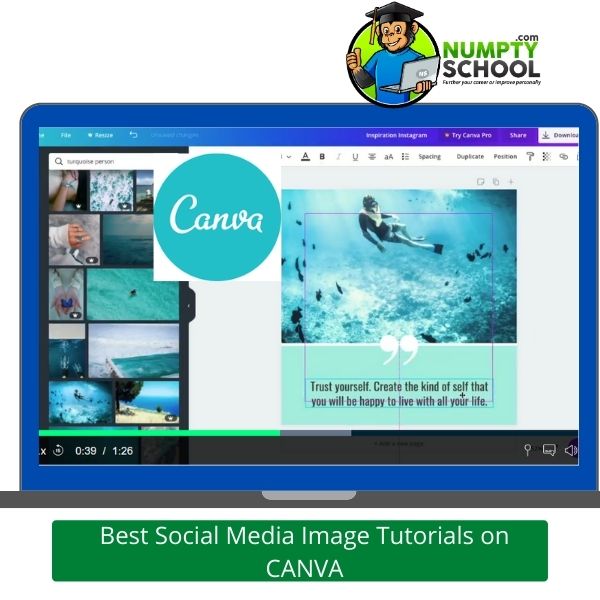 Have you heard of Canva? Probably if you found this searching for tutorials you have but some may not.
Canva is an online design studio that can be used for FREE although there is a Pro version if you want extra tools and images.
However, with the FREE version, you can create awesome eye-popping images for personal or business use.
Over the last couple of years, Canva has had a few facelifts moving the platform into a more user-friendly platform and is now a delight to work with.
Having a pro membership myself I have created most of my pins and images on the website with it. I do acknowledge that I am no designer but hopefully have produced some that are acceptable.
Canva does take a bit of time to learn and doing it on your own will take a lot longer than signing up for a tutorial that shows you how to use the tools properly.
So we have produced this list of tutorials for Canva to help you get those images you need.
---
---
Tutor: Maggie Stara
Description of the course
This course will show you how to create stunning graphics with FREE tools including Canva that you can use to build an online social presence that will pop.
With her no-fluff attitude, Maggie will have you creating like a pro in 4 hours of video tutorials.
Who is the course for?
Are you a beginner looking to learn on a budget how to create graphics for a social platform then this course is for you?
Are you an intermediate graphic designer looking to grow your skills then this course is for you?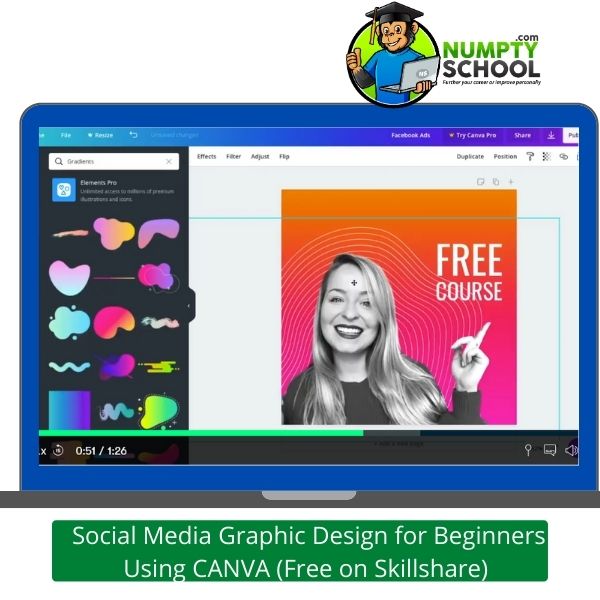 What you will learn from this FREE course?
Maggie will teach you how to graphics on Canva to be used on and offline for printing. She will show you how to create Instagram Stories to build your following.
She also covers Facebook graphics for your business page and posts. Also covered is making Pinterest pins, Youtube thumbnails and channel art. Finally, Maggie shows how to create eBook covers.
Lessons
Basics of Terminology
Color choosing and palettes
Knowledge on Licenses
Locating FREE images to use on projects
Designing the pros and cons
Instagram story, quotes, and multi-image posting
Facebook cover video and ads
Pinterest board covers, templates and pins
Youtube channel art, thumbnails end screens
Stunning ebook covers
Optimizing images for the web
Requirements
Access to the internet with a PC to logon to Canva a few hours spare and a willingness to learn.
Conclusion
Maggie shares basic design concepts along with the tools and layout of the CANVA platform.
She guides you through the design process when choosing colors, fonts, images etc to produce templates for future use or to create images for use now.
You will get a decent overall workout on the main social platforms and be able to produce eye-popping graphics for your own or a customer's use.
Watching Maggie design images ready for use will give you so many ideas it's worth going through the course anyway.
With a 70+ score for exceeding users' expectations, you know you have a course that will produce results.
What Students Say About the Course
Loved it!! One of few lessons I found so far that really stands out from any other tips (so not generic) and gives unique examples/resources Dorota Golasik

---
---
Tutor: Jeremy Deighan
Description of the course
This course by Jeremy Deighan will teach anyone like bloggers, entrepreneurs, business owners, marketers, advertisers, or social media beginners who want to create an online profile with the FREE version of Canva.
So drive yourself to the front with the skills you will learn in this course.
Who is the course for?
Business owners spend millions a year on advertising and social media why not save some money and learn the skills required to produce eye-popping graphics yourself so you can use that money on other aspects of the business.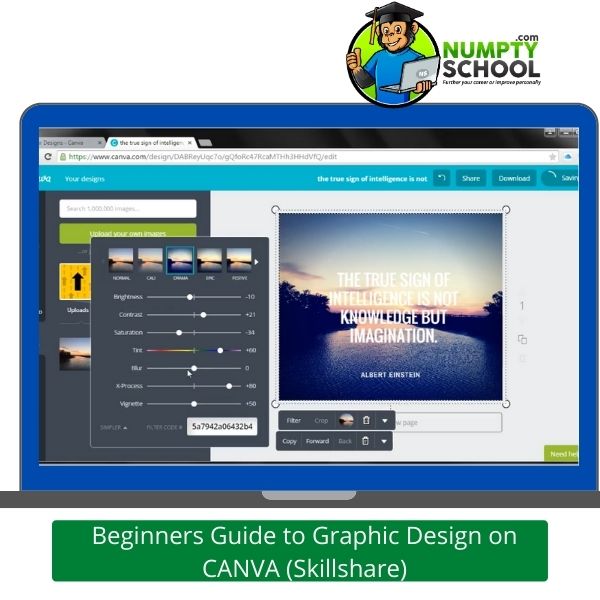 What you will learn from this FREE course?
In 34 mins and 14 lessons you will learn the basics on how to use Canva
Lessons included in the course
How to create and set up an account on Canva.
Finding your way around Canva's interface.
How to use the plethora of templates within the platform.
Placing your graphics into the design like images, text, and backgrounds.
Taking your design and sharing on social media platforms.
Printing your designs for other use like t-shirts and other promotional stationary.
Future course additions are included with your account!
Requirements
All that is required is access to the internet to work on the course and an account on Canva which Jermey will show you how to setup.
Conclusion
Are you looking for a no-fuss basic guide to getting started on Canva then this course is for you? Also as a member of Skillshare, you also get access to the other courses presented by Jermey
so you can go further into the platform and learn many more skills to improve your design skills.
What Students Say About the Course
A thorough and concise introduction to Canva. Jeremy was very easy to follow, and the examples he chose were extremely helpful. Kimberly Blue
---
---
Tutor: Lindsay Marsh
Description of the course
With 12 + years as a designer, Lindsay will show you the ropes of the Canva Platform.
Showing you how to set up a logo and branding for your social platforms you will use most of the main tools within the online program.
Who is the course for?
Anyone who is looking to design branding for their business or e-media platforms on a budget.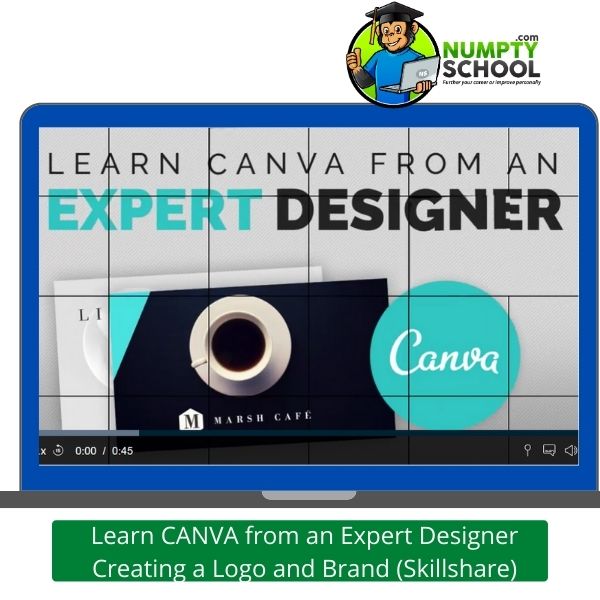 What you will learn from this FREE course?
Lessons
9 Lessons in the course at just over an hour-long makes the course very easy to do. Lessons included are;
Overview of what you will learn
Getting started with a logo
Creating additional backups in case of problems
How to create both vertical and horizontal versions.
Switching it from color to black and white
Exporting options, what to use when
Creating a social media Facebook event graphic
Creating a poster
Creating a business card
Requirements
Access to a pc or mac with online access and an hour to go through the training.
Conclusion
A short but sweet course designing the basic social media items. Lindsay has a quick no-fuss approach to teaching there is no fluff in this course just good skills.
Learning the tools as you go will have you creating your own social media graphics.
What Students Say About the Course
Thank you so much for the amazing course. It was very enlightening and I loved doing the project. Definitely will try more courses from Lindsay. Mariya Stoynova
---
---
Tutor: Lisa Larson-Kelley
Description of the course
A 23 minute tutorial on how to create a party invitation. Lisa Larson-Kelley is an expert on Canva and other design platforms.
She will show you how to use the tools to create the invitation giving you a practical solution to a common problem.
Why pay out big money on higher-priced image platforms when Canva can do the work for FREE?
Who is the course for?
Anyone looking to learn the basic tools within Canva so they can create stunning images for their personal use, from invitations to social platforms.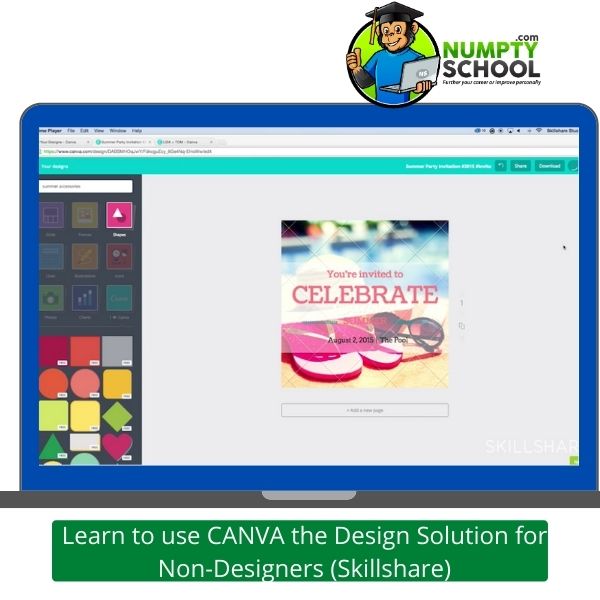 What you will learn from this FREE course?
Follow along with Lisa as she shows you how to choose a blank layout or template to customize with your own fonts, colors and designs.
Taking that image to completion before exporting for emailing and printing finishes this tutorial.
Lessons
Introduction
Project – Create an invitation to a party.
What is Canva?
How do you get started?
Creating a layout
Adding text
Making your design cohesive
Sharing your work
Conclusion
Requirements
Having a half-hour to run through the course and an online device to log into canva.
Conclusion
Although using an older version of Canva Lisa still shows basic platform tools and how to implement them to make an invitation that shows up well for either emailing to your guests or printing and posting to them.
NB: Lisa shows an image that she is charged $1 for when downloading you can forgo this by uploading your own images to the platform or going premium where you get access to all the designs.
I wouldn't recommend that unless you are doing a lot of designing and need the images.
What Students Say About the Course
This course was really informative and taught me a few different things about making things in Canva.
Thank you so much! I was having a bit of difficulty working with Canva, specifically with the text being hard to read against a photo background, so thank you for covering that in your lesson.
I definitely recommend this course for people who are new to working with Canva, it's a great resource. Whisper
---
---
Tutor: Ronny Hermosa
Description of the course
This is a master class on Canva roughly 8 hours long, Ronny goes through it in detail and does it with a charm and wit that makes the learning fun.
He will show you how to completely do your company branding within all the major social platforms.
Ronny has also been made a Canva Certified instructor and is in contact with Canva regularly so this tutorial is always getting updated with new relevant material.
Who is the course for?
Anyone who is looking to build a brand for their company from the start-up or anyone looking to learn the platform in a detailed way from graphic designers, social media managers, virtual assistants, freelancers or bloggers looking to create eye-popping graphics and images.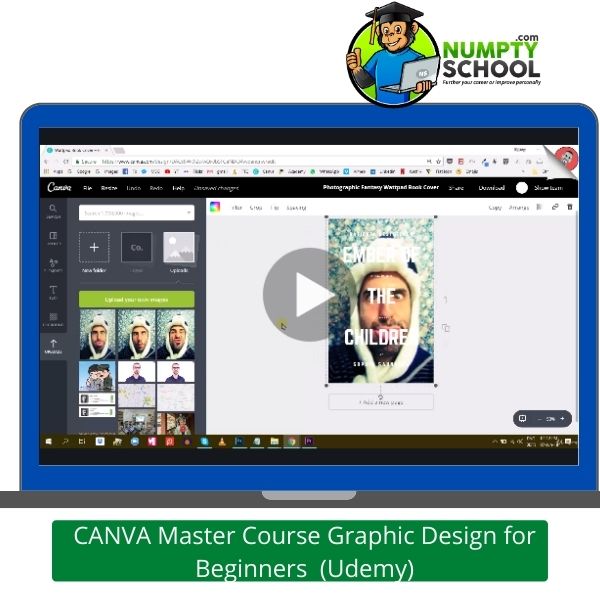 What you will learn from this course?
You will learn how to use all the tools within the canva platform so you can make images for your social platforms or website needs, from Facebook, youtube, Instagram, Twitter, LinkedIn as well as website applications and stationery for your business or personal use.
Lessons included in this master class
Creating a brand style
Facebook profile picture creation
Making a Facebook Cover
Putting together an Instagram quote
How to make YouTube thumbnails
How to create an image for a Twitter post
Twitter header profile image
Creating a Linkedin profile photo
Linkedin banners
Creating Images for your Blog/Website
How to make icons
An Author Photo for your Bio
Letterheads and Envelope creation
Business Card artwork
Creating Presentations (Canva 2.0)
Also, Roony shows how to build a small website for social interaction and how to create a landing page. 2 very powerful tools for any budding business person.
Requirements
A laptop or pc connected to a network and a couple of days to go through all the coursework.
Conclusion
Ronny is very gifted at teaching and has a flair that makes learning fun. You will gain the knowledge to create any image required for a business or indeed personal need.
With 1000's of completed students and most with positive feedback you know this course is good.
What Students Say About the Course
This course was Brilliant. Ronny was witty, informative and very knowledgeable. Clear, precise and to the point. Each topic was explained in detail and in easy to understand terms.
I really enjoyed this course and have taken away a lot of useful tips that will allow me to start using Canva for many projects. Loved this course.
Would highly recommend and other courses that Ronny delivers. Erin Harris
---
---
Tutor: Kevin Lolo
Description of the course
In this course, you will learn to design eye-popping social media images using the FREE design platform of Canva and how to employ them to social media outlets.
Want to create social media graphics for your business or website but don't know where to start?
You have tried to work out how to create a brand on social media but got more confused from all the content available?
Are working on a small budget and can't waste money on graphic designers?
If any of these questions strike a chord with you then you have found the right course.
Who is the course for?
Anyone who is looking to create graphics for their brand, website or business needs on a small budget.
What you will learn from this course?
From this course, you will be taught the principles of graphic design so you can create attractive graphics and images for personal or business use.
Use these images to separate you from other businesses in your field
Produce images for the many social media platforms like Facebook, Instagram, and YouTube to promote your brand, website or business.
Help drive traffic to your blog or website with eye-catching images for your readers to be attracted too.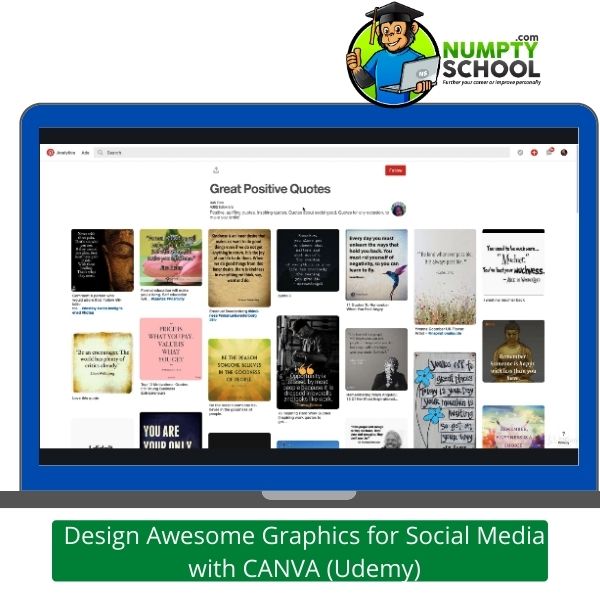 Lessons
Basic design rules learned include.
Space
Line
Repetition
Hierarchy
The course uses the rules and techniques of design to create graphics for a travel blog complete with social media platforms.
From this, you will see how imagery aligns together into a brand to complement each other with consistency across a theme.
From here you will learn to use CANVA to create images for the following social media platforms:
Website Logo
Facebook Cover
Facebook Post
YouTube Thumbnail
YouTube Channel Art
Twitter Header
Twitter Post
Blog Title Image
Infographic
Google+ Photo (no longer active)
Pinterest Graphic
LinkedIn Image
Requirements
All that is required to work through this course is a PC or MAC connected to the internet to access the CANVA platform.
Conclusion
Content creation can be stressful, procuring new ideas for imagery on a weekly basis, to feed all those social media platforms, to keep your brand in the limelight.
Spending hours writing content or producing a YouTube video and then having to produce thumbnails and images for the post can quickly become tiring and if not careful lead you to becoming burned out.
Having a program like CANVA not only helps with this but can lead to the production of outstanding graphics to make your social platforms hum with traffic appeal and courses like this one can make the difference.
What Students Say About the Course
The sense of humor is brilliant. Since I knew nothing about graphic design before I started, this was extremely useful.
Canva itself has upgraded since these recordings, so it looks different, but one manages to find one's way… Charlene Lawson
---
---
Tutor: Lindsay March
Description of the course
Do you need to create graphics and images for a new company or website? Things like logos, letterheads, social media images and thumbnails all take time and if outsourced can cost a lot of money.
Are you a freelancer looking to offer your clients better images quickly then this tutorial is for you?
The course will guide you through setting up all the branding needs for a small business or personal blog including logos, letterheads and website imagery and graphics.
You will follow Lindsay as she develops a brand for a freelance business showing you how to make proper choices to suit layout and design explaining why certain choices are better than others.
The course also includes you to a Facebook group where students share and critic one and others work helping out and guiding as you go.
So you are not alone on the course but have a built-in support network ready to help if things become complicated for you.
The course is designed around Canva as it is readily available and has a FREE option so it suits every budget.
You do not need to know how to use Canva to complete this course as all the tools will be explained.
Who is the course for?
Anyone wanting to avoid high marketing costs by doing it themselves.
Freelancers without a design background wanting to create their own brand
Bloggers who need to develop their brand across multiple social media platforms
Those interested in design but don't want to learn it on their own
This course includes:
4.5 hours of on-demand video
Currently 2 downloadable resources
Full lifetime access
Access on mobile and TV
Certificate of completion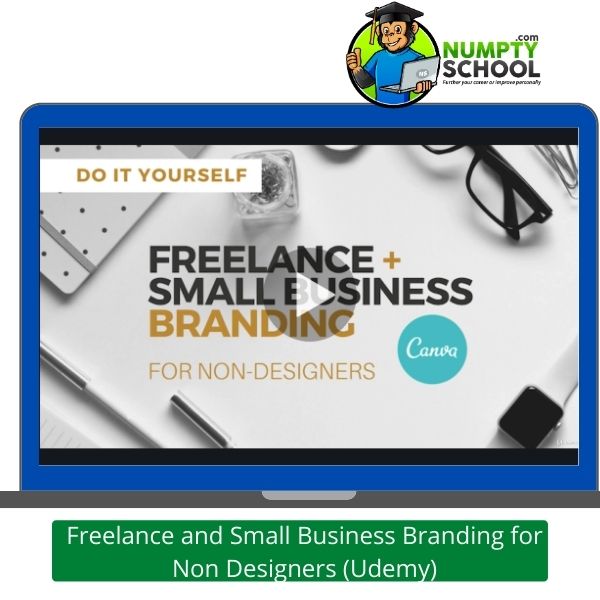 What you will learn from this course?
After completion, you will be able to create your own branding assets for your business or personal blog.
Lessons to be taken
Getting started Canva layout and joining the Facebook group
Logo creation, color selection, font pairing
Creating your business card
Setting up a letterhead
Instagram social media graphics
Facebook social media graphics
How to make some money from your new skills
Requirements
Access to the Free or Paid version of Canva a Cloud-based design and layout tool
Conclusion
What Students Say About the Course
This course is just what I was looking for, and it complements my on-going development towards launching my own online small business.
As always Ms. Lindsay Marsh's knowledge, practical experience, professionalism and humor make her a superb Instructor. I admire her pacing and selection of content. Thank you Udemy! Gus Seminario
---
FAQ's – Questions on Best Online Canva Tutorials for Social Media Marketing
Q) Is there a Pro version of Canva?
A) Yes. While Canva has a free version with basic features, there is a Pro version at a small fee.
Q) Does the platform have a calendar for social media marketers?
A) Canva users subscribed to the pro version can use the new content planner provided by the program. This is for scheduling any upcoming social media events and content straight from the editor to various social networking platforms.
Q) I am new to Instagram. Does Canva allow for direct posting on Instagram?
A) You can design, schedule, and/or post your content on Canva and post it to your Instagram business account. The platform also allows this for 7 more social media platforms in a single subscription.
Q) Is Canva a royalty-free program?
A) Any free video, music, and photo files on the program can be used at no cost for personal or commercial use. If the music, photo, or video files have identifiable people, logo, trademark, or place, check the source of the image. Or, you can contact Canva support if you are unsure.
Q) Is it possible to use Canva photos on my logos?
A) If you must use Canva for this, ensure to stick to the software's licensing agreement. In the agreement, you are forbidden from using elements from their image library-whether paid or free on your logos.
You are, however, allowed to use customized logo layouts basic lines, shapes, and the free default fonts.
Q) Does the software share my designs?
A) There is a share design folders option. If you have subscribed to the Canva Pro version and want your team to access the company collateral like pitch decks, social media templates, and logos, the platforms allow for it.
---
Wrap Up on the Best Online Canva Tutorials for Social Media Marketing
You can climb the social media marketing ladder alone fumbling and guessing until you get a grip of the vitals. But, the bottom line is this: If you are looking to save time-more time-choose a few great courses to begin with.
It sounds obvious but there are some aspects of social media marketing like graphics and design that you'll need experience in.
Yes, you can use the platform as a basic browser-based editor but the true potential of Canva lies in the transformation of basic snaps into design elements for your posts, flyers, invitations, cover images, headers, and so much more.
You are lucky that most beginner courses start from scratch. You'll learn how to install the software and test the free tier. It has a generous pack of templates and tools any social media marketer can use to make attractive graphics.
For a cheap or free design option, Canva and its courses will be very relevant. For those who would like to purchase the Pro version, it certainly is a game-changer.
You will enjoy the extra graphics, photos, fonts, and templates. This advanced version allows the saving of transparent PNGs. You can create customized templates, and upload your fonts. Enterprise plans exist too.
There are some differences between the free and pro version of Canva but that is a topic for another day. What struck me as a bonus to the courses in this review is the lifetime access to courses after completing the class.
These courses get updated from time to time to remain relevant as the Canva software also gets upgrades and few changes here and there. You can always come back to check what's new.
Some instructors issue certificates of completion after one is done with the course. This can be a great addition to your portfolio or CV.
If you are a social media marketer and need to level up to the market competition, these courses will come in handy.
About Author
Mark