December 29, 2021
7 ways How to use Canva for Instagram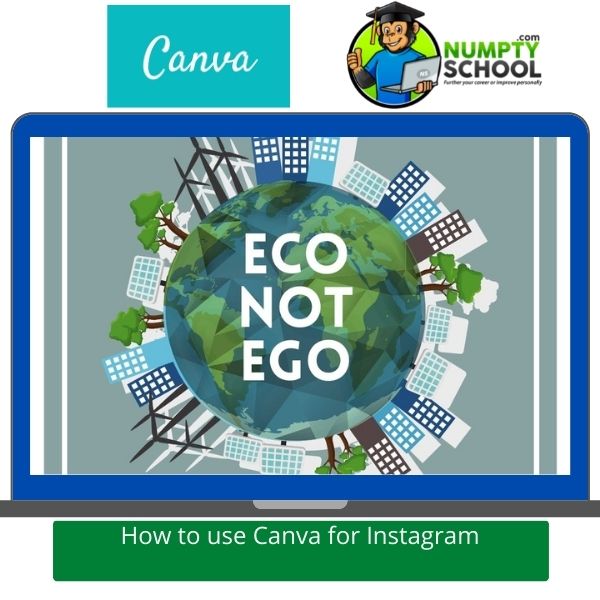 You are probably foreseeing a very tight schedule next month and are wondering whether you can plan out your Instagram content and have everything ready in advance.
Well, if you know of Canva, there is no need to fret.
You can comfortably use Canva for Instagram by designing your IG posts from scratch or using any of the hundreds of templates available on the software.
There are numerous options, from making collages and creating posts with some inspirational quotes to adding sequential images to IG stories and creating custom highlight covers, among other ways.
How to use Canva for Instagram
---
Initially, Instagram was relatively easy to use – it involved taking excellent pictures, adding filters (or not), and posting them.
But, the networking platform has steps and bounds and now has tons of creative graphics.
You can present a well-polished brand online or use this platform to market and promote your business but might need the addition of a full-time designer.
Can't do that? Canva has plenty of features and templates that make creating designs easier than before.
Here's more good news: Most features can be found in Canva's free version, so there isn't an excuse not to explore how the program works and especially for one of the world's most-loved networking platforms – Instagram.
That said, let's dive into ways you can use Canva for Instagram.
---
1 Create IG Posts and add Inspirational Quotes in Canva
---
You must have come across so many pictures with overlaying quotes on Instagram.
People who create such posts hope to inspire, motivate, or share pieces of advice.
You can do this by using the search bar on Canva's template tab and type in 'quote.'
So many options will pop up, and you can choose your favorite, but you can modify all template elements from the text size and font face to the borders and pictures.
Pro Tip: Match text colors to your image.
---
2 Adding Sequential Photos to Stories
---
Most Canva design options for any regular Instagram post apply to Instagram stories too.
These can be creative templates with photos and text or grids and collages; however, you might need to post several coordinated images to make your story more interesting.
If you browse the Story template, you will see a few Free and others show '1 of X.'
Click on any template series to see the pages listed with the template you click.
There is no limit to the number of pages to use, but remember each page has a slightly different design.
They all share a similar thread, and this should help you convey a single idea of a series of pictures in your Insta story to create a cohesive post.
You can post all pages at a go through the mobile application.
---
3 Making Collages
---
Sometimes, you can't covey everything you want in one photo, and considering a photo reel mightn't do it as you wish.
You can include multiple images in one frame using the few options that Canva offers.
There are endless grills on Canva that you can select from, and you can find them in the Elements section of your menu.
These aren't your jump-of-the-mill types of grids – you can add 12 pictures to the grid, each in its size, to have an incredible puzzle.
Another option in the Templates tab is to type in the search bar 'grid,' 'collage,' or a similar keyword.
The upside of collage templates is their creativity and options to ass background colors, text and tell stories with how you opt to arrange your pictures.
---
4 Creating Custom Highlight Covers
---
There is a group of Instagram users with very clever and unique highlight covers.
Have you seen such profiles?
These convey whether you are almost watching a highlight on pets, food, fashion, etc.
Canva allows you to make your intelligent highlights too.
You guessed it right; the option is in the templates tab and as usual, use the search bar to type 'Instagram Story Highlight Covers,' and it will show an array of fantastic options.
Some options have several variations to work with various highlights on your feed to make it even more exciting.
If you can't find the perfect cover for your needs, you can use a blank story template to create one.
Do this by adding a circle element to the center and going through the remaining elements library to find an image to use.
---
5 Sprucing up Questions and Quizzes
---
I know you are used to seeing quiz, poll, and question stickers that look plain and boring.
You can change this using Canva by typing 'quiz,' 'question,' or 'poll' in the template tab and selecting your favorite.
Most templates have dedicated spots to add their stickers, and Canva has made it even more convenient.
The software also offers various 'get to know me' questions that you can post as blank and let your friends screenshot them then take part in the quizzes.
---
6 Animating Stories and Posts
---
Animating stories and posts is among the most exciting features of Canva.
Almost all the things I have mentioned above can be animated.
You will see an animate icon at the top of the program's editing panel, and the free version allows you to pick any of the six options to make your text and photos appear slowly on the screen to create a rather dynamic post.
There is a videos tab on the screen's left side and contains shorter videos that you can include in templates as background or in a collage to create an attention-grabbing post.
You can upload your video and add music to the top.
Type in the social bar 'animated social media' to see the various templates that Canva has.
All of them have animated elements that you can enjoy playing with.
---
7 An Option to publish your Posts Now or Schedule them for Later
---
When posting content to IG using Canva, you can choose to publish posts right away or schedule them for later dates and times.
Here's something to note: You can only post on IG if using a business account and not a creator account (if you are using the desktop version).
If you have a creator account, you can change that to business in the settings section of your Instagram Page.
Also, you have to link your Facebook account or page to Canva to post designs on IG directly; then, you can post the posts on Instagram.
If you are designing Instagram posts to post later, it will help if you use the content planner tool for scheduling content.
You have to select a time and date automatically set to your local time zone and choose the channel to publish the posts.
Here, you need to choose your IG business account.
The content planer tool is a nifty feature that you should check out.
You can't link a personal Instagram account to Canva using the desktop version, but you can do this using Canva's mobile application.
Also, to enjoy all the features of the content planner tool, you have to switch to your business account, and Canva offers this for the desktop version.
On scheduling Instagram posts, Canva allows you to schedule a maximum of 25 of them in 24 hours.
Reminder: If you are new to using Canva or are generally a rookie in the design field, don't feel intimidated.
Canva is user-friendly, unlike other professional software such as Photoshop.
If you didn't know, it has an intuitive interface made to cater to the needs of non-designers.
You can enroll in beginner Canva courses to learn how to use the program and avoid fumbling while using it for Instagram.
It is an excellent idea to familiarize yourself with the interface, menus, tools, and features, which means you can easily use it for all design needs for work or social media.
Canva has many templates to pick from when creating Instagram posts or stories.
You can play around with these templates and the collection images that are easy to drag and drop into your ideal template before uploading.
---
Last Few Words on How to use Canva for Instagram
---
There are tons of possibilities with the Canva program, and it can be overwhelming, but you have to remember that less is more.
If you like one template, focus on making minimal modifications and avoid piling tens of elements on it.
As a novice, you can be overly excited to try out anything and everything in one template.
This is fine, and we have all been here, but the over-ambitiousness subsides with the next few attempts.
Anytime you are in doubt, stick to using one font and one, two, or three colors to get a polished and presentable image.
Anytime you upload your images, maintain the use of high resolutions.
The best thing about Canva for Instagram is that you can browse its templates for more inspiration if you have run out of design concepts.
You can also pay for the Canva Pro package to experiment with the advanced features and see the difference it creates for Instagram and other social media marketing platforms.