March 9, 2023
Can You Get a Job in Digital Marketing Without a Degree?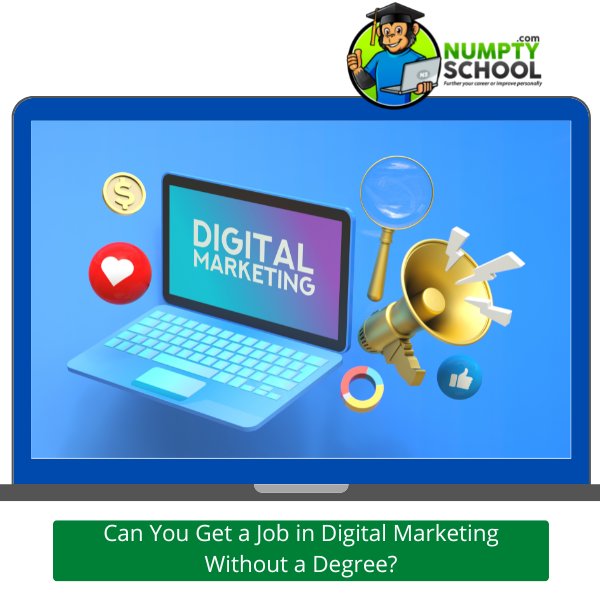 A degree is an investment, especially if you are studying a course you are passionate about.
While tertiary-level studies can help you land a job with decent pay, we are seeing a turn of events over the past two decades.
Some buddies are living off of jobs they didn't attend college to get a degree for, and as much as it is hard to believe, it is the plain truth.
So, can you get a job in digital marketing without a degree?
Sure! You can get a digital marketing job without a degree, earn more than anyone with such papers, and enjoy trips to Miami and the Maldives.
That doesn't mean you can't study digital marketing in college or the university.
But, most digital marketers are either self-taught or enrolled in the FREE YouTube University.
Let's learn more about being a digital marketer without a degree, and if you'd consider it an option.
---
Can You Get a Job in Digital Marketing Without a Degree?
---
Technology has changed how people learn new skills, improve their current ones, and earn, unlike before when most people depended on physical schools to get even the basic knowledge.
There are so many ways to learn digital marketing without enrolling in a tertiary institution.
Apart from these methods being fast, they are cheaper (with tons of free ways), and will give you greater experience.
And if you are here to save on the cash and run through this pretty fast, check out the dozens of articles on digital marketing on our blog.
---
How To Get a Job in Digital Marketing Without a Degree
---
There are some factors to tick before getting a job in digital marketing with no degree.
First, learn the basics of digital marketing to know its offerings through enrolling in free and paid online courses, reading educative blogs, attending webinars, and watching YouTube videos.
Proceed to choose a niche and develop the relevant skills.
Start using essential niche-specific tools and software to enhance your skills.
Develop very strong samples, volunteer to sell your work, and build a portfolio before pitching to potential clients as you network and find mentorship programs.
---
Digital Marketing Jobs You Can Get Without a Degree
---
Digital marketing is a broad field like engineering, and specialization will help you get clients whose needs you can fully meet because of your knowledge base and expertise in the area.
Thus, you'll need to niche down to a section you are more passionate about after learning the basics of digital marketing.
Some job roles under digital marketing include:
---
Content Marketing
Product Marketing
Social Media Marketing
Design
Web Development
Search Engine Optimization
Demand Generation
Customer Acquisition
Ecommerce Jobs
Marketing Analytics
---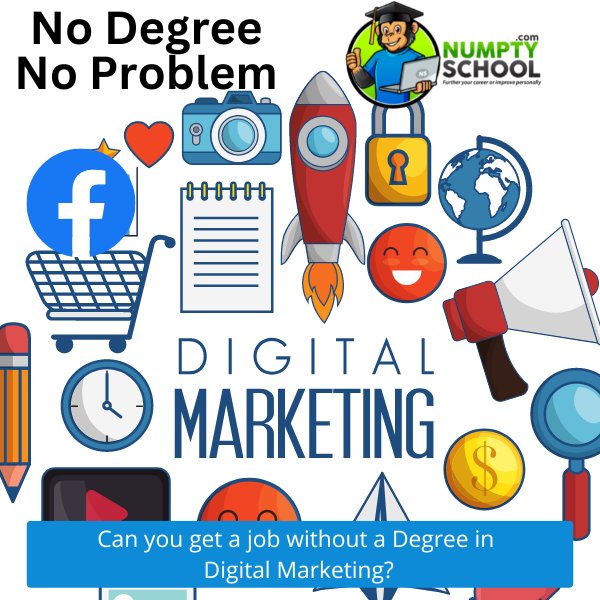 Each job role also has categories like managerial, specialists, and analyst categories that have different descriptions.
Thanks to the high demand for reliable digital marketers, there is minimal chance of getting shoehorned.
Further research of each role shows that there is a ton of overlap cutting across the marketing discipline.
Hence, the skills required for one role might translate to a different one in case you want to double niche or pivot your digital marketing career.
---
How Much Can you earn from a digital marketing job without a degree?
---
A bothering question asked by buddies who want to join this bandwagon is '' can you get a job in digital marketing without a degree and live off of it?''
Yes! Digital marketing will pay you decently if you know the nooks and crannies of getting the best clients, even without a degree.
With time, your work will begin to speak for you and clients will reach you without you looking for them.
Now that you'll start at the junior level in your digital marketing career, the pay is $35,000-$45,000 per year.
Here is a table on general digital marketing positions and their salaries (though it varies depending on different factors)
---
| | | |
| --- | --- | --- |
| Job Title | Salary | Years of Experience |
| Junior Digital Marketer | $35,000-$45,000 | 1-2 Years |
| Digital Marketing Specialist | $50,000-$65,000 | 3-5 Years |
| Digital Marketing Director | $75,000-$100,000 | 6-10 Years |
| Vice President of Digital Marketing | $100,000-$200,000 | 10-15 Years |
| Chief Marketing Officer | $125,000-$300,000 | 15-20 Years |
---
FAQs on Getting a Digital Marketing Job Without a Degree
---
I know it might baffle you that a job can pay this much without a degree, but you can't get one without the necessary skills to work.
Here are some common questions on digital marketing jobs without a degree:
---
Q) How Much Do SEO Specialists and Digital Marketing Consultants Earn?
A) Research by ZipRecruiter averages the salary of a top earner in content marketing at $150,000 annually.
Indeed.com reports $53000 on average for most SEO specialists as top earners bag $150,000+.
Content marketers take home $90,000, social media managers $71,000, e-commerce marketing managers $120,000, and PPC experts $65,000 annually.
---
Q) What Are the Skills Needed for One To Get a Job in Digital Marketing Without a Degree?
A) Digital marketing is a multi-faceted field and there are essential skills everyone in the industry needs to have.
Some are writing and editing, data analysis, SEO and SEM, email marketing, and listening skills.
It will be crucial to have mobile marketing, social media advertising, email marketing, CRM, and basic design skills.
---
Q) Where Can I Get a Job in Digital Marketing Without a Degree?
A) As mentioned earlier, digital marketing is high in demand, and the jobs are being advertised online and in printed media.
Scout on LinkedIn for offers that match your skills.
Job boards like Craigslist, UpWork, Freelancer, Fiverr, and Pay Per Content have clients posting different digital marketing jobs.
A random search on Google will give you hundreds of options.
Don't only assume platforms like Indeed Jobs, Monster, SimplyHired, CareerBuilder, and ZipRecruiter.
You can land clients from your networks and referrals from satisfied clients or buddies who've seen your work.
---
Wrap Up
---
Can you get a job in digital marketing without a degree now that you have the basic information?
You should if you learn how to be a digital marketer, equip yourself with the relevant skills, niche down, network, and create a solid portfolio.
There isn't a doubt that digital marketing pays decently, and you can do it freelancing or as a full-time in-house employee.