March 21, 2023
How Can I Earn Money From Digital Marketing?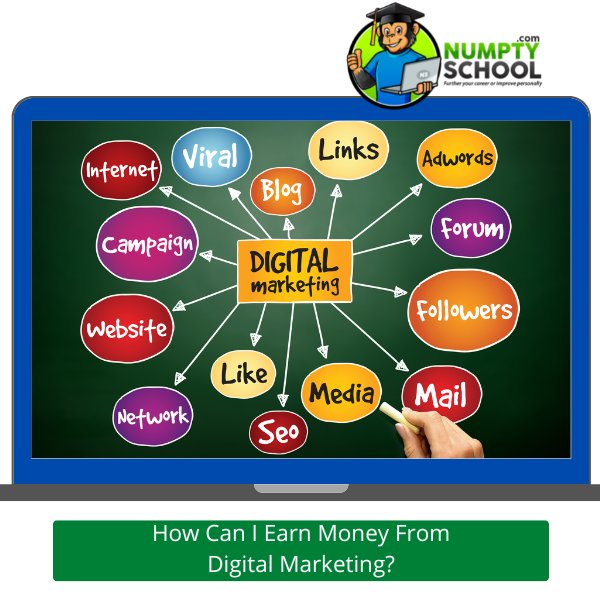 We all thrive in different places and capacities, but the best thing about digital marketing is that you can earn a decent income from it whether you are freelancing, doing it part-time, or you are an in-house digital marketer for a company.
Where you work in this industry doesn't really matter.
Take an example of Neil Patel who is one of the highest paid digital marketing influencers specializing in blogging, marketing and consultancy, and software building among other things he does online.
His blog alone generates $1,000,000+ annually in revenue – massive, right?
So, how can I earn money from digital marketing and be like Patel?
First, the field is diverse and digital marketing channels available create opportunities for experts to earn well from them.
Check out digital marketing jobs on Google and see the job positions advertised, ranging from management and specialist positions to intern jobs.
Some specialize in one category, while others scout for opportunities across other departments since their primary basis is in marketing.
Here are some ways you can earn from digital marketing.
---
How Can I Earn Money From Digital Marketing?
---
Assuming that you already know what the topic is about and its different channels, you'll need to learn the basics of digital marketing before niching down to an area you feel more experienced in.
But in case you want help knowing the best avenues that pay for starters, this article will guide you to identify a channel to focus on.
---
Content Writing
---
Content writing is broad but pays regardless of your specialty.
You can start working on content mills like Upwork, Iwriter, Fiverr, PayPerContent, Guru, Freelancer and Hirewriters to build your experience.
Some platforms pay depending on the writer's skill level, others have fixed amounts per project, while others allow you to negotiate with the client.
Once you are sure that you can hit the streets solo, start blogging and later niche down your site to focus on a passionate or best-selling topic.
Blogging allows you to earn from ads, affiliate links, and selling niche-relevant products and services.
Additionally, you can combine other content writing opportunities like the ones below to make more money:
---
E-book writing
Writing for publications and magazines
Technical writing
Copywriting
Ghostwriting
Scriptwriting for video creators
Show notes writing for podcasts
---
Search Engine Optimization
---
You can do anything to learn SEO and earn from it.
And if you are unaware, it is one of the highest-paying categories of digital marketing since it has a high demand.
SEO isn't for the faint-hearted – it is a delicate skill one can learn, follow trends to ensure that their output works to see ROIs.
Here, the overall aim is to rank content higher on search engines so that searchers can benefit from your content and do the necessary actions e.g. subscribing, enrolling, or buying a product or service.
---
Check out some ways you can earn from SEO:
Getting a position at an agency
Selling your products and services on your site
Dropshipping
Offer SEO consultancy services
Selling 'white label' SEO services
Hosting SEO seminars
Building and selling SEO software
Selling online SEO courses and writing services
---
Website Design
---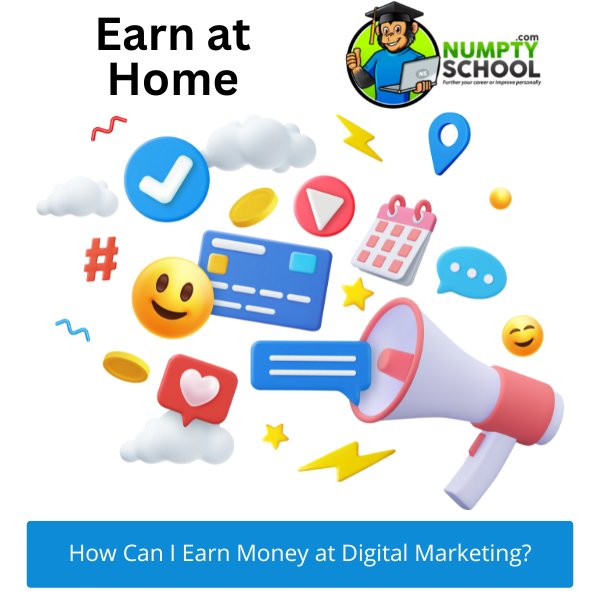 How can I earn money from digital marketing if website design is my passion?
Great that passion is your push because technical skills are crucial for advanced web designing.
But, you can do it even if you aren't tech-savvy – there are basic web design courses online to help you build a simple website without coding knowledge.
A more advanced website will need a knowledgeable web designer to handle back-end services and ensure the site is running, stable, and very secure because scammers never sleep.
Indeed.com averages a web designer's salary in the USA to be $24.56/hour with the highest paid skill-force earning up to $71/hour.
---
Here's how you can earn money from web design:
Work at a design agency
Be an in-house designer
Freelancing on LinkedIn, UpWork, etc.
Starting your agency
Write website design content for blogs
Sell templates and themes
Sell files and stock graphics
Sell a web design course
---
FAQs on Earning Money From Digital Marketing
---
There is a plethora of questions on earning from digital marketing, but we'll cover some of the commonest yet hardly answered ones.
Q) Which Digital Marketing Job Pays the Most?
A) If we were to go into the real stats, ZipRecruiter ranks 'digital strategy manager' as the highest paying job in this field with a salary range of $75,000-$118,000 annually in the USA.
And from the description, the position is hotcake as many companies are hiring for the same.
---
Q) Can I Earn From Digital Marketing While Working From Home?
A) Sure! You can earn from digital marketing working from home whether you are in the email marketing, social media marketing, SEO, or affiliate marketing department.
Companies advertise work-from-home freelance, full or part-time positions on LinkedIn, Fiverr, UpWork and similar platforms.
---
Q) Do I Need a Degree To Earn From Digital Marketing?
A) You don't need a degree to earn from digital marketing as this can be self-taught (which is most people's preference).
However, a degree in it is a bonus because a few companies need this.
The majority are focused on your experience and output.
You can learn digital marketing through online courses, webinars, blogs and tutorials, YouTube videos, and other resourceful material (paid and unpaid).
---
Wrap Up
---
Dipping your feet in the world of digital marketing exposes you to numerous earning opportunities.
Apart from being paid from SEO services, website design, and content marketing, you can be an affiliate marketer, social media manager, or mobile marketer.
Other avenues of making money are Facebook advertising, PPC, network marketing, consultancy services, lead generation, and YouTube marketing.
Plus, each section has different opportunities to help spread your wings and maximize your interactions.
If ''how can I earn money from digital marketing?'' has been a bothering question, you can agree that the answers are inexhaustible.
The demand for digital marketing specialists is very high, making the earning opportunities numerous.
Luckily, the pay in this field is admirable but you need to put in the work.
You could be the next Neil Patel.