August 9, 2023
How Good Is Google's Digital Marketing Course? Is it Worth it?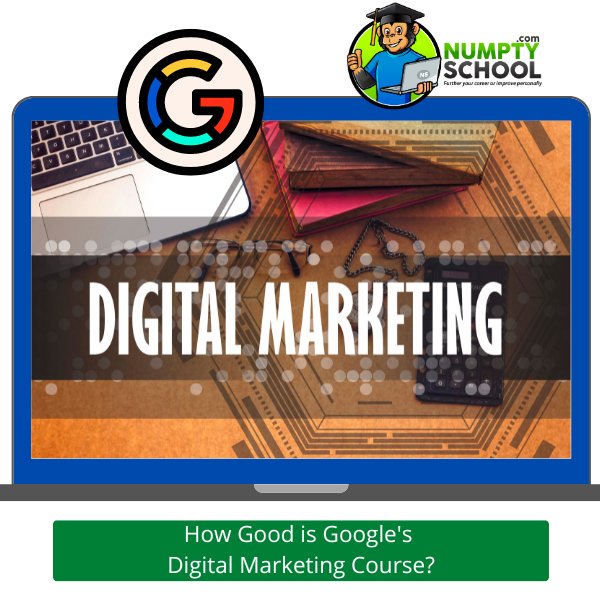 It isn't uncommon to find bad reviews of courses online – a course could have 1-5 negative comments out of 100+ shared by its students while another could have three-quarters of it not reading so well.
Reviews are among the best gauging aspects to determine if a course certification is worth it.
The higher the number of bad reviews, the faster you should run regardless of the institution or individual offering it.
If this is the case, then how good is the Google digital marketing course?
Google's digital marketing course is one of the best in its field, not because it has been compiled by a multinational technology company.
Check its reviews on platforms like Quora and Reddit – these don't lie!
Breaking ground in the digital marketing industry isn't as easy because of the thousands of resources which a newbie can't tell if they are worth it, making Google's course a good place to start.
Google focuses on online advertising, SEO technology, e-commerce, cloud and quantum computing among other things and I believe the course was compiled by its experts in various fields to offer relevant insights that work.
Even with Google sharing updates frequently, what you learn in the course is standard.
---
How Good Is Google Digital Marketing Course?
---
In fact, it is the best you can enroll as a starter since it covers the fundamentals of digital marketing.
You get a certificate accredited by The Open University and the Interactive Advertising Bureau Europe upon successfully completing the course.
Advanced learners taking the course for the first time might describe it as basic because of the knowledge they already have, but an amateur will find it a gem.
It is a well-rounded course to help you build a solid knowledge base in the field.
Keep reading to know what you will learn, the cost, who it is for, and the duration it takes.
---
What is Google Digital Marketing Course?
---
Google as a search engine compiled a detailed course for beginners through its experts to teach novices the fundamentals of digital marketing.
It covers numerous topics for marketers and business owners who want to focus more on online marketing.
You will benefit more from it if you are totally blank on digital marketing or have very little information and want to expand your knowledge.
Do you know where the juice is? – It is absolutely FREE!
It costs nothing to enroll and get certification, making it ideal if you are on a very tight budget but thirsty to learn.
The course is online-based and consists of 26 modules covering essential topics in marketing.
Case studies are practical giving real-world experiences for easier application when tackling actual issues.
It takes 40 hours to complete the course which is reasonable for the busy human.
---
What Does Google Digital Marketing Course Teach?
---
The 26 modules cover different areas of digital marketing and after completion, there are generalized skills you will have learnt.
Here is a brief of what the modules cover:
An introduction to the digital garage and the online opportunity
---
Online Success 101 – the goals, building and marketing an online presence
Building a web presence (website creation)
Online Business Strategy
Search Engine Basics 101
SEO 101
How to make SEO work for you
SEM and Search ads
Search Campaigns
Getting Noticed Locally
Helping Nearby People Get You Online
Social Media 101
Navigating Social Media Advertising
Mobile Optimization
How Mobile Can Work for you
Content Marketing 101
Email Marketing 101
Display Advertising 101
Display Advertising 102
Video for Marketing
Analytics 101
Analytics 102
Converting Data into Helpful Insights
Building an Online Shop
Selling Online
The International Market
---
You can agree that the course covers most digital marketing channels sharing introductory information to give you a general overview of what the field is about.
What Skills Can You Learn from the Google Digital Marketing Course?
Beginners don't need an overload of information because it can be hectic to learn and complete a course.
The Google Digital Marketing Course equips you with the below skills:
---
Data analytics and insights
Content marketing
Business strategy
Display advertising
e-commerce
Email marketing
Local marketing
Mobile marketing
Search engine marketing
Search engine optimization
Social media
Video marketing
Web optimization
---
Remember that the course targets beginners and the levels of skill acquisition is on that level.
So you need to invest more time and money in advanced courses to level up your skills if you want to set yourself apart from the competition.
---
FAQs on Google Digital Marketing Course
---
Check out some straightforward answers to questions on the digital marketing course offered by Google
---
Q) Can I Get a Hardcopy Certificate?
A) The certificate is available online after successfully completing the course and answering the 40 assessment questions.
It is a digital softcopy certificate you can add to your CV and resume but can be printed if you need it in hardcopy.
---
Q) Can I Be Hired as a Digital Marketer after Completing the Course?
A) It highly depends on how you market yourself.
You can get hired if a brand is looking for a beginner at digital marketing to handle the basics while upskilling using material it offers.
Otherwise, it would be best to follow this with an advanced course to dive deeper into what you've learned in the Google Digital Marketing Course.
---
Q) Are There Other Courses Like This That I Can Take?
A) Sure! Udemy and Skillshare are excellent platforms with dozens of free and paid digital marketing courses.
Besides you can get helpful courses on individual topics the Google Digital Marketing Course covers.
---
Conclusion
---
How Good Is Google Digital Marketing Course?
As a beginners course, it is A1 standard.
Online courses are the way to go if you are up and down with life's offerings or need to learn a new skill on a shoestring budget.
The Google Digital Marketing Course is everything you need to build a strong foundation as a service giver or business owner who wants to run everything themselves.
It is a free short course provided by one of the best in the field making its certification credible when looking for gigs.
Besides being easy to enroll and learn, the content delivery is splendid and easy to digest.