February 27, 2023
How Much Does It Cost To Learn Digital Marketing?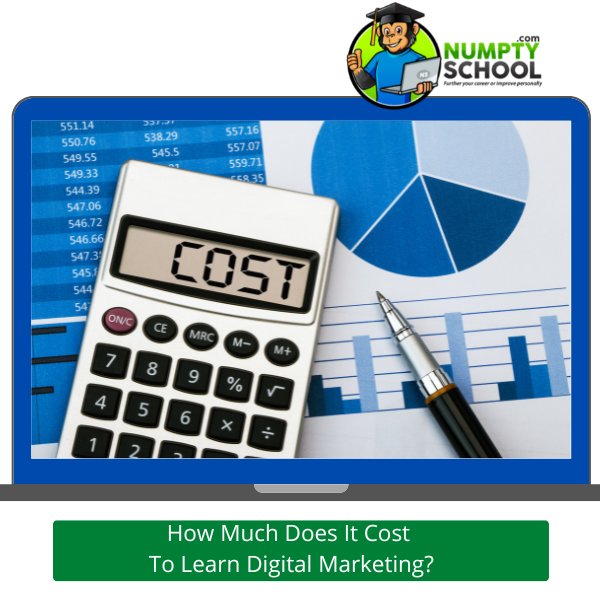 Things are taking a shift and you are either here because you want to train in digital marketing as a side hassle to fetch a few bucks, or are permanently considering living off of the internet because it is the new big thing.
So how much does it cost to learn digital marketing?
First, the cost of learning digital marketing varies depending on how and where you want to do it.
Enrolling in a physical digital marketing class in a higher learning institution costs an average of $2800 for a 6-8-month course; however, fees differ from one facility to the other.
An online digital marketing course on sites like Udemy and Skillshare could cost as low as $0 since hundreds of FREE courses exist on these platforms.
There are different ways of learning digital marketing whose costs can be around a few hundred bucks.
We will discuss these in the article to help you choose the most affordable for your needs.
---
How Much Does It Cost To Learn Digital Marketing?
---
I was born when marketing was merely via magazines, newspapers, radio, television, and a little bit of E-commerce (it wasn't a big thing yet), and little to nothing was known about the digital marketing we see now – see, I am not so young!
Did I know I would be interested in knowing how much it costs to learn digital marketing then?
I was laid off from work and opted to comb the streets in search of an income because a man got to do what he has to do!
Long story short, I found myself in this field after paying and consuming free content here and there, so I'll spill it all for you.
---
The Cost of Learning Digital Marketing in a Physical School
---
Most universities, colleges, and tertiary institutions offer digital marketing as a course.
The average cost is $2800 for facilities offering it for 6 to 8 months, but charges vary with each institution.
Here is a breakdown of some digital marketing schools, their fees, and duration
---
The University of California, Irvine, $2850, 6 Months
Yale School of Management, $2800, 8 Months
George Washington University, $2800, 2-Credit term
Sacred Heart University, $42800, 5 Years
Henry Harvin Marketing Academy, $599, 12 Weeks
The University of Illinois, $2974, 4 Weeks
---
We advise reaching the respective facilities through walk-in, email, or phone to get the exact costs of the digital marketing course you want to enroll in.
---
The Cost of Learning Digital Marketing Online
---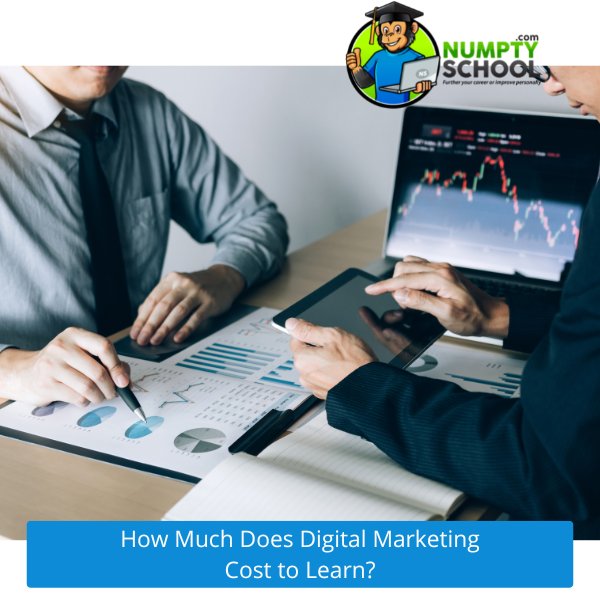 Online learning is becoming popular, thanks to its flexibility.
Lately, we have seen the pandemic change how things work, and for some, learning online was a relief because of the movement restrictions.
Now, this category is vast, but I will try to break it down.
Digital marketing covers sub-categories like email, social media, inbound, content marketing, and digital marketing analytics tools among others.
Some choose to go straight into the sub-categories, but we recommend starting with digital marketing courses as a whole before narrowing them down to sub-categories.
Online learning platforms like Udemy and Skillshare have FREE courses for you.
These are gems, especially if you are a novice on a very tight budget.
More places you can get FREE options are HubSpot Academy and MOZ's SEO Learning Center.
Some are detailed but will need supplementing with paid courses like this one that I have reviewed.
Paid online digital marketing courses start from as low as $10 dollars for basic options.
Some tertiary institutions have online classes you can enroll in, complete, and get a certification.
For instance, MIT Sloan School of Management has one for $2800 that spans 6 weeks.
You can consider taking an online or hybrid program offered by institutions like EMORY.
Currently, it has a program running for 6-12 months and costs $4305.
Others offering the course are CXL Institute for $108 per month, DigitalMarketer Lab Elite for $2985 annually, and LinkedIn Learning for $30 per month.
---
Learning Digital Marketing and its Costs FAQs
---
There are many ways to learn digital marketing apart from taking courses online or in physical institutions.
Here are straightforward answers to questions regarding the same.
---
What is the Cost of Learning Digital Marketing on YouTube?
---
YouTube is Free to use, unless you join a creator's private membership team where they post specific content not accessible to regular subscribers.
The 'Join' feature recently launched appears next to the 'Subscribe' button and each creator has their pricing for this.
Otherwise, there are tens of thousands of videos on digital marketing that you can access for free.
---
How Much Is It To Join a Digital Marketing Webinar?
---
Digital marketing webinars can be free or paid.
Free existing options are very few, but will help beginners learn tons of information.
Paid or those where subscriptions apply will range from $10 onwards, depending on the host, duration, and number of members.
Webinars make learning online easy and more fun, thanks to the PPTs available.
Besides, you learn advanced topics you might not have heard of, or read anywhere.
---
Do Influencers Charge to Train Digital Marketing?
---
There are quite a number of digital marketing influencers on Instagram, TikTok, Facebook, and Twitter who share tips from time to time through posts, stories, and videos.
Some offer training and mentorship at a fee.
Good examples are Larry Kim, Neil Patel, Rand Fishkin, and Gary Vaynerchuk.
Neil Patel has a 30-hours self-paced training at $1368, and if you know this guy, you can agree that he didn't come to play in the industry.
---
Take Home
---
So, how much does it cost to learn digital marketing?
The power of the price lies in your hands – what you want to learn, the place, duration, and your resources.
Learning digital marketing can be as cheap as FREE, if you are tight through YouTube University, attending free webinars, live sessions on social media by top influencers, or reading blogs.
But, you can pay for online or on-campus courses, physical training, or private memberships on YouTube, spending as low as $5 to $1000+, depending on what you choose.
We recommend mixing these resources, as the information shared isn't the same across all of them.
Some learning resources are more detailed than others, so I pass the ball to you.