May 1, 2023
How Fast Can You Learn Digital Marketing? Master Quickly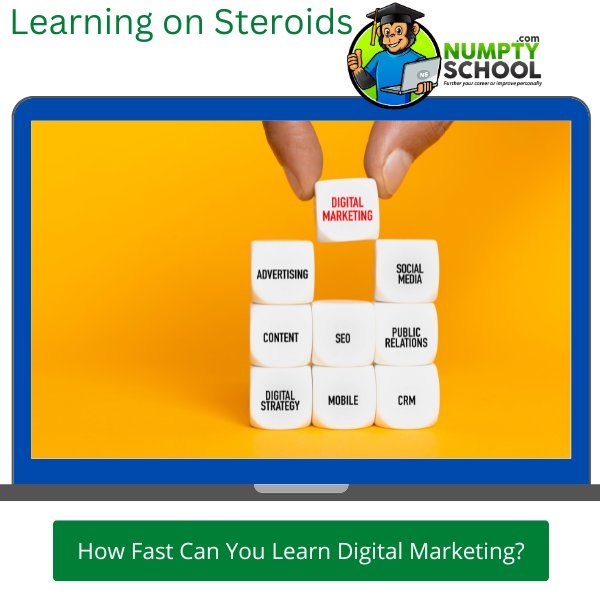 Businesses are focusing more on digital branding and marketing which needs a slightly different skill set than what a regular marketer would have.
As a brand owner, there are options to hire a digital marketer, or an agency, or learn the skills to handle things yourself.
If you are for the latter, how fast can you learn digital marketing?
Let's be honest: There is no definite answer to how fast you can learn digital marketing since a variety of factors will influence the learning duration.
We are talking about your availability, the learning resources you are using, and the level of self-training you want whether basic, intermediate, or advanced.
After assessing such and more factors, then you can know if it will take a few weeks or months to complete your training.
Averagely, considering all factors and assuming you are living a busy life like most people, it should take you between 2-3 months to be done.
---
How Fast Can You Learn Digital Marketing?
---
Unless you have all the time in the world, you are probably fresh out of school, with no commitments or work, learning digital marketing can take you a month if you slot more time daily for it.
But the normal human with work, family, meetings, and other activities will need more time – double or triple the above category of people might take.
Plus, digital marketing is ever-changing with new programs and trends coming up every few months that need you to learn how to use and blend in to remain relevant when planning and executing different strategies.
Let's see how fast you can learn digital marketing.
---
Have All the Learning Materials You Need Ready
---
Preparedness can save you a lot of time if you want to learn a new skill and the same applies to digital marketing.
First, the field is vast with numerous subsections that you need to know and understand before niching down to your most favorite.
Meaning there is a ton of learning resources you need to compile to ensure you aren't using your learning time to look for them.
Some useful resources to put together are:
---
Free and paid courses on Udemy and Skillshare
Links to free digital marketing webinars
Recommended blogs and social media pages by avid marketers
YouTube videos
Physical digital marketing books and publications
Links to podcasts on digital marketing
Your writing material
---
Have online resources in one folder that is easy to access and physical material closer to grab each time you need to take notes.
With everything in one place, you'll focus more on reading, listening, and learning.
---
Spare More Time to Learn
---
The early stages of learning digital marketing are the most intense and need more time.
Remember, you'll be covering all the 12 channels of digital marketing, which are detailed if delving into each.
There is a need to keep spare time if you want to learn the skill fast.
More time means you can cover a lot in a session, shortening the overall duration you'd have taken to complete your training.
Besides, you will be using different resources and each will need you to go through, making your learning period longer than when using one resource.
How fast can you learn digital marketing when life is all busy?
You can listen to podcasts and other audio material while doing light duties that don't need much attention and stop to jot notes if any (only if your focus game is A1).
If you are good at killing two birds with one stone, go ye buddy!
The better if you can add 10-20 more minutes daily to your usual learning time because you won't realize how soon you'll be done.
---
Get Mentorship and Network While Learning
---
It might sound like you are doing so many things at a go but that is how life is anyway.
Resources you are using to learn have been prepared by digital marketing pros who offer to share their knowledge through free or paid material.
Some offer mentorship once you enroll in their courses and others might need you to reach them directly if you need guidance.
Do this from the start of learning so that you have a solid foundation even after completing training.
Mentors can easily spot your strong and weak points and advice accordingly.
Besides, they can easily refer you to jobs and other learning opportunities.
Network with like-minded people on social media, LinkedIn, Reddit, and other platforms.
That's how you create a relationship that can open doors for you in the future.
---
FAQs on Learning Digital Marketing Fast
---
Digital marketing isn't tough to learn, meaning you can be done faster and start exploring its opportunities.
Check out some FAQs below:
Q) How Fast Can You Learn Digital Marketing at the University?
A) It depends on the level of certification and institution you are taking the course from, but the period can range between 1 and 6 months for most basic levels.
Others like Sacred Heart University have a digital marketing course running for 5 years.
---
Q) Can I Get a Digital Marketing Job Immediately After Training?
A) You can but it largely depends on your aggressiveness.
The secret to landing a job immediately after training is intense networking during training and being open to internships because it is easy to be considered for a better-paying opportunity because of your close connections.
---
Q) Can I Learn Digital Marketing for Free?
A) Yes, there are thousands of free digital marketing resources on and off the internet that you can use to self-train.
Get free online courses on platforms like Skillshare, read educative blogs and books, follow top digital marketers' social media pages, watch tutorials on YouTube etc.
However, you'll need to research more for free advanced material if you want to learn beyond the basics.
---
Wrap Up
---
How fast can you learn digital marketing today?
Let's say you determine how fast it can be for you.
Time is a crucial consideration factor, and if you have more of it to research and learn, the quicker it can be to start and finish a training.
Note that if taking real-time physical or online training, the trainer's availability can also influence how long it takes to learn the skill.
You are better off having a trainer with regular availability if you want to speed the learning duration.