July 28, 2023
Can I Get a Job with a Digital Marketing Certificate?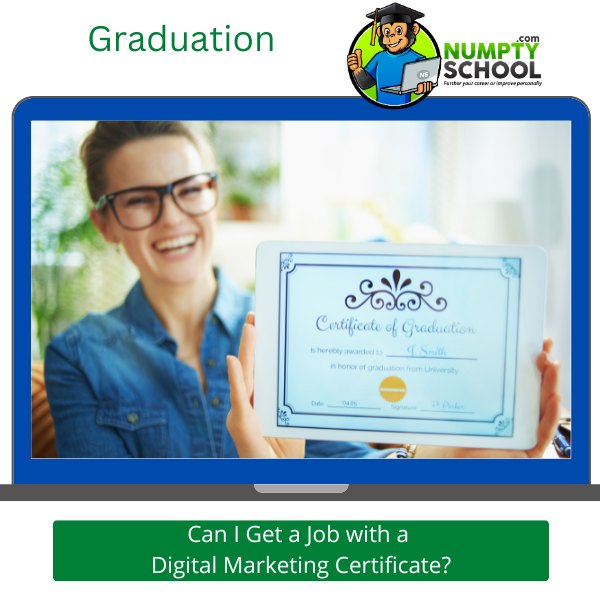 Academic or skill certificates show that you have completed a training course, but we know that there is a rise in forgery that sees unqualified people having as many as they can get.
Let's not go there today!
In at least 95% of job application requirements, you'll be asked to submit relevant certificates that match your experience and skill set.
These are used in the vetting process before hiring takes place.
So, can I get a job with a digital marketing certificate?
Yes! You can get a job or more if you have a certificate in the digital marketing department.
Put some emphasis on 'more' because if you take the digital marketing freelance path, you are free to have as many clients as you can handle.
---
Can I Get a Job with a Digital Marketing Certificate?
---
Digital marketing certification is cheaper than enrolling in a traditional degree.
It takes a shorter time to complete while offering as much as you would learn if you registered for a degree.
There are numerous digital marketing certification courses in this niche with very few free options; however, most people prefer paid alternatives because they are more detailed, give more exposure, and most clients find them more dependable when considering course types taken by applicants.
Here are some jobs you can get with a digital marketing certificate.
---
Digital Marketer
---
Digital marketing as a course entails all aspects of the topic from SEO, SMM, email and influencer marketing to video, affiliate, PPC, and content marketing among others.
You will cover all these sections in depth to help you find your interests and narrow them down if you'd love to focus on one niche and upskill.
Overall, many hiring companies still advertise their jobs with titles like 'digital marketing director, specialist, executive, manager etc.
Hence, your skill level is covered in such instances and if your experience level and work reviews are impressive, there are high chances of landing the deal (if you meet other qualifications too).
Most startups or tier one companies are likely to hire a digital marketer who can do everything from social media management and email marketing to copywriting and content marketing because of a tight marketing kitty.
Here, your ability to perform all roles, be flexible, and switch gears when needed are crucial.
---
Marketing Manager
---
A marketing manager still creates content as a digital marketer does, but their sole responsibility is overseeing the company's marketing department at large.
You are responsible for communication on matters pertaining to this section and handling all large scale campaigns.
The content creation task would primarily revolve around social media and hardly on SEO since their primary focus is on campaign management, sending sales emails, and regular communication with customers.
A manager will work closely with partners to ensure the deal process is smooth to get more business to the company.
Their skills cut across all digital marketing channels, meaning they can monitor other sections of the department with ease.
And as a manager, the salary range is higher depending on how many digital marketing certificates you have, your work experience, and other determining factors.
---
Content Strategist
---
Can I get a job with a digital marketing certificate as a content strategist?
Sure! The content strategist position would generally pose as an editor's or writers', but there is more to this than creating content.
It means you need a slightly unique skillset to qualify for this.
Here, you need to know how to create content strategies that work, plan and execute them while focusing on inbound marketing.
Everything you handle from content copy to publications should base on users' needs and the brand's objectives.
You need to be a content planner – create, curate, plan, and research ideas ensuring they align with the brand, add value to prospective and existing customers and drive inbound traffic to the company's website with the intention of encouraging readers to take profitable actions.
---
Getting A Job with A Digital Marketing Certificate FAQs
---
A digital marketing certificate could be from your diploma, degree, or master's training.
Or, it could be from 'online schools' offering short courses and issuing certificates after the successful completion of units.
Check out some FAQs on the topic to see if you need a certificate in case you have none.
---
Q) Which Digital Marketing Certification Program Can I Enroll in?
A) There is a surfeit of these programs if you search this question as it is, but if you are looking for where to start, Kellogg School of Business, Google Analytics, Digital Marketing Institute, and Duke University of Digital Media are ideal.
Though, there are options like Career Foundry, BrainStation, Columbia Business School, and LinkedIn with excellent certification courses.
---
Q) Are Digital Marketing Certificates Worth It?
A) Yes. Digital marketing certificates are worth it, especially with the rise of the need for these services and the hundreds of thousands of digital marketers already in the industry.
The numbers are expected to skyrocket and brands will need a way to manage the applicant numbers.
Stronger certifications will soon be a necessity if you want to set yourself aside from the competition.
---
Q) Are Digital Marketing Certification Programs Examinable?
A) It largely depends on the program.
Few are courses with short tasks to weigh your understanding on each section while most will have detailed questions covering the entire course.
You get a certificate if you successfully complete the course and pass the tests for the examinable ones.
---
Wrap Up
---
Can I get a job with a digital marketing certificate?
Yes! Whether you undertook intensive training in a physical school as part of higher learning education or if you did it to freshen existing skills, you can be sure of getting a digital marketing job, if you meet all the requirements under the description.
A digital marketing certificate from a reputable and recognizable provider helps you demonstrate your dedication, expertise and skills to potential employers.
And if you are new to this niche but want to create a solid foundation for your newly-found career, you can learn digital marketing through webinars, blog posts, free online classes, tutorials, and YouTube before advancing to certification courses.