January 19, 2023
How to Begin a Home Freelance Digital Marketing Business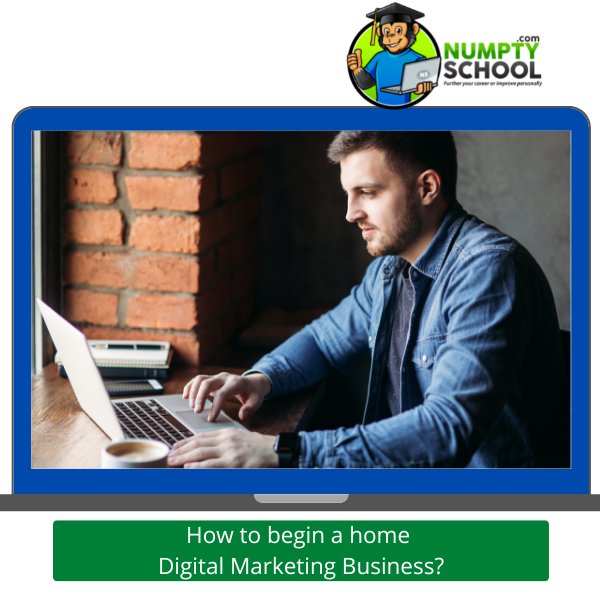 If you have been dreaming of pursuing a digital marketing career solely or in another field, here's your sign.
If you learn the ropes and take the correct steps, freelance digital marketing is a highly lucrative and practical career.
Today's field is loaded with tons of newfound innovations and possibilities, and there are numerous sub-categories.
It is a tenfold arena when it comes to beginning a home freelance digital marketing business.
Getting started in freelance digital marketing needs you to identify your niche, build your skillset, build your site, create a strong portfolio and curate your brand.
Well, these are the top broad things to do with a few left that we will discuss below.
---
Find your Niche
---
Digital analytics and content marketing are vital components of comprehensive and effective marketing strategies.
But it is rare for an organization or business to hire one person for the two roles.
Do you like getting dirty on data and tracking campaign performances, or are you the creative chap?
Some are jacks-of-all-trades, while others gravitate towards particular niches, focus on their strengths and become the best in their business.
Potential clients seek experts; thus, identifying your best areas will effectively position you as one of them, resulting in a fruitful freelance career.
You need some dabbling to find your niche.
Most starters what to try all aspects of the marketing scope and identify where they shine the most.
Discuss with fellow digital marketing freelancers to get their experiences.
If funds and time allow, you can choose to intern at digital marketing agencies or shadow marketers in the field.
This gives relevant knowledge of available possibilities and allows you to make informed decisions.
---
Build the Relevant Skillset
---
Having a degree is helpful, but it isn't a requirement for breaking into the digital marketing space.
Hands-on and initiative experience is vital for success, and as a starter, you can begin with an entry-level position in a company.
This offers structure and stability to learning relevant skills.
If still in school, an internship position at an agency will help you gain real-world experience.
The digital marketing space is rapidly evolving, and even if you are a rookie, stay up-to-date with trends to know skills in the highest demand.
Check out online digital marketing courses to learn new tools and technologies; some cover specific elements of digital marketing, e.g. paid ads or SEO, while others are broad and explain all its categories.
General courses are excellent for beginners to help them identify their niche and specialize in specific categories of the profession.
Building your skillset as a digital marketing freelancer is a continuous process, and with the recent growth in technology, you want to expand your repertoire and keep on your toes.
The more you are up-to-date with your knowledge, the more your chances of being sought after if you market yourself correctly.
Upskill yourself constantly and learn new tricks often since it is dynamic terrain.
If your pockets are tight, there are free digital marketing courses and resources you can use.
---
Build a Website
---
Building your website is an excellent way of starting your digital freelancing career.
You can make it an online portfolio that houses your content writing projects and demonstrates your pro SEO skills by optimizing your site.
Ensure it features rich results like FAQs, People Also Ask and featured snippets to help your SERPs visibility.
Your website serves as a primary advertisement for your work and skills in the digital marketing world.
If the website is innovative, exciting, user-friendly and increases your brand's awareness, you will start receiving engagement from prospective clients who want to use your skills.
As a freelance digital marketer, you need to spend enough time and energy creating a fantastic website.
You can start with WordPress to build your website and maximize its free themes if you can't pay an expert.
Build your contacts, gain regular work and invest in upgrading your site to entice well-paying clients.
A portfolio is invaluable as it helps to illustrate your work and makes clients take you seriously.
It would be best to consider taking entry jobs to build your experience and create an impressive portfolio.
Blog on your site and illustrate your writing skills and styles.
The stories you tell on your blog and your website are vital for building a personal brand and enticing prospective clients.
Sites like Fiverr and UpWork are great for finding an entry-level job.
Check LinkedIn and Facebook Groups for clients who can take newbies for their tasks and put your best foot forward.
---
Flexible Rates is the Secret for Beginners
---
Never undersell your work or yourself when bidding to prospective clients, but ensure you aren't rock-rigid on negotiations, especially if you are a novice.
Go into your meetings with a rough figure, but be open-minded regarding the final rates.
It is more valuable to build a solid relationship with clients that pay over time than to fail to pursue the projects because they are slightly under your rate.
Regardless, you need to know your worth and then aim for lucrative jobs after building an impressive digital marketing portfolio to bolster your career.
Once you are very confident in your digital marketing career, up your rates, and ensure you can produce top-notch work that boosts brands and their businesses.
---
Network and Build a Client Base
---
Networking and getting clients can be daunting when starting.
Start with those you know and spread the word about your digital marketing freelance career; you can get direct work or referrals from them.
Share your portfolio and create shareable posts on all your social media channels.
Market your work on social media platforms like Facebook and online freelance groups.
Platforms like Upwork, Fiverr and LinkedIn are great for showing off your skills and promotions.
Ask around if there are any local freelance groups in your area to start remote networking; you might be lucky to find jobs.
Cold pitching and emailing are yielding, but first, know how to write effective emails to maximize your chances of getting responses.
Work with professionals in your field and network with them.
You will meet like-minded buddies who will add more insight and value to your business.
Ask around for networking events you can attend or start working at a co-working space.
The advantage of co-working spaces is that you could meet new people running their businesses and might need to use your digital marketing freelance skills.
---
Get a Mentor
---
While learning digital marketing ropes, you need a mentor as a valuable resource.
Mentors might have worked in your aspiring niche or a freelance digital marketing expert who has accomplished what you wish to do in the future.
A mentor speaks from experience and offers first-hand accounts of the best ways to succeed in your field.
Once they are in your court, they will advocate for you through networking opportunities.
Networking early sets you up for success.
It might seem uncomfortable seeking someone out to help you in your professional career, but it is a fantastic experience.
Mentors ignite a lot of inspiration and help their mentees pave the way toward successful and lucrative digital marketing careers.
Please pay it forward or mentor other rookies after building a successful digital marketing freelance enterprise.
Shared wisdom and connections are irreplaceable when starting and running a digital marketing career.
---
---
Curate your Brand
---
It is vital to create a brand if you want to build a successful freelance digital marketing career.
People naturally gravitate towards your services or products if you build a strong, reliable brand.
As a digital marketer, you need to know how to highlight all the best features of your service or product to increase the chances of your target audience taking action.
Know how to sell your brand and embody all the necessary traits within it to show prospective clients you are the perfect fit for their projects.
Use your website and social media to show your best features to the world.
Explain your work and why you are the perfect fit for their tasks.
Share positive feedback if you have any.
Such features play a huge role in marketing your brand.
Building a brand is vital for client respect and recognition, while marketing is paramount if you want your message to reach more people.
Tip: Operate as a Business
Treat yourself and operate as a business to have a sustainable mindset instead of considering yourself solely a freelance digital marketer.
Don't be like most freelancers who take one-off gigs.
You want your client to think of you when they need help; thus, a growth mindset of critical to counter plateauing in your early stages.
---
Conclusion
---
There is no successful freelance digital marketer who peaked overnight.
It needs time, patience, effort and consistency to establish and solid foundation to build such a business.
Stay on top of trends in your niche and constantly upskill yourself to expand your knowledge and set yourself apart from the competition.
You want to build a strong reputation in your niche and increase your chances of getting lucrative deals once you are confident in your skills.
Try the strategies and tips above to kick-start your career off the right foot and enjoy the benefits of being your own boss.
If you have tried any of these, or have more hacks, share with us too!