March 3, 2023
How to Start a Local Viral Email Marketing Home Business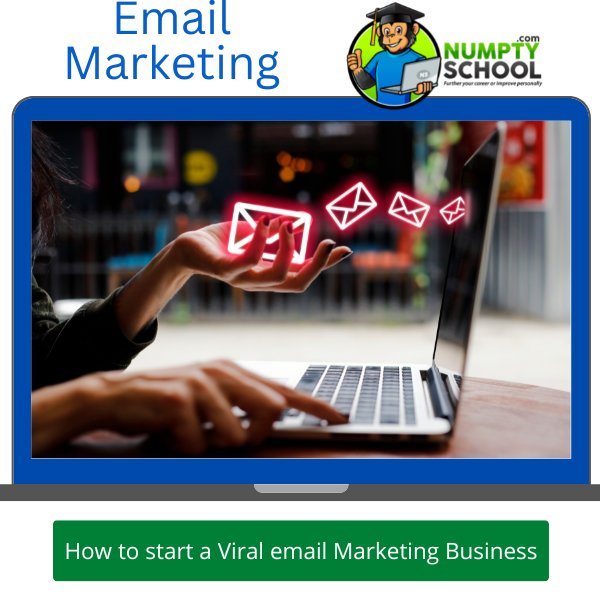 A 5.5-hour in-depth course teaching how to start an email marketing business and professionally run it as a fully home-based venture.
---
Description of the Course on Udemy
---
By the time this course review goes up, most people worldwide are still in a pandemic.
It has been crazy as the impacts have hit hard on so many people and their sources of income.
I didn't mean to digress but this brought so much meaning to what you can do from home to earn you a living.
Chris compiles an in-depth course that teaches you how to start and run a viral email marketing business from home.
Yes! Imagine how it would feel like to be your own boss.
In this era where a huge number is striving to be self-employed, this is one of the things you can do.
It is easy, affordable to start, and quite stress-free to run.
I am elated by the numbers here as this proves that so many wish to begin home businesses.
Should I say mine too is?
Currently, the course is rated at 4.1 stars after enrolment of 10,600+ students.
Going through the reviews, I'd say it is worth your time and money.
Email marketing has been among the commonest forms of digital marketing.
Even if platforms like YouTube and Facebook have jumped on the bandwagon so fast and shining in their spaces, the former remains a solid requirement for the success of most businesses.
I love an updated course.
While email marketing concepts and strategies are easy to master, knowing what works at the right time is crucial for growth.
Chris often updates the course to ensure it remains relevant as the years go by.
Unlike other instructors who create courses and end at that waiting to reap for an eternity, this one's priority is for you to get as much help as possible from it.
Also, once you enrol, you have lifetime access to the course.
You can drop by at any time to see what is new there.
Pick the additions and implement them in your business.
The instructor is generous enough and includes enough training and reference material for all his students.
This should help you during and after the course.
Also, they are downloadable and you can use most of them offline.
I know most of us hardly have time to do some things like investing in ourselves.
But, if it can earn you money, why don't you do it?
The course runs through 5.5 hours and this is a rather short time compared to those that need a full day or more.
If your concentration span is top-notch, you can wrap this up in one sitting.
However, there is no award for whoever completes it first.
Take the course at your pace.
You can plan on completing a section daily.
If this won't work, sparing 20 to 30 minutes daily should be a great idea.
I know some courses don't meet your expectations and could have been a waste of resources.
This one is a gem.
But if you feel dissatisfied, you are entitled to a 30-days non-questionable money-back guarantee.
Stop procrastinating and enrol now.
---
Course Content and Overview
---
Email marketing could be among the oldest modes of communication in the digital industry but it reigns supreme to date.
I know there are newer communication forms of reaching your customers and audience.
But, research shows that there are over four billion people using email.
It can be crowned king.
Also, its ROI is estimated at $38 for each dollar spent.
So, it deserves enough space in any marketer's toolbox.
This course teaches you how to start and run a home-based business that fully works.
There is no selling but there is repeat income monthly.
Billions of marketing dollars are spent on email marketing yearly and businesses want to know how they can get profitable returns on each dollar invested.
If you want to start an email marketing business and run it from home, the insights in this course will help.
There are various ways to work around email marketing businesses.
But Chris focuses more on the freelancer or agency model.
This means you are doing email marketing for other people.
However, remember that most people will launch full publishing firms revolving around email marketing.
An email marketing business should positively impact the company's ROI.
Companies you handle need to know how they can benefit from effective email campaigns.
Only a few owners are ready to reap the most out of this model.
As an email marketing expert, focusing on these tasks should help you master email marketing business for various clients.
The course teaches you how to identify your clients.
Your marketing campaigns could be incredible.
But, all of them won't work for everyone equally.
The right customer isn't a firm with full internal staff who are handling digital marketing needs.
It will not be a client who doesn't understand the importance of marketing unless you can properly convince them.
The ideal customer is that who has tried this method of advertising and witnessed some success or didn't have the perfect strategies to make the best out of it.
This course is relevant for businesses that recognize the importance of effective email marketing campaigns but have no k knowledge, time, or resources.
Chris explains how crucial it is to understand the needs of your clients.
Businesses have so much in common concerning problems they face that hinder successful email marketing.
Any email marketer understands the importance of creating effective campaigns that give relevant info and convert customers to buy.
You will need to code emails, build them in templates, write copies and content.
You can choose to use advanced marketing automation in your business.
Your email marketing business should offer correct solutions at the time when they are needed.
After pinpointing your clients' needs, give solutions that improve their email marketing.
Here, your expertise is crucial for transforming ROI and exceptionally building the bottom line.
There is a section that talks about measuring your email marketing business.
You need to know if your business is growing steadily, stagnating, or on the verge of collapsing.
You need to consistently and objectively measure your success.
It is important to confirm if what you are doing for your clients is working.
Demonstrating your effectiveness to a group of potential clients is also key.
Then, you can use this success to build and grow customer loyalty even as you expand your customer base.
There are several ways of tracking this success.
Chris talks about the open rate which is the frequency recipients will open a campaign.
Click-through rates are the number of recipients clicking on links within emails.
Conversion rates are the number of recipients who become customers from the email.
The bounce rate is the number of emails that never reach the recipient.
The unsubscribe rate is the recipients who unsubscribe from the email list.
If you want to launch a stable and successful email marketing home business, conveying the value of the services you offer to prospective customers is key.
More numbers are advantageous as email marketing stats are compelling.
---
Who is the Course for?
---
Those who want the luxury and ease of a simple yet profitable home-based business.
Anyone who doesn't want that 'selling idea' but still needs to make an income from email marketing
---
What you will learn
---
How to start and run a simple yet well-paying home-based business doing email marketing on behalf of others.
How to work for fewer hours monthly at your convenience.
How to earn a consistent and stable income monthly
---
Lessons
---
What the home-based email marketing business is about
An introduction to one of the perfect home businesses to run
An overview of the business
Simply and easily running the business-The details of your day to day tasks
How to make money once you set up the business
GDPR adjustments are necessary if you have clients in the EU
An optional section
Conclusions on setting up the business
Creating simple newsletters to increase the value of your business
How easy it is to get clients that pay instantly-doing away with face to face selling
Exclusive insider tips
Extra services for more profits
Conclusion
FAQ's about the home-based business
Bonuses
---
Course Requirements
---
A computer with a reliable internet connection
---
FAQs – Questions about the Start & Run a Local Viral Email Marketing Home Business Course
---
Q) Are there limitations to locations or countries that I can do this business in even if home-based?
A) No, there are no location limitations whatsoever. Work from whichever country and make money. You could be living in Afghanistan or the UK but have clients from different parts of the world.
Q) How long will it take before I can start earning good money from this email marketing home business?
A) To be realistic enough, it takes some hours for you to set it up for the first time. This is if you keenly follow the course lectures (seek help if needed). Start charging professional fees instantly even without experience or knowledge.
Be sure to study the comprehensive course and clients will pay you monthly or as per agreed terms. They could recommend you to their friends with businesses.
Q) What do I need to start doing this business now?
A) This course is geared towards beginners. Amateurs too will benefit. All you need is a functional computer with an internet connection. In terms of money, about 50 dollars or less will be enough.
You will need a few dollars monthly depending on how many clients you have.
Q) Is this type of home-based business saturated like influencing and the likes? What will happen when more people take on it?
A) The email marketing home-based business isn't saturated. Also, competition is healthy for growth. The business industry in the world is huge beyond measure and you might not satisfy all of them if given to manage their email marketing tasks.
Q) I do email marketing for my company as digital marketing is my specialty. Can I quit and do this from home?
A) Why not? Some home-based email marketers are earning over $5000 monthly with slightly below 20 clients. This means you can have more time to yourself or choose to expand your business.
This could be you!
---
Conclusion
---
If you have been procrastinating on ignoring the importance of a home-based business, this could be the right time to start.
Email marketing is a good point to start from as it isn't complicated.
Re-evaluating your strategy as early as now is the best thing to do.
Email marketing and especially doing it fully from home delivers big returns for those marketers who are determined to do it well.
There is no rocket science here.
Have in mind that you will remain a guest in your subscribers' inboxes.
So, you need to be tactful in how you present yourself and your content.
Anytime you send them emails, they are always a click closer to losing your subscribers' interest forever.
It is crucial to remain respectful and polite while still delivering value.
While getting started, you might need to seek permission.
It sounds weird but this is the best thing to do.
In this era, there are numerous data protection measures like the GDPR in the EU.
Follow all the legal requirements.
It is important to always follow all promises you will make.
Ensure to provide your clients with everything they ask for.
Send regular emails to be in line with their expectations.
No formulas exist for boosting your email automation.
Everything here boils down to what will work best for you and the company's style and voice.
After mastering the basics of running a successful home-based business, measuring your success is important.
This will help you grow your business steadily and know the areas that need attention.
Watch over Chris's shoulder as he teaches you how to earn decent pay from starting this simple home-based email marketing business that doesn't need selling.
---
What Students are saying about the Course
---
This is one of the most realistic courses I have come across. I am in the business of aiding local businesses with their online marketing and doing it from home is what I've embarked on.
Short and very precise. I love that he doesn't overpromise on the results.
Chris is fun to listen to and has helped help me set up my business.