March 2, 2023
What Are the Benefits of Digital Marketing? Increase ROI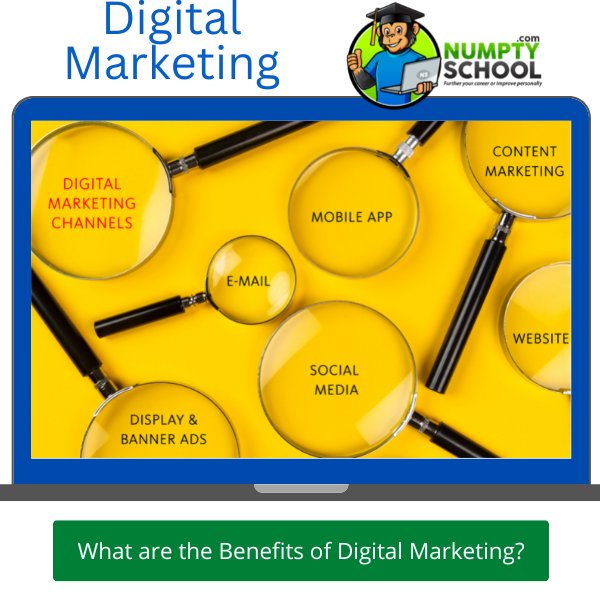 Technology improvements have revolutionized how marketing is done and we are here for it.
Many brands and businesses are embracing it because they can see light at the end of the tunnel.
So, what are the benefits of digital marketing that are making most companies adopt it, and stop using old methods like telemarketing?
Businesses keep consumer data and can use it to know groups interested in their products or services, which helps them remarket products to the same interested parties and increase their sales.
Automation is another top benefit of digital marketing as it allows a brand to allocate funds for paid marketing to get qualified leads and invest in more powerful tools to counter the chances of human-created errors.
Additionally, a business can pinpoint influencers who align with their brand and have them as the face of the brand (and if you're unaware, influencer marketing is sweeping the grounds clean).
We could discuss 10+ benefits, but we'll dive into the topmost advantages and see if we can have a part 2 of this at a later date.
---
What Are the Benefits of Digital Marketing?
---
First, digital marketing benefits cut across two groups; the businesses and the digital marketer, but we will focus more on the business in this section.
---
Benefits of Digital Marketing for Start-ups and Small Businesses
---
A research conducted by Zippia in the USA shows that 5,044,700+ businesses were started in 2022.
Whoa! The figures shocked me too, but this shows how much these services will be in demand for a long time, so here is how digital marketing can benefit a new or small business.
Targeting a wider Audience
Digital marketing allows you to reach more potential buyers through online means.
So, channel some money to advise groups likely to convert into buyers using the correct strategies and at the right time.
Higher Conversion Rates
Conversion rate optimization ensures your small business reaches out to more visitors who take action to complete your goal.
For instance, if your business can benefit from PPC advertising, use it to expand your business.
Through the process, you increase your customer numbers by increasing the conversion rate.
Higher Return On Investment at Low Cost
Start-ups and small businesses have a goal of marketing their products or services at lower costs while generating more revenue, unlike big companies that have a considerable fund for it.
Digital marketing helps reduce product promotion costs and you can do it by yourself in-house because hiring agency services can be costly.
---
Benefits of Digital Marketing for Big Businesses
---
Since the business is already established it doesn't mean marketing stops.
In fact, buckling up is essential because competition knows no big name – it only knows whoever puts the effort to win.
So, what are the benefits of digital marketing for big businesses?
Remarketing To Maintain a Clientele
As mentioned earlier, big businesses have massive databases with tons of consumer data, which tell them people are interested in their products or services.
Assessing this information, helps a company remarket their offerings to the set interested groups to increase their sales
More Investment in Paid Marketing
When the budgets are higher, it is best to direct more funds to paid marketing to get market-qualified leads.
While at it, invest in the best digital marketing tools to automate most tasks.
You will need a human workforce to run some things, but such tools remove the risks of human errors.
Brand Ambassadorship for the Win
Big businesses can choose a known influencer or public figure to be the face of the brand.
We are seeing how much influencer marketing strategies are changing businesses, and it isn't a thing to sleep on.
---
Benefits of Digital Marketing as a Career
---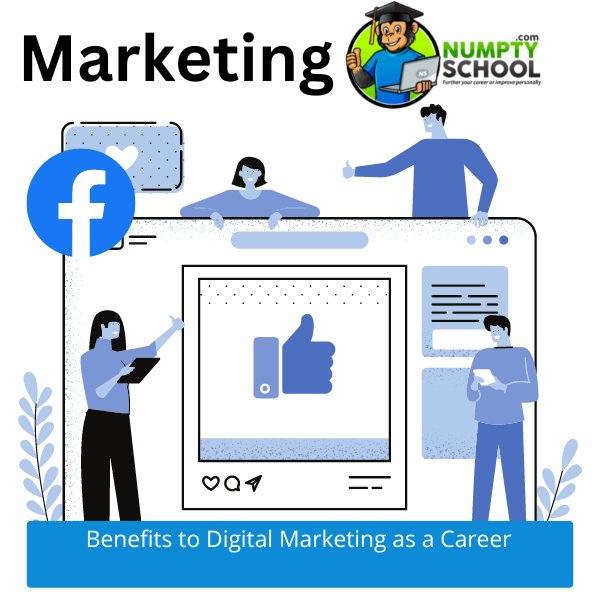 It has been trending for the past few years and seems to stick with us until it gets a stiff competitor.
See how digital marketing can benefit you as a student.
Massive Demand for Reliable Digital Marketers
Most businesses are shifting to digital marketing and companies are hunting for specialists in the field to yield results.
The demand has outdone the supply of marketers the world has giving many an opportunity to learn digital marketing as a skill and meet the market needs.
Decent Pay
Having mentioned a less supply of digital marketers when the demand is crazy, you can understand the impacts on the pay.
Getting a digital marketing job now allows you to negotiate your terms and increase your rates when necessary.
Experience and Results More Than Background Education
You can learn digital marketing regardless of your educational background.
Marketing students might find it easier, but we are seeing experts in the field who have no such academic history.
The trick here is to think outside the box!
---
FAQs on the Benefits of Digital Marketing
---
Here are some commonly asked questions on the topic with straightforward answers:
Q) Can I learn Digital Marketing On My Own?
A) Yes, you can learn digital marketing on your own from the basics to advanced levels if you use the right resources.
Enroll in detailed courses, watch YouTube videos, attend webinars, and read blogs to expand your knowledgebase.
Q) Can Digital Market Benefit my Online Business?
A) Sure! Digital marketing will greatly benefit your online business by reaching a wider audience to promote your product or service.
If done well using the right strategies, it generates conversions and sales.
Q) Is Digital Marketing Important for All Businesses?
A) Digital marketing is important for all businesses regardless of your location or what you offer.
You want to build buyer personas to know the needs of your audience and create valuable content online.
However, not all businesses need to implement digital marketing strategies in a similar manner.
---
Conclusion
---
Your question on 'what are the benefits of digital marketing' should be answered by now, at least broadly covering all the categories involved.
There are more benefits for digital marketing for small and big businesses, and for the marketer too, but we chose the key advantages to discuss.
For startups, reaching a wider audience should be your main goal as you implement other sections of your strategy.
Big companies should aim to retain previous clients by remarketing their offerings and investing in paid methods for market-quality leads.
And if you are here to offer the services, know that the demand for digital marketers is high, so is the pay if you are aggressive and a performer.