March 15, 2022
13 Topics on How to Learn Digital Marketing Online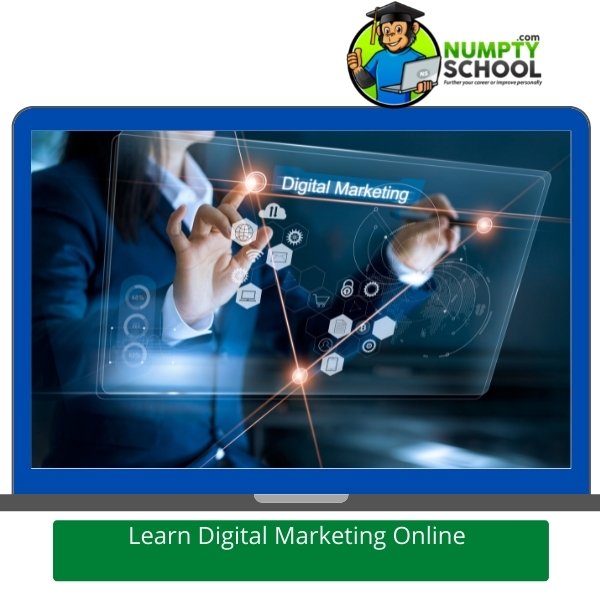 Technology has revolutionized marketing, and the growth from solely relying on print media and word of mouth to digital avenues is tremendous.
What are the best ways to learn digital marketing from the comfort of your home?
You must have been trapped in the pandemic and seen how some circumstances can force you to do things outside of the ordinary.
Work and businesses have been running online for over two years, and it must have been difficult for those who didn't have an online presence.
Learning too went on, and if you are the chap that likes to try new things, learning digital marketing online could be a fantastic idea.
Luckily, there are several paid and free online resources to help you learn the essential skills of digital marketing professionals.
This guide explains different ways of self-teaching yourself, from starting your blog, reading great books and blogs to enrolling in recommended courses and watching YouTube videos, among others.
Depending on how much time you have, you can get done with learning the basics in less than a week and start practicing as you plan on advancing your skills.
Let's get straight into it.
13 Ways of Learning Digital Marketing online from the Comfort of your Home
If you are a rookie at digital marketing, mix free and paid methods, but the paid options will be more beneficial.
Learning with Google is among the surest ways of scaling in the industry if you know the essentials.
---
Start a Blog
---
Starting a blog is among the methods of getting in-depth knowledge on digital marketing, as you will learn from your experience.
Once you start a blog, you are exposed to digital marketing concepts like WordPress, social media marketing, SEO and many more.
Most blog or website owners can attest to learning digital marketing through their blogs.
Things might be difficult initially, but more hard work and effort will make you enjoy the process.
Besides learning digital marketing, your blog will earn you money online and offer you the chance to work from anywhere.
---
Enrol in Digital Marketing Courses
---
There are free and paid courses, and the two variations have different offerings.
Very few free courses are detailed and with real-time examples.
If you browse the internet, you will find numerous digital marketing courses you can access offline and online.
Read reviews and check for recommendations before enrolling in any course to save time and money (if opting for a paid course).
Paid digital marketing courses offer more practical knowledge and examples to aid with placement assistance.
You can be eligible for certificates of completion depending on the platform you choose to select your courses from – these add value to resumes and CVs.
Free courses are an excellent alternative if you are on a tight budget or none at the moment.
Most of them might not add a lot of value to you, but they will help build a solid foundation.
Once you feel like your foundation is somewhat stable, you can create your blog and practically learn more aspects of digital marketing.
Udemy, Skillshare and Wealthy Affiliate have many helpful courses that you can choose from, and to make it easier for you to get started, I have reviewed tens of them on the course review section of my website.
Check out the reviews and enrol in courses you feel will be more impactful.
---
Good Reads
---
Here, I mean a good book.
If you don't want to pay heavily for digital marketing courses you like, you can buy relevant books at lower prices online.
Books might not give a lot of practical knowledge, but they are excellent for starting your journey.
Online book readers like Kindle and even Audible offer many book selections that can even be read to you.
You can purchase a full-stack book covering all the aspects of digital marketing, or you can buy them as per interested topics like WordPress, social media marketing, SEO etc.
---
Catch on a Good Blog
---
Reading helpful blogs is hands down among the best ways of familiarizing yourself with the topic.
Besides increasing your knowledge, you will know the latest things in the digital marketing sphere.
There is a plethora of blogs talking about digital marketing, and you don't have to read all of them.
First, most are outdated and others very shallow.
Sieve your options and use only the best and updated ones.
Learn how to bookmark your go-to sites and refer to them twice or more weekly.
---
Teacher YouTube is Free
---
Most people underestimate YouTube as a learning tool.
If you are damn serious about self-teaching digital marketing, YouTube will not disappoint.
But, the scenario is similar to blog posts – not all of them are helpful, but there is a handful that you can follow and binge on to see how things are done.
Readers with a shorter concentration span prefer watching YouTube videos to reading long blogs.
Also, read the comments to find out what previous watchers have said about the video to know if it will benefit you or not.
---
---
Follow Social Media Influencers
---
Some digital marketing influencers on social media share a lot of information regarding their industry.
Comb platforms like Instagram, Twitter and Facebook to find them as they are always active on these networks.
Such influencers publish fresh content constantly on their accounts, making it an excellent opportunity to learn through them.
---
Listen to Digital Marketing Podcasts
---
It is indisputable that podcasts are becoming popular as the days progress.
Millions of people worldwide are at least listening to one podcast or the other, and most are focusing on motivation, self-development and learning niches.
If you have been meaning to do this by yourself, start with introductory marketing podcasts.
Platforms like Spotify and Podbean have many of these podcasts that you can listen to.
If your device doesn't come with the program, download it and get started.
---
Watch Informative Webinars
---
Look out for webinars conducted by pros in the industry to add value to the enhancement of learning and knowledge.
Webinars expose you to advanced sections that are unheard of though very crucial in the digital marketing industry.
Another pro is that these webinars contain PPTs to make learning easier and more fun.
Search 'Digital Marketing Webinars' on Google to watch them.
---
Sign Up to Google Digital Unlocked
---
Google spreads online and digital marketing knowledge through platforms like Google Digital Unlocked.
Google Digital Unlocked is a free platform that teaches about SEO, how to grow your business and digital marketing.
You will learn content marketing, social media marketing, Google analytics, email marketing, search ads and more.
Here's the good news: the platform is free and has experts for trainers.
---
LinkedIn Learning
---
LinkedIn has developed a learning portal where creatives can find a lot of development and enhancement courses; however, it isn't free.
LinkedIn is available to premium members only, but a free demo is available.
---
Join Social Media Groups
---
If used carefully and intentionally, Facebook groups can be an excellent resource for skill development and learning.
Nowadays, most digital marketers and bloggers are starting their Facebook groups to share knowledge, tips and tricks in their industry.
Joining these groups exposes you to educative lectures and videos, exciting offers, deals and other learning resources.
---
Join Digital Marketing Forums
---
Besides Facebook groups, digital marketing forums are helpful though some are paid, and some are free.
Free forums will do if you are on a tight budget, but paid forums are great if you can afford subscription fees.
You can post your questions and doubts related to digital marketing on forums; also, you can participate in discussions and share some things you have learnt.
These forums have a lot of exciting offers, deals and discounts.
---
Start on Freelancing Tasks
---
Once you have built a solid foundation as a beginner and still trying advanced courses, you can try simple freelancing tasks.
Sites like UpWork have a lot of digital marketing projects for freelancers of all levels.
Ensure to take on tasks within your skill level to avoid disappointing clients.
If you do a fantastic job, you might get a bonus, which could boost your morale to learn more and work harder.
After being an expert at it, you could start a digital marketing agency in the future.
---
Conclusion on Learning Digital Marketing Online
---
There is a plethora of free and paid digital marketing resources online and offline that you can choose from if you want to learn the skill from home.
Regardless of where you are taking your lessons, focus on your goal and aspects you want to learn.
Newbies who want to focus on all aspects of digital marketing are advised to take it bit by bit to avoid feeling overwhelmed since the category is broad with numerous sub-sections.
Once you cross to the advanced stage, you can join the buzz on the internet and learn how to be a digital marketing pro or leverage the skill to grow your business.
So, if you stumbled upon this article while looking for how to learn about digital marketing from home, I hope the 13 ways will be helpful.
Some of the described methods are free, while others are paid.
About Author
Mark