January 8, 2023
How to use Facebook for Social Media Marketing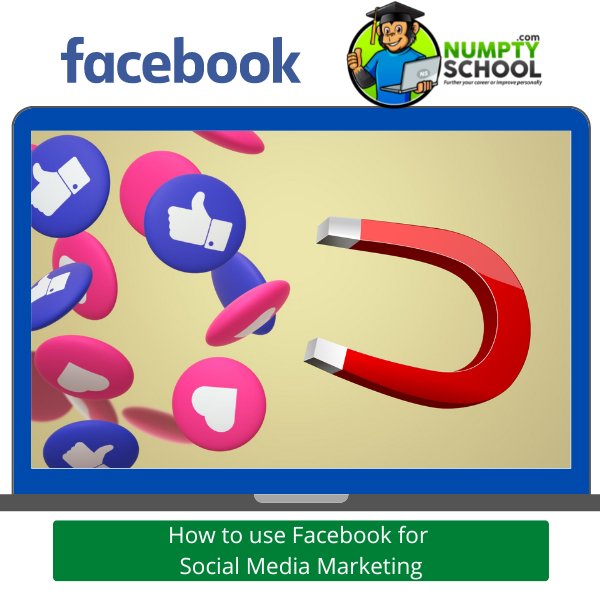 The online space is rapidly growing, and business owners are looking for methods and strategies to reach their target audiences.
Initially, Facebook started as a social platform, but things have changed.
You can now sell, buy, and market your brand on Facebook.
Marketers need to have a Facebook social media strategy that works.
Apart from knowing your audience and brand, deciding if you will use Facebook ads will influence your success.
What you post is crucial; it needs to be content your audience finds relevant and cares about.
Most social media marketers fail at engaging them more to understand their needs on Facebook.
Let us dive deeper into the most effective methods of using Facebook for your social media marketing needs.
---
Set your Goals Early Enough
---
Setting concrete goals early enough is essential if you want your Facebook strategies for social media marketing to work effectively.
It means that your thoughts are primarily about the lifetime offerings or your campaigns.
If you focus on the end, it is easier to envision steps to achieve your goal then you can create the best and most effective campaigns.
After determining your goals, assess your business model and identify areas you need to polish.
For instance, focusing on Facebook marketing strategies that increase and attract more visitors to the site is crucial if your site traffic is low.
If your brand has lower sales numbers, Facebook ads could be the solution.
---
Know your Audience
---
Your audience is your customers, and you need to know them through a Facebook page if you have one.
Create a client persona and develop it to the best of your ability.
It helps to show the critical demographics of a target audience.
Is your target male or female? And their age bracket?
What about the income bracket? Etc.
Facebook has countless targeting options.
You need to be very specific when crafting your target group, and you can create as many groups as you want.
It will also be more effective if you opt for Facebook ads. But, it is vital for your timeline posts.
---
Business Pages are Important
---
If you want to create a solid and professional presence on Facebook, you need to have a page set aside for your business only.
A Facebook page is like a simple profile designed for businesses and brands.
You won't need to send friend requests as users will have to follow and like your page to keep seeing your content.
---
Start a Facebook Group
---
You can build a loyal community around your company, brand, product, or service to connect with current and potential customers.
The group can be related to the business or adjacent to it.
It can also organize more people around causes relevant to the business.
---
Engage your Audience
---
Your current and potential customers rely on your stories, feed, and lives to get any information regarding your business.
It is crucial to engage them there.
Sometimes, they will comment on posts, leave reviews of products and services, or ask for information that can lead to them buying from you.
Whoever manages the Facebook business page should follow, contribute, and reply to conversations.
Such interactions help to increase engagement and make your content visible to more people.
Facebook, like any other social media platform, is ever-changing.
Keep measuring and optimizing your efforts.
Being present is part of what generates record-breaking numbers of leads and followers.
NOTE: Only invite your current and target audience to opt-in when the time is right
Your social presence is for building an audience and attracting customers.
While at it, avoid spamming your followers with many requests of opting into email communication, consultations, or free trials.
This type of indiscriminate salesmanship can prompt them to stop following you.
Extend invitations in the proper manner and right time.
You can send followers in a particular location invites to webinars or in-person events you are hosting.
Or, share links to valuable gated content, and interested parties will share their details.
---
Know and Understand your Brand
---
This could seem very easy, but before the excitement of posting away sweeps you off, know your business's tone, style, and the brand's overall feeling.
It is vital to decide upfront if you intend on being informative, humorous, quirky, or serious on your account.
Once you identify your style and tone, stick to them!
You want to make it easier for users to know you.
Carry your tone and style across all your graphics, content, link captions, and calls-to-action.
Once all the marketing elements show cohesiveness, users can easily connect and remain loyal to a brand.
---
Determine if you will use Facebook Ads
---
Facebook ads are effective for targeting customers using demographics like online behaviors, location, sex, age, income bracket, location, and more.
Most importantly, if you are working on specific goals like increased conversions, this is the perfect way to increase your numbers.
It will be more effective if you target the right audience, and it will cost almost nothing.
Facebook ads work using an auction-like system.
You are allowed to set how much you want to spend in a day then you can relax and let the platform do its work.
There are so many types of Facebook ads that you can use, from photos and video to dynamic and carousel ads, among others.
All these ads have their benefits, and you can test each to find what effectively works for you.
---
Post Relevant Content for Audience
---
Besides using ads, you can post content on your Facebook timeline and feed.
The content must be significant to the brand and set the tone for your company, its style, and the value you give your customers.
There are numerous options if you consider adding content to your news feeds.
Each option has its purpose, and you can choose to use a few or all.
Here are a few that most businesses use to market their products and services:
Photos: You can't exhaust the options of photo posts available. Some post pictures of their facilities, products, employees, events hosted, and services.
Videos: Video content is among the excellent options for Facebook marketing posts. They get more than 59% of engagement than other types of posts.
Links to the Company's Website: If you have a business website or blog, you can create links to your content and share on Facebook. It could be blog posts, new products, or the latest projects.
This helps increase traffic to your site, and visitors will feel closer to the brand.
Ensure you post different types of posts and monitor those that perform best.
Video content has been proven to perform better than the rest, but industries differ.
Test with different types of links, videos, and photos.
---
Remind Visitors to Check-In on the Platform
---
You can get exposure on Facebook through numerous ways with minimal effort.
The check-in form is one of these ways.
Each time Facebook users check into your location, there is a pop-up or post on their feed that their friends will see.
It is an instant impression, and if the user accompanies it with a catchy photo, there is a more substantial impact on their feeds.
Check-ins get updates on the company's page, and more check-ins mean more credibility attached to your brand on Facebook.
---
Maximize on Free Ad Spaces
---
Facebook has free-of-charge ad spaces that you can optimize for be best results.
It would be best if you had some fun and accurate SEO-friendly words or phrases about your company or business.
Also, be brilliant at picking your profile and cover picture.
The profile picture could be your company logo or business identity.
Facebook cover picture can be free ad space, and you can change it as you please.
---
Measure your success from using Facebook for Social Media Marketing
---
Facebook for social media marketing isn't about setting things and forgetting about them.
First success will require maintenance.
It is crucial to track, assess, and measure your success to understand strategies and tips that worked and those that didn't.
Hence, you can learn your pro areas and tweak those that tried to work even better, then try again to keep improving your strategy constantly.
Facebook insights help to track audience engagement.
It measures metrics like reach, likes, engagement, and posts that lead to an audience unliking your business page.
The insights help determine the types of content and posts that work best on your page.
You will quickly know if the current content mix works.
---
Conclusion
---
Facebook is an essential social media marketing tool for small, medium, and large businesses.
Use the above methods to maximize the world's largest and most popular social media networks to improve and grow your business.
It might be your first time reading a post on Facebook for social media marketing and feel intrigued to know more, don't worry!
You can enroll in comprehensive Facebook Marketing courses that teach how to use the platform for business in depth.
About Author
Mark