April 4, 2022
How to use Canva for Social Media – 10 Platforms of Design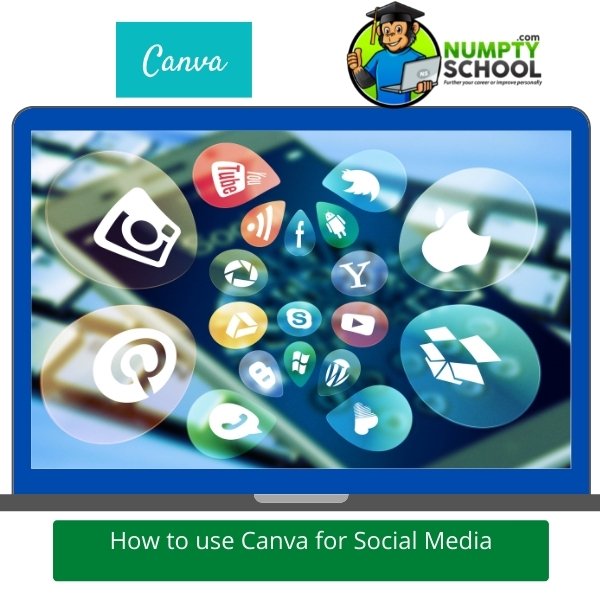 Remaining unique and engaging on social media is a daunting task for most people.
Especially now that research shows that visual content has better reception by users these days.
Canva comes to the rescue and allows you to create aesthetically pleasing content to convert your followers without it being a time-consuming task.
When it comes to Canva for Social media, you can do everything from designing awesome cover photos and branded images to creating stunning Pinterest graphics and improving your Instagram stories.
Browse below to check out methods you can actionize today and revolutionize how you engage with your followers on different social media platforms.
---
10 Places to use Canva for Social Media
---
With any social media task you need to do, it is crucial to use tools and software that will make the whole thing time-efficient.
Canva proves its importance in this case as an easy-to-use social media design tool.
It is an excellent drag-and-drop tool that helps many design graphics for Instagram, Twitter, and Facebook.
Others use it for email newsletters as they find it infinitely easy and quick to use.
With over 50 categories of templates, they are spread across the 13 social media sites below:
---
Facebook
YouTube
Instagram
Twitter
LinkedIn
Twitch
Pinterest
Tumblr
SoundCloud
WhatsApp
Snapchat
Etsy
---
Canva provides free templates for each platform above and lists various recommended image size measurements.
Even if you aren't interested in using the app, their site has many valuable materials for use both in and outside social media.
Here is how Canva can help grow your social media profiles.
---
1) Design Fantastic Facebook Cover Photos
---
The first thing your audience and stalkers see when they click on your Facebook profile is the cover photo.
Taking a good look at your page, the cover photo gives whoever is looking at it an instant impression of your brand, what it is about, and the products or services you can offer.
It is wise to periodically change your Facebook cover photo because you can highlight specific information or details.
Also, this shows that you are active, care about your followers, and engage them.
Changing your cover photo shows your brand personality through elements like colors, font, and design.
Canva boasts thousands of Facebook cover templates you can use for free.
These are designed professionally, and you can customize them at any time with several mouse clicks.
The free cover photo templates are in the correct dimensions for use on your Facebook profile, and you are sure to get pixel-perfect designs at any time.
---
2) Branded Images
---
Even if sharing is caring, many often misuse this phrase in the digital space.
Because of the sharing concept in the economy, most people create amazing bespoke images and designs that others repost as their own without crediting the creator or mentioning the brand that has built it.
It has happened to so many people, and if you have been lucky, you can use Canva to remain lucky as long as the software exists.
The drag-and-drop feature makes it easy to brand images on Canva.
It doesn't matter if you opt to use your social media handles, logos, or hashtag Canva does it in seconds – a task that would crack your head for several minutes.
The software's transparency tool ensures that branding images and designs look sleek and non-invasive to viewers.
---
3) Pinterest Graphics
---
The picture-perfect avenue is a one-stop destination for any images you are looking for, from flower arrangements and automobiles to fashion and health, among other niches.
Pinterest has maintained being one of the most preferred acquisition opportunities for many users to find content.
Users can engage with the content, leading them to your homepage, blog, or product.
As a business or brand, you want your site to be the go-to pivot for your online presence.
Besides, you want everyone to easily pin your page content and blog posts to their Pinterest boards.
You can do this to point your Pinterest users to your blog post or make them save inspirational quotes you post.
Canva is packed with thousands of graphics for Pinterest in different shapes and sizes that allow you to create as many designs that stand out as possible.
---
4) Reviews
---
Whether you are looking for the best flight company for your next most-awaited vacation or juicy ribs after months to satisfy your cravings, you will look for reviews from wherever.
The same fundamental principle is what marketers use in their marketing psychology sessions as social proofing.
Reviews are among the easiest methods of showing social proof of your business or brand and help potential clients trust and buy from you.
You can make your reviews stand out by using Canva through frames, bright colours, attractive fonts, and white spaces, among other aspects, to give your reviews life and personality.
While at it, ensure to minimize the use of the elements to avoid confusing your audience.
Canva has numerous templates to help you design excellent reviews in different dimensions.
You can customize the template's graphic elements to your needs and brand guide.
These reviews are usable anywhere on your site page, social media posts, or in presentations.
---
5) Instagram Stories
---
We all have witnessed Instagram grow from the basic picture-sharing platform that it was after its launch to the mighty social, marketing, and networking platform that it is now.
Instagram stories are one of the network's recent introductions, and the majority are loving and using them.
The platform has more than 1 billion active users in a month.
About 500,000 are using Instagram stories daily to engage with their followers and potential customers; thus, investing more time in Instagram stories marketing is crucial.
Canva has hundreds of templates for your Instagram stories that you can choose from and customize to suit your needs.
Using these templates is stress-free and gives your marketing efforts a strategic and polished impact besides saving your time.
---
6) Photo Collages
---
Photo collages aren't limited to personal social media profiles.
You can use them in your business pages to tell stories by arranging the photos chronologically to make sense from the first to the last one.
It could be photo collages of business processes or events.
---
7) Video Thumbnails
---
Still insisting on the power of fantastic visuals, they sweep most viewers off their feet faster than a chunk of written text.
Canva templates for YouTube include different sizes for channel icons.
There are variations from the desktop display, channel art, and channel art to video thumbnails and desktop and mobile displays.
Most YouTubers use it, at least for creating great video thumbnails.
---
8) Twitter Posts
---
I know you must be pretty familiar with Facebook and Instagram marketing.
But Twitter has its aspect of marketing that most people know nothing to very little about.
It is often considered a controversial social space, but its marketing influence is incredible.
You can save time creating Twitter posts by using available templates on Canva.
Besides, the design program has other options for summary card images, card images, profile photos, and templates for Twitter header photos.
---
9) Revamp your LinkedIn Profile
---
Ask around how networking on LinkedIn works and if it yields.
You will be shocked at the feedback because it is a space where anyone in business or a legit job should camp.
But you can't hack it there if you aren't smart with your profile and skills.
For skills, that's up to you. But for the profile, you can use Canva to design professional profiles and cover photos using the available templates.
Also, you can use it for shared images.
---
10) Eye-catching Banners for Twitch and Tumblr
---
There are several social media platforms globally, but some are limited to some countries while a few cut across all of them.
Twitch and Tumblr are acceptable for use in a few countries, and if you are in one of them, you can change how people feel about your banners when they look at your page.
Canva has profile banner templates for Twitch and Tumblr and allows for other design activities like profile photo sizing, video player banners, video thumbnails, and info panels on Twitch.
For Tumblr, you can resize your profile template and enjoy practicing with the shared image templates.
Here's the good news: Canva is mobile, and you can use it to do all these and much more beyond social media on the go.
Whether Android or iOS, take the software for a spin and gauge its worth.
---
Wrap Up
---
I'm calling all of you amateur designers! If you weren't a Canva-freak yet, you should be by now.
You can agree that it is an account manager's efficient and time-saving dream.
Whether you are running a business, an agency, or using it for personal reasons, you won't grapple with managing your social media design needs.
Everything here is straightforward and timely unless you are slow at deciding what you want and moving the mouse pointer.
The endless assortment of designs and content you can tackle with this tool is incomparable.