November 30, 2021
Mastering Adobe Photoshop CC – Online Tutorial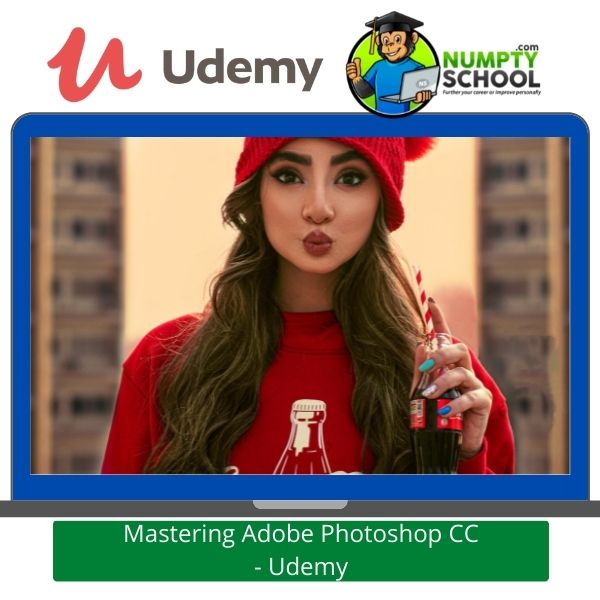 Improve your creative skills and take your projects a notch higher with this detailed 13.5-hour course taught by a pro to make you a pro too.
Description of the Course (Udemy)
Among the best photo editing programs that exist, Photoshop is one of them. It is arguably the commonest among photographers, editors, and anyone who uses software to improve how their images look.
Infinite Skills has taken it upon itself to share its knowledge on the software. After completing the course, you will notice a great revolution in retouching and manipulating your photos.
Excellent Photoshop skills are in high demand making it a topic of study. While there are so many modules to go through before being a professional at using it, the institution makes it easy to learn the fundamentals of Photoshop.
Everything is covered in 13.5 hours but has been broken down into short sections. Each section explains a specific topic.
The sections are about 5 minutes long or more depending on the topic and its depth.
You can take it at your pace and complete a few sections at a time. There is no rush. Mastering the software and how to works is the first thing to do. Then, you need a lot of practice to sharpen your skills.
As a practical course, there are a lot of hands-on tasks to do. This should help you hone your skills.
The best way to master Photoshop is to watch someone who knows it do their thing. And that is where this course comes in.
The course has a rating of 4.5 stars with an enrolment of 30,000+ students. This means that a good number are interested in improving how their photos look.
Whether for personal use or are trying to learn a skill that you can build a career in, this course is a great place to start.
The program has hundreds of tools and features that can be overwhelming if you are a fresher at using Photoshop.
For instance, if you were to cut a person out of a photo, there are over 10 ways of doing this.
But if you have no knowledge of the software or have never used photo editors or manipulation programs, it can be stressful.
There is so much on the topic on YouTube and the internet. But the information you get is either shallow or very complicated. For a beginner, this can be a great turn-off.
Photoshop has been updated and refined over years to what it is now. The retouching, photo composition, graphic design, and painting capabilities have improved over the decades.
You will learn about its large toolset and the various ways of approaching a single aspect.
Using Photoshop is like learning how to curate a new recipe.
You will ready your ingredients and try to throw down a dish. The same applies when using Photoshop.
Select a project you want to work on and learn how to do it.
As you learn and practice, you will master how to use different tools. With time, you will get more tasks under your belt.
Working on them makes you more proficient in the vital features and tools.
The downloadable resources are very few as most of the work is covered in the tutorials. There are assignments in the course for you to attempt.
Although not mandatory, it is advisable that you work on them. This is to help you know if you are progressing.
Share them with the instructor in the question and answer section under your panel.
The instructor will share his thoughts and tell you the areas to rectify if any. There is a 30-days money-back guarantee on the course in case you are dissatisfied.
I doubt you will need this as the reviews already speak of the goodness of the tutorials. Once you complete your course, there is an Udemy certificate to download. Use it a proof of knowledge in the course.
You can add it to your CV and portfolio. It could win you jobs.
---
Course Content and Overview
Do you want to learn how to use one of the world's popular photo editing and graphics programs? This course by Infinite Skills will be very helpful.
The instructor has an excellent mastery of the topic and delivers the course in the simplest way possible.
The course has been tailored for freshers as it starts from the grassroots as it advances to more complex sections.
You don't need any experience but you will leave with it in plenty after completing the course.
These tutorials break down all the important tools and features of the program. They are easy to understand and retaining the information shouldn't be a problem.
Andy is a fun instructor and not including jargon makes it great for novices who are looking for the simplest courses on Photoshop.
You will learn how to work with the camera raw images, organize all your files with the help of Adobe Bridge.
There is more on creating and managing color in images, working with filters, and using layers. Every tool is important.
He shows you how to use the magic wand, dodge and burn, and cloning and healing.
Typing in Photoshop doesn't have to be a daunting prospect. Andy is generous enough to share some of the tips and tricks that work. By the time you are done with the course, you will know each tool and its use.
The most important thing is applying each tool in relevant projects. The course comes with working files.
You can follow along with the instructor as he goes through the course.
You will learn how to install the program and use the features. In the beginning, you won't be trying to design or create anything meaningful.
You will be acquainting yourself with the features and tool icons.
Watch through the tutorials if you want a rough idea of the program. As Andy goes through each tool, it will be easier to understand its use.
You can pause the tutorial and fool around with one tool as you see how it works.
Once you get a hang of the basic ones, you are a step away from being a professional. Try to make simple things without help.
Do this minus checking on other deeper tutorials. You will come across a lot of new stuff and might have doubts that otherwise would not have risen.
Follow the course tutorials to make surreal art and specific posters. It could be anything you want since the learning process has no limitations.
You need to understand that there are tons of things in Photoshop that go beyond the visible tools.
Go through each tab and see what Photoshop has to offer in each section. Also, you will notice that multiple layers exist.
Photoshop has huge capabilities. I doubt there is anyone who has used the program entirely, exhausting all tools and features.
I am sure that some uses have remained undiscovered to date.
It is a crazy thing that even with the Undiscovery the feature set grows. You need to use Photoshop frequently if you want to be more adventurous and build your creativity.
You might run into a block anytime and will need to find your way out. Remember that there are many ways that you can use to sort out the same issue.
In no time, you will have grown your experience and expertise in the software.
Unfortunately, there is no shortcut to being an expert at using Photoshop. Take this class and let Andy walk you through all the steps to get a proper understanding of the program.
And, you can't master Photoshop and its features until you run into real-time problems and develop the right skills to handle them. The same applies to any art form or craft.


---
Who is the Course for?
Creative people who want to know how to work with Adobe Photoshop in their creative environments.
Freshers to the software who want to master the fundamentals of the image editing, correction, and manipulation software.
Photographers who need to learn how to improve their photographers by altering, enhancing, or correcting them.
Photographers who like working in the RAW image format.
---
What you will learn
How to master the latest version of Photoshop CC.
How to improve your creativity and take it to the next level.
Some of the practical real-life tricks that are crucial for any creative professional.
How to work on files, complete the working ones and follow along at your convenience
---
Lessons
An introduction to the Course
Photoshop Essentials
Getting efficient
How to view and control images
The great Adobe Bridge
How to work with the camera raw plugin
The world of colour and Photoshop
The fantastic Photoshop layers panel
Blending modes and Photoshop
How to control using adjustment layers
How to work with layer styles
The world of vector and Photoshop
How to edit selective portions of a photo
Healing, cloning, and more
From colour to grayscale
How to work with Photoshop filters
Creative image manipulation
Essential selection techniques
How to save time with actions
Curve basics and levels
History brushes and custom brushes
Photoshop and the type connection
Photoshop output options
---
Course Requirements
A computer with an internet connection.
No prior knowledge as this course is geared towards freshers.
---
FAQs – Questions on Mastering Adobe Photoshop CC on Udemy
Q) Where does one upload their projects or assignments for the instructor to check and leave feedback?
A) On your course panel, click on the Q & A icon. It will open a list of questions, you might be lucky to see any recent uploaded projects by other students.
If not, scroll to the bottom of that page and click on the Ask a question tab. Once it opens, upload your projects. This is the same way you ask questions too if you have any.
Q) How responsive is the instructor in case you need answers to questions or feedback on assignments you have shared with him?
A) Andy responds as soon as possible. From the Q & A section, it averages 24 to 72 hours which I feel isn't so bad compared to other instructors who take forever or never answer students' questions.
Sometimes, the students answer some of the questions if they are well-conversant with the topic.
Q) Will not completing the tasks affect the quality of my certificate?
A) No. The projects have nothing to do with your certificate of completion since there is no grading. You can attempt them or choose not to.
Q) Can I take the course in sections as I am not available to complete the 13.5 hours at a go?
A) Sure. There is no pressure or a penalty for taking longer to complete the course. Even if it takes you a year, as long as you have mastered what you need to.
Also, upon enrolling, you have lifetime access to the course. You can open it and watch the tutorials at any time.
Q) Is the course downloadable to use offline?
A) The tutorials aren't downloadable meaning you need to be online to use them. The research material and resources are downloadable. These can be used for reference during and after the course.
---
Last Few Words
Adobe Photoshop is among the recommended software for graphics, photo editing, correction, and manipulation. It will be difficult to imagine the world minus this program.
It has been used in almost all creations from internet memes to Hollywood blockbusters. So you can imagine what more it could do for you.
Even though it is this versatile and powerful, learning it minus any background knowledge can be intimidating. Infinite Skills has done well to make this course accessible to newbies and amateurs despite its complexity.
While no one could be knowing the program better than Adobe, there are others like Andy who have crafted simpler courses to make things less stressful for you as you learn.
He shares both beginner and intermediate tricks that you won't read on blog posts or watch on YouTube videos. Enrol now and improve how your images, photos, and graphics look.
---
What Students are saying about the Course
If you want a basic background in Photoshop, this is the best course to take. Andy is fun to listen to and uses real-time examples to explain most of the program's aspects.
This has improved my Instagram photos and memes. I am thinking of ways to earn from my newly-found skill.
I'd rate it at FIVE STARS again if given the chance.