September 23, 2021
Ultimate Adobe Photoshop Training from Beginner to Pro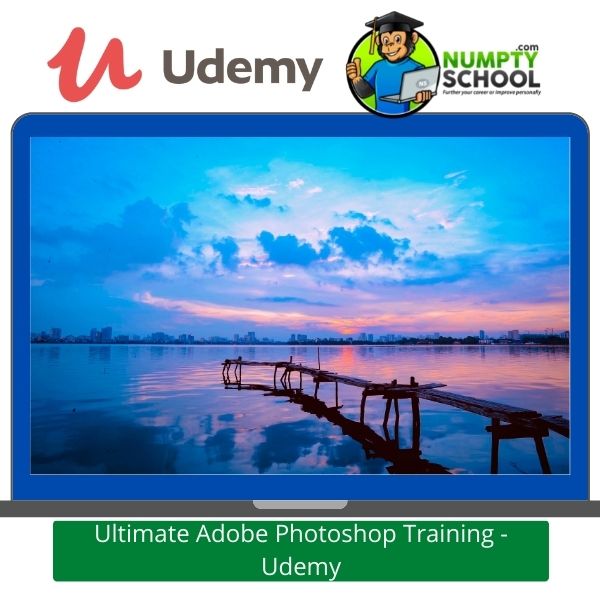 A well-structured beginner's guide on how to use Photoshop to design and edit images.
Description of the Course
Do you want to learn how to edit your images to the level of your favorite influencers?
I am sure it has bothered you which school they went to.
Relax! Many are self-taught.
In the current world where images and graphics speak louder than written content, everyone is striving to present their personalities and brands in the best way possible.
I am sure you have been scrolling Instagram feeds and stories for days and months wondering what gadgets your friends are using to take their photos.
Well, it could be a basic iPhone 4 but Adobe Photoshop did what it does best.
Most often, this is the case for many individuals.
While others manage to gamble their skills and work out pretty striking photos, others decide to embark on a learning path.
Nowadays, incredible online courses like this one by Barin have become useful among freelancers, artists, photographers, and anyone who wants to level up their design and editing skills.
This one is straightforward and gears towards novices and total freshers who have no idea how the platform works. For over 141,300 students to trust it, then it delivers!
Currently, the course is rated at 4.6 stars which clearly tells that there is more to learn here than you expected.
What struck me as the most amazing thing is the frequent updates. I love updated courses.
It will be useless to enroll in a course that covers the first ever version of Adobe Photoshop as so much has changed over the years.
The concept could be similar but the features are completely different.
Also, if you enroll in the course, you are eligible for lifetime access to it.
You can keep checking the course from time to time to see if there are any updates-of course, there will be.
Barin is a consistent instructor and will keep you up to date with the latest features.
It is a 15-hour course with tons of resources that will be useful to you during and after the course.
They are downloadable and you can have this safely stored in an easily accessible folder.
There are bonuses to enrolling students as you get more than 300 high-quality PSD files.
Barin offers cheat sheets for each lecture to allow you to review the section's content with ease.
This is a new feature that has proven to be useful to access my progress whilst taking the course.
Talking or relevance, the course is primarily version-independent.
You aren't limited to using the CC 2021.
But, this is highly recommended.
I know you could be thinking about how long it will take you to be at the level of Erik Johansson, Max Asabin, and Vanessa Rivera.
Of course, the course is meant to scale you from beginner to pro level.
But this isn't an abracadabra affair.
You will need to take on the instructor's projects, ask questions for help if any, practice, and practice more.
I love the approach Barin takes.
While other instructors use any examples to explain features and styles, this one is the real buddy.
The instructor uses real-time cases and presents the best techniques and styles that need less effort but will yield maximum results.
Each lesson focuses on executing the job in the shortest time possible.
He is considerate enough to take you through the latest version of Adobe Photoshop but explains his workflow for every user regardless of the version you are using.
But, I would advise using the latest.
Here is a brief scope of the course to see what it covers but not limited to what I list as there is more to learn once you enroll.
Customizing Adobe Photoshop to ensure it suits all your needs
Getting the best version of the program to use
Creating new projects and sharing your work
Mastering layers and understanding how the layer panel works
Moving, selecting, and editing layers
Working with the popular Pen Tool like the professional you are
Creating and modifying shapes
Designing flat illustrations
Creating and animating emojis
Removing skin issues and retouching portraits
Designing business cards
Creating application icons
Designing cute characters
Manipulating and repairing photos creatively
This and much more once you enroll!
Regardless of your work, as long as you want a good foundation to design and photo editing, this course will come in handy.
It cuts across so many fields of work. Once you enroll and complete your course, you can cut your niche or choose them all if you are a Jack of All Trades.
The course stands out because its progressive difficulty is reasonable as it starts slowly from the basics and builds its way up to the advanced level.
There are plenty of exercises, activities, and challenges.
Did I mention the video and sound quality?
It is impeccable. All students will get quality support from the instructor as he responds to most of the questions in less than 12 hours.
This is pretty fast if you ask me.
Check some courses and you will notice that there are questions asked three or five years ago and they have never been answered to date.
No memorizing here, only working and practicing.
You need to master the concepts and can manipulate each to meet your editing and manipulation needs.
Upon completing the course you should be able to easily use the platform.
Whether you choose to use the skill for personal images or create a business out of it, pursue it today.
---
Who is the Course for?
Freelancers
Hobbyists
Web designers
App designers
Graphic designers
Novice and amateur Photoshop users
Amateurs will love the practical assignments and activities to further sharpen their skills.
For any student who wants to learn bits in every Photoshop section. This is a comprehensive course to help you create a solid foundation of your new to be acquired skill. You can take in-depth courses on specific sections once you have a good mastery of the basics.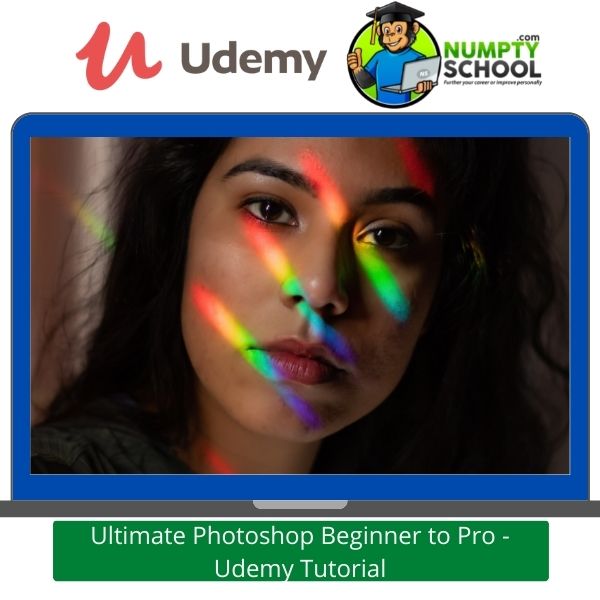 ---
What you will learn
Design icons, illustrations, characters, and business cards
How to clean up any face imperfections, improve your photos, and repair them
How to design awesome text styles using creative effects
How to remove objects or people from photos
How to cut away people from their backgrounds
Mastering layers, selections, and maneuvering the layers panel
---
Lessons
Introduction
Getting started
Layers 101
Layers 102
Camera raw and editing your photos
Cloud documents and the most noticeable change in 2021
Raster Layers
Artboards
Selections 101
Selections 102
Shape Layers
Creative layer styles and effects
Working with smart objects
Creating cute characters
Repairing your photos
Test layers
Improving your photos
Course conclusions
---
Course Requirements
No prior experience of Photoshop is needed
Installed Photoshop but not mandatory as you will learn how to install it somewhere in the course
Willingness to learn and practice
---
FAQ's – Questions on the Ultimate Adobe Photoshop Training: From Beginner to Pro Course
Q) This is the first online course I am taking and I don't know how to create new questions and upload my projects for review. Is there a way out?
A) Simple. Scroll down and spot the Q & A list right under your course player. Click the button written ''ask a new question''. Remember that to see it, you need to scroll downwards to the bottom section of the Q & A list.
Q) What happens if the convert point tool fails to work properly? I can't create some shapes shown in the course. The convert point tool keeps dragging a single line only instead of the two.
A) As earlier advised, it is recommended to use the latest version of Adobe Photoshop. Using older versions could cause issues when using this and other techniques.
Q) I discovered my shapes panel having very few folders. I would like to add more custom shapes. Is that possible?
A) On the top menu, click on the view icon. You will see a drop-down menu. Click shapes on it and click the triple bar on the top corner on the right side of the panel. Choose ''legacy shapes and more''.
Q) I am unable to use neutral filters in the filters menu as it is greyed out. Any remedies for this?
A) Download the creative cloud desktop version then install it on the computer. Log in to the site using your information and restart the Photoshop program. This should solve the problem.
Q) Is Photoshop provided with this course or can I download it for free?
A) Photoshop needs you to have a paid subscription. You can choose to be billed monthly or yearly depending on your frequency of use or preference. If you are on a tight budget, you can choose the photography plan.
---
Conclusion
Anyone who used the first-ever released version of Adobe Photoshop will be shocked by what the current version offers. So much has changed over the years from the outlook to the features and offerings.
I love a detailed online course that is procedural with real-world examples and practical activities to work on. Besides equipping yourself with knowledge of Photoshop, Barin makes his examples real-time.
The cheat sheets are the highlight of this course for me. Whether you are a slow or fast learner, assessing your progress is crucial. This is what determines how long it will take you to master the editing and design skills.
But, there is no rush. Take the course at your preferred pace and put in more time and effort to practice. The course will be relevant for designers, photographers, artists, and freelancers. It is comprehensive and has a broad scope.
Whether you are designing images from scratch or improving already taken photos or illustrations, it has everything you need.
You can build and customize digital masterpieces as much as you want.
You will learn how to use some of the unique imaging and art tools thanks to its rich features.
Even if you are a professional artist with the most demanding needs, Adobe Photoshop is what you need.
If you've tried to digitally manipulate your images or improve their quality without any prior experience at it, it must have been difficult or taken you more time.
That is why understanding the platform is essential.
Knowing how to use Adobe Photoshop is easier through online courses like this.
I love that this course has great offerings for beginners.
Advanced learners can benefit more from the practical activities and assignments.
It is a multi-step course highly reviewed by students as it walks you through the basic image manipulation steps before advancing to creating full-on effects.
If you want to learn, everything is at your fingertips.
You need to download and install Photoshop to help you follow along with the lectures.
This is a quick and easier way of following techniques taught by the instructor.
Adobe has a 7-days free trial that you can take advantage of if you aren't ready to pay immediately for a plan but need to take the course urgently.
Still, the monthly basic plan is affordable and has the crucial features you need as a starter.
Ensure that you are working with the latest version of Adobe Photoshop as interfaces differ from one version to another.
You wouldn't want to limit yourself and not learn all the required techniques available in the current version.
It might be the right time to up your Instagram feed and improve your photos.
Enroll today and change how the world sees you!
---
What Students are saying about the Course
This is a huge addition to my photography skills.
I need a few weeks of practice and I can sell my photographs on Etsy.
Barin is thorough than I thought.
In 15 hours, my editing skills have changed big time.