August 23, 2022
Photography Masterclass – 26 Hour Guide From Beginner to Pro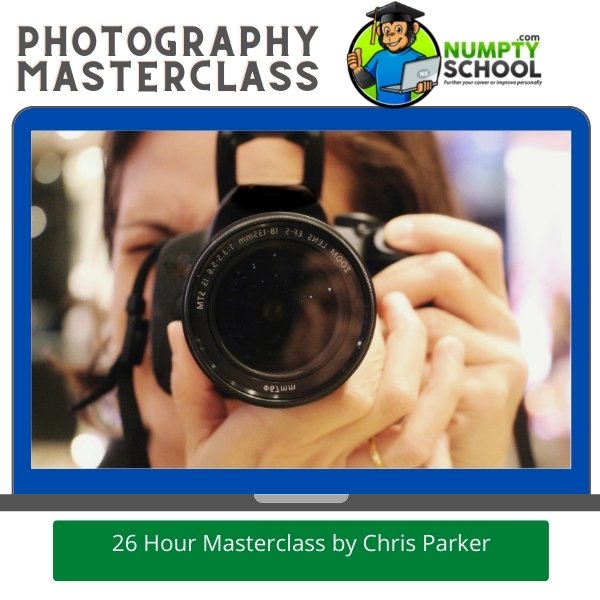 Learn from a pro how to take amazing photos and develop a unique editing style.
Description of the Course on Udemy
The photography masterclass is an admirable course telling from student reviews and statistics.
Chris Parker compiles and instructs this course and is a pro photographer with vast experience in Photoshop, Lightroom, and GIMP.
He was also taught by a pro and wetted his feet in portrait sessions and weddings since he found confidence in photography.
With over 30 years of experience in the industry, you can be sure he will help you achieve your creative vision.
The course currently has a rating of 4.7 stars with an enrolment of 36,400+ students.
The figures are impressive and imply that it is worth every minute of your time.
There is neither fluff nor jargon here, as the course is geared towards rookies who know little to nothing about photography.
This doesn't forbid amateurs from taking the course since Chris shares beginner and advanced tips, tricks, and techniques.
It is a 26-hours course divided into 18 sections, with all lectures totaling 234.
It isn't much to do if you ask me compared to enrolling in a physical school to study the same.
Remember, the cost, time, flexibility, scope of the course, and delivery will differ between the two avenues.
Each section covers a specific topic to enhance the flow of the course from introductory level to advanced sections without losing you somewhere in between.
Once you enroll in the course, you have full lifetime access to it and can return at any time, even after completion, to check for updates.
And if you are dissatisfied after completing the course, there is a 30-days money-back guarantee without questions – I doubt you will need this as it is excellent!
Also, there is a certificate of completion that Udemy issues.
It is downloadable, and you can use it as it is or print it into a hard copy.
Add the certificate to your CV or portfolio for proof of knowledge in the topic.
Some employers use it as leverage when hiring photographers for their businesses or projects.
There is so much to learn here, both through the on-demand video and downloadable resources.
You can access the resources offline and use them during and after the course as reference material.
This is an updated course as Chris purposes of making it relevant.
The most recent updates were made in early July 2022, and more will be done.
While taking the course, you will run into tasks along the way, but they are optional.
You can skip them or complete the course first and get back to working on the projects you prefer.
It is advisable to attempt and share with him for feedback.
Such an excellent way to learn further and polish your skills!
There is also a question and answer section to post your projects and questions.
You will get feedback from him and the students.
Also, he is a responsive buddy and gets back to students within 24 hours or thereabout.
As you go through the tutorials, completed sections are marked, and even if you return after days or months of logging out, you can know where you left from.
The videos are of good quality, and his teaching style is fantastic.
From the beginning to the end of the course, you can point out that Chris knows his stuff and has mastered his craft.
He is an incredible instructor with a constant penchant for straightforward, easy-to-understand examples and explanations.
Each section is well-polished, and his delivery is impeccable.
He takes technical concepts and flips them into something a fresher can understand without freaking out.
Chris has done a perfect job organizing the videos to create an excellent scope making it easier for students to learn and understand.
Photography being a hands-on activity, there is quite a bit of handwork in this course that allows a student to experience it in real-time.
Even though it is geared towards novices and amateurs, the depth of the course is on another level.
I don't mean it being advanced for enthusiasts – No!
Once you finish the course, you will feel confident and genuinely capable of taking great photos regardless of the camera you are using, even though you will still have a lot to learn from advanced courses.
What interested me the most was him addressing key photography genres and topics.
If you'd like to discover these topics, enroll in the course today.
---
Course Content and Overview
---
The internet is full of plain, crappy, and poor courses compiled by greedy chaps who want to make easy bucks off or unsuspected students.
Count this one out!
Chris is a generous guy and chooses to share his knowledge and experience of 30+ years in a few hours.
He explains some of the fantastic camera settings he swears by and uses since he began his photography career.
He includes his works in video slideshows to help his students see his growth and what they can do if they are more creative and passionate about using cameras.
The course vividly explains some of the fundamentals of photography and how you can create great photos using the four essential things he mentions below:
---
Photography gear
Light
Composition
Editing
---
You will discover, learn, and master all of them in the course.
Of course, good photography needs a camera, and a great photographer knows their camera gear like the palms of their hands.
The gear section covers all features available in cameras – it might not be all but most and the basic ones.
It doesn't limit you to knowing your camera body.
You will learn the different types of camera lenses available in the market and how to use each.
Once you know how to use a camera, even if it is taking basic pictures, the limitations, and how to counter them, you will learn more about light.
Light is among the crucial things that can take a basic subject and flip it into a spectacular thing.
You will understand how light works, its characteristics, qualities, and other vital things to shape it for the results you want.
Chris shows you how to elevate your newly-acquired skill to a new level through composition.
You will learn the meaning of composition, its importance, and the rules you must follow to keep your viewers wondering what your secret is.
Oh! And there is the breaking of some rules in composition that he shares too.
The editing section includes everything about photo manipulation.
You will learn some of the basics of popular editing software such as GIMP, Lightroom, Photoshop, among others.
As I write this course review, Chris's most recent update is developing your editing style.
But since he is a consistent buddy, you will be surprised at how many updates he makes in the coming months.
He promises to add the below section to expand your knowledge on areas he feels are becoming of crucial interest to photographers like:
---
How to harness natural light and should be 2 hours of content
Flash photography 101 – an hour or so
How to harness artificial light – 2 hours of thereabout
Camera gear including filters and other accessories – an hour
---
Just so you know that he is your main buddy when it comes to learning photography, he encourages you to suggest topics you want him to cover next, and he will add them to the list.
---
Who is the Course for?
---
Anyone who wants to learn about photography
Amateur photographers who want to polish their skills
Anyone who wants to know how a camera works
Anyone whose job or career requires them to take photos
---
What you will learn
---
How to be in total control of your camera and go all out on your creativity
The four straightforward steps of mastering exposure
Chris's secret weapon for being exemplary at setting exposure in cameras
One of the most overlooked camera settings and differently look at and use light
Chris's creative decision making steps for choosing some camera settings
How the instructor edits his photos
The six fundamental secrets for successful photos
How to use composition to better your photos
All the primary and most advanced features of a camera to help fulfill your creative vision
The different types of camera lenses available in the market and which one to use in which situation
Some limitations of light when using cameras and how to counter them.
More about light, its characteristics, qualities, and how to shape it for the results you want
How some popular photo editing software like GIMP, Photoshop, Lightroom, and others work
---
Lessons
---
An introduction to the course
A quick start guide for photography essentials
Camera masterclass part 1
Camera masterclass part 2
An introduction to lenses
More about lenses
Mastering light
Photography quick start guide 2
Photography deep dive
Full creative control
Composition
Editing essentials
Ways of developing your unique editing style
Photoshop for beginners
GIMP, a free alternative to Photoshop
Wedding photography
Bonus lectures
---
Course Requirements
---
A computer with an internet connection
A DSLR camera (this is the most recommended for the course)
Willingness to learn and practice
---
FAQs – Questions on the Photography Masterclass | 26 Hours of Content for All Levels Course
---
Q) Is this course a masterclass like it says in the title?
A) Absolutely! Chris has put in so much work and effort in compiling this course, and nothing tells plain truth like reviews.
Check them out to read more about what the students say about the course.
You can also gauge this from the course statistics.
Q) What happens if I have questions regarding photography but outside the topic covered in the course?
A) Chris is a reputable instructor and never ceases to help his students learn.
If it is a section you feel like you need more information and not a simple explanation or draft, share it with him to add it to the course as he requests.
Q) Can I use my smartphone camera and still complete the course?
A) Nothing should stop you from completing the course.
While you can use any camera for learning and practicing, the instructor recommends utilizing a DSLR for optimal results.
Q) What is the timeline for completing the course?
A) Luckily, these and all the other courses on Udemy have no deadlines for the completion or submission of assignments.
Once you enroll, you can learn and practice at your pace, the same as submitting your projects.
Also, re-take sections as many times as you wish if need be.
Q) Does the course explain GIMP in depth, as that is my main area of concern regarding photo editing?
A) Chris does a substantial but on GIMP and how to use it to edit your images.
But, if you want more detailed and in-depth courses on the same, you can take individual GIMP courses on photo editing to learn everything from the basics to advanced levels.
---
Conclusion
---
I am down to this course and can't wait for the updates to help me take great photos for my fishing website.
You will love Chris's efforts towards his students' creative paths, from organizing his lectures to his frequent updates.
I was surprised at him requesting you to share topics you need help with so that he can add them to the list.
You can agree that very few instructors do this and that he is one of a kind.
What stops you from changing how people feel about your photos after looking at them?
Enroll in the course today and perfect your pictures!
---
What Students are saying about the course
---
One of the most straightforward photography courses explains all the basics you need to know without adding jargon.
An incredible course that boasts quality and nothing less.
If you are still taking boring pictures and haven't enrolled in this course yet, you might be your problem.