April 2, 2022
Learn to Use Canva the Beginner Design Solution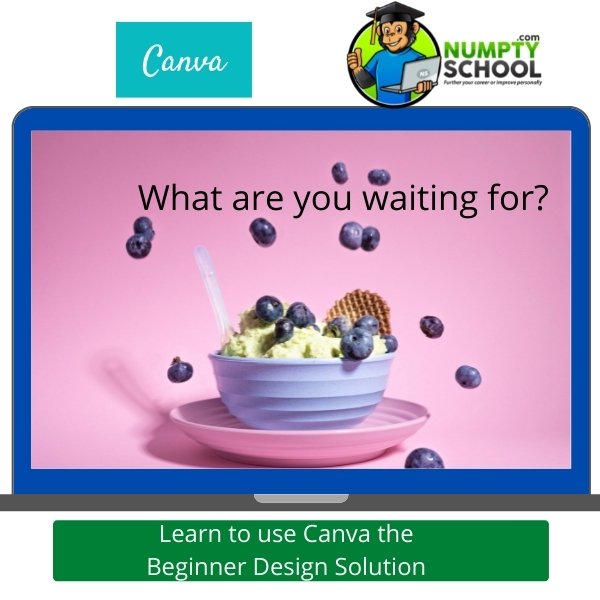 A concise 23-minute video introducing Canva, how it works and bits into text, shape, layout, and how you can use the three in your designs.
Description of the Course on Skillshare
How great is Canva?
Canva is one of the graphic design programs that allows you to create stunning graphics, infographics and manipulate images in minutes.
But, it can be daunting if you are hearing about it for the first time and have never used similar software before.
You can choose to comb the web for tutorials on how to use it or enroll in a short and straightforward course with more clear explanations on what you are looking for.
Lisa has compiled a 23-minute course to introduce you to the software.
She explains what Canva is, what it does, how to start using it, a few crucial aspects that you will use most often, and how to share your work once done.
It is among the shortest Canva courses, so if you are looking for an in-depth one explaining each program's tool, feature, and element, this isn't the right course for you.
This course is for guys who want and quick introduction to the program, and they can find their way once they understand the basics.
If you are interested in comprehensive and masterclass Canva courses, I have some reviewed on the blog.
Lisa is a certified Canva design and training expert, meaning you are learning from the best!
She has mastered her craft from her delivery and is among the top-rated instructors on Skillshare.
You might be wondering why Canva is a vast program, thus needing in-depth courses, yet she chose to make this one less than half an hour.
Yes. Canva is massive if you start sampling one toll, feature, and element after another.
But as a beginner, you won't use all of them at the start of your designing journey.
You have to take baby steps first before hopping and skipping.
This introductory course teaches you the baby steps and creates a foundation for you in your graphic design path.
When you feel confident and perfect at using the three fundamental aspects that Lisa shares, you can enroll in more advanced courses to hone your skills and set yourself apart from the competition.
The course has an enrollment of 5900+ students so far.
The reviews speak volumes about the instructor and her course, and that is why I opted to take it and see if it is worth the time.
You will not regret it as even struggling amateurs can learn a thing or two from her.
As an introductory course, it is geared towards the beginner learner who has never used Canva or something similar or those who have used other platforms but need to try it for a change of things or because they can't pay for expensive paid plans anymore.
Whether you want to work on designs to share on social media or print them directly, this is the right course for you.
Small business owners will love the course, especially if they have no marketing budget to pay professional graphic designers.
The beginner-friendly course has 11 sections of 1 to 4 minutes of each tutorial.
Lisa chose to make it shorter to save you the time stress of sitting through long hours of lectures only to find what you need two or three hours later into the course.
Since graphics plays a crucial role in the digital world, the course explains how to do the most straightforward and typical tasks.
You can use knowledge from the blog to spice up your blog with stunning pictures, add graphs and charts to it.
If you often watch YouTube videos, you might have spotted attention-grabbing thumbnails.
Some of them are made using Canva.
Canva was introduced for those with no skills to design great graphics, and learning tools like Photoshop is a little complicated and time-consuming.
Enrolling in an alternative course like this one allows you to handle trivial daily graphics like YouTube thumbnails and Facebook posts.
Also, the program is free, and even if others like Adobe Photoshop launched before it, the social media era has evolved, and a bunch of alternative apps have been developed and are grabbing users' attention like Canva.
Canva courses like this are mostly recommended for novices because they are easy to complete and the program's interface very easy to use.


---
Course Content and Overview
---
Lisa created this course for those who want to demystify graphic design faster and in the simplest way.
She explains this friendly design software briefly but doesn't cover all the aspects.
The course is shorter than most Canva beginner courses, but the 23-minutes are impactful.
You can choose to listen to the course at once and get done or divide it into halves or quarters, depending on your availability.
But as one of the shortest courses, you can always find half an hour to spare in between your schedule, learn, and start practicing.
She covers three primary fundamental sections – shape, text, layout, and conceptual approaches.
With the three only, you can design your invitation in the software.
Any non-designer who wants to create unique and beautiful graphics has minimal time and doesn't want to go through the stress of learning Adobe suite will benefit from the course.
You will see how easy it is for everyone to be creative with Canva.
The course has an assignment to attempt once done.
It requires you to design a party invitation for an upcoming event using Canva.
You should incorporate the three primary design elements you have learned into your design – shape, layout, and photography.
Since you are still at the introductory level, you don't have to fit all the bells and whistles in one piece.
It is your message that has to be boldly communicated simply, and more effectively.
Also, you are advised to add a complete image in the body of the project description.
Lisa encourages you to upload your assignment in the Projects and Resource section so that she can access your work and give feedback.
The task isn't compulsory but attempting it allows you to gauge your progress.
She is a responsive instructor, and you can tell that from the discussion section.
Lisa answers students' questions within a day or two which is faster than most instructors.
Also, make use of that section if you have questions to ask.
The instructor and students will answer you.
The course has one downloadable resource that you can use to learn and attempt the project.
This is accessible offline, but you will have to be online to access the Canva tool for use.
After completing the short course, you should be able to create beautiful yet straightforward graphics sharable across all your social media platforms.
If doing it for your business, you should use all the colors in your color pallet from the business style guide to create brand recognition as one of your social media marketing strategies.
---
Another great video for tips on Canva

---
Who is the Course for?
---
Beginner graphic designers
Anyone looking for a free alternative for paid graphic design tools like Photoshop
Small businesses
Those who want to know what Canva is and how it works
Social media marketers
YouTubers
Brands and corporations
---
What you will learn
---
Canva, what it is and what it does
How to start using Canva
How to create layouts in Canva
How to add text
Ways of making your design cohesive
How to share your work once done
---
Lessons
---
An introduction to the course
The course project: Creating a party invitation for an upcoming event using Canva
What Canva is
What it does
How to start using the program
How to create layouts
How to add text
Ways of making your design cohesive
How to share your work
Conclusion
Exploring design on Skillshare
---
Course Requirements
---
A computer with an internet connection
Willingness to learn and practice
No prior experience of graphic design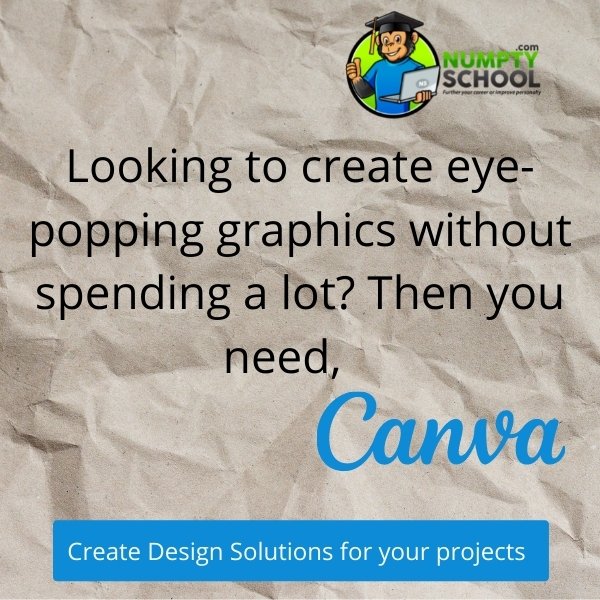 ---
FAQs – Questions on the Learn to Use Canva: The Easy, Effective Design Solution for Non-Designers Course
---
Q) Is Canva free to use?
A) Canva's basic plan is free and comes with tons of features, tools, elements, and images that you can enjoy.
It has subscription-based plans like the Pro and Enterprise version that you pay between $12 and $30 monthly depending on the plan.
Q) What is Canva great for?
A) The program is excellent for small businesses and companies or startups with minimal to no ad budget, and the only option is DIYing their marketing.
Canva offers numerous tutorials and templates to help any non-designer or DIYer get started.
Q) Are there better software than Canva?
A) So many design programs have been developed after Canva was launched.
While it has its limitations, others like Adobe Photoshop can replace it if you want to use a program for big companies and enjoy more advanced tools and features.
Q) Do professional designers use Canva?
A) Some do, but others don't. But at least, there is always a task that is simplest to do with Canva than other platforms because of the drag-and-drop function and easy-to-use interface.
Most professionals use feature-heavy software like Illustrator and Photoshop for more effective control.
Canva has some limitations when creating graphics in-app.
Q) Is Canva better than Photoshop?
A) Each has its upsides, but if you want more control over your graphics creation, need to edit images, and are looking for a program with more features, Photoshop wins.
If you are a novice with no experience in graphic design or have a minimum to low budget and can't afford a professional graphics designer, choose Canva.
It is a beginner's do-it-all program with an easy-to-use interface.
Q) Do I get a certificate of completion after completing this course?
A) No, Skillshare doesn't issue certificates after completing any of its courses yet but if you badly need one that offers one, check Udemy's paid courses.
I have reviewed some good ones on the site.
---
Conclusion
---
Canva's beginner courses are excellent to let novices into the user-friendly program that allows them to create stunning graphics once done quickly.
This one is short and straight to explain the most crucial aspects that you will often use.
You can sign up for the free version or subscribed to a paid plan to practice with the project Lisa has in the course.
It isn't a comprehensive course, so don't expect to learn all the ins and outs of Canva.
This is an introductory course for those who urgently need to learn about Canva in the shortest time possible and work on simple graphics and design tasks.
The scope of the course and the delivery of lectures are fantastic.
Even though she brushes through her sections to save you time, she highlights the most critical aspects that should create a solid foundation for your new skill.
What you create after the course using Canva's templates might be similar to other people.
But once you master graphic design, you can create unique looks for your business with better design and graphical elements.
If you are a new brand or business, this course is an excellent choice.
The software is accessible, and you can do so much with its free version.
Lisa has proven that you don't need rigorous training and sitting long hours to learn how to create fantastic, easily sharable final pieces.
Enroll in this short course today, save time, and learn the basics of Canva in the simplest way possible!
---
What Students are saying about the Course
---
The course is introductory but well-presented. You learn quite a bunch of things in less than 30 minutes.
It is quite an informative course as it has taught me different approaches to making things using Canva. It has solved my problem of hard-to-read text against photo backgrounds.
She outlines steps that are easy to follow, and I used the same model to make the procedure in my new online course, which has received a lot of positive remarks from students and other creators.