March 31, 2022
Beginner's Guide to Canva for Graphic Design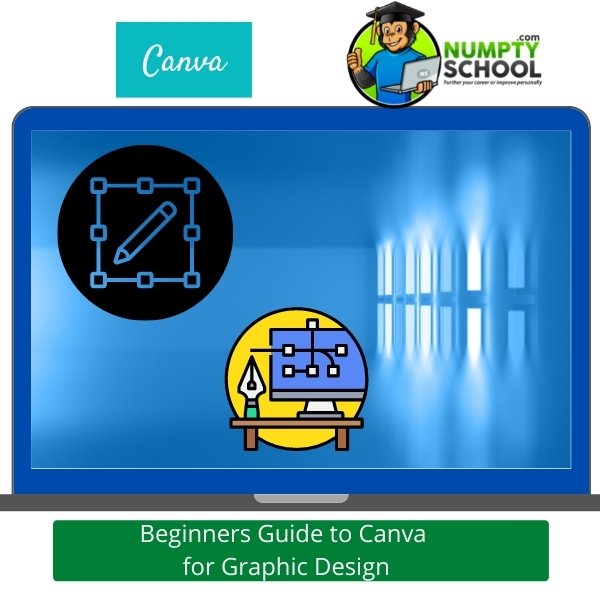 Get to know more about the world's popular free DIY graphic design mobile and web device software to create awesome graphics.
Whether for business or personal use, knowing how to create catchy images is a skill you should learn. Especially, in the current times when images and graphics speak louder than text.
Sounds off? We are in an era where visual representation is everything! As a rookie, you might have spent so much time and money learning how to create more visually appealing content.
Jeremy's course is among the recommended courses for starters. He is an online instructor and teaches you how to do most things you think are complicated. Jeremy does this in the simplest way possible without jargon or fluff.
Of course, a straightforward course is what we all need. He does just that but makes the course humorous. Over 3,300 students have enrolled as I write this review.
I take time to go through what the students say. I want to be cocksure that the courses I take are informative and helpful. This one isn't different.
The reviews speak so much about what you will learn and the impact in real-time. Learning how to use Canva allows you to catch the attention of your audience.
Here's the steak off the bone: Even pros use premade templates and layouts to save time. It seems a shortcut but there is an option to create your graphics and designs from scratch.
It all depends on what you want and your deadlines. This is a short course-one that you can complete in one sitting. It runs for 34 minutes but is divided into 14 sections of 1 to 5 minutes depending on the depth and complexity of the topic.
But this isn't all. Jeremy has this as a series course and this is the first course of many in the series. As a beginner's guide, it takes you through the basics of Canva.
You can choose to take the rest of the courses to dive into Canva and its advanced sections. But, this will depend on your needs. If for personal use, the basics should work.
But, if you intend to take graphic design as a career, it would be ideal to complete the series and if possible enroll in more courses by other instructors to hone your skills. Remember, art isn't constant.
Learning here is ongoing. Like Photoshop, Canva is vast. There is so much to learn from the tools to the features and uses. Of course, you can't go through this in a day or a week.
Here's the secret: You will need to take on various projects and tasks to experiment with Canva tools and features. That is the best way to learn about tools that the instructors don't mention or explain.
I run various websites and Canva has been one of my go-to software for creating banners and other image content. It wasn't easy starting without prior experience with any graphics software.
Such courses have come to the rescue of many today. And not having to cough much for a course is what makes me look forward to finding more that I can buy.
It doesn't matter what you intend to do with the designs, whether for advertising, marketing, or creative learning, this course is top-notch!
---
Course Content and Overview
---
Jeremy's course will be relevant for anyone who needs knowledge in Canva. Whether for research or practical use, this course comes in handy.
You will be more advantageous because as a free online program, you will create killer images and graphics while spending NOTHING at all. Currently, visual media is everything in the marketing and branding world.
Being able to launch your skills ahead of the tough competition that already exists is crucial at this point. The course takes you through the basics of Canva to allow you to be up and running in a jiffy.
In less than an hour, you will have known the fundamental tools to start creating awesome visual graphics. You will learn how to create and set up your account. This is pretty easy.
Do you remember how you signed up for your last entertainment account? Setting up Canva is almost similar.
The interface is clear and easy to navigate. But still, he will show you how to go about it to break the nervousness you have. I know it can be difficult to use some graphics software. Especially, the complex ones with sophisticated interfaces.
We are beginners and taking it simple here. Here's the thing: It is extremely creative to get your designs started from scratch minus any help. But it is also fantastic to get ready help.
Today's middle-aged guys call it the 'soft life offerings.' I'd say Canva has a similar option with premade templates and layouts. These come in handy when you need a design urgently or can't just create it from scratch.
Jeremy shows you how to select the best conventional ones and those that can never fail regardless of how difficult the task seems. This isn't meant to make you a lazy sack of bones! No! It is for those few days.
Graphics and design are creative art and you will need to add and omit a few things before you can get a satisfactory result. The course teaches you how to add images, text, artwork, and backgrounds.
After doing all these and the results are desirable, showing them to the world will help you improve and earn from your skills. Entrepreneurs, business owners, solopreneurs, marketers, social media experts, and brands can attest to the power of striking graphics and images.
You will learn how to share the designs on any social media platform and get feedback from the world. But, if you need the designs printed for individual distribution or physical advertisement, you will learn the procedure here.
Once you enroll in the course, you are entitled to free additions and updates to this course henceforth. Even after completing the course, keep returning to find out what is new.
Do you remember me mentioning that this is a series course and this is the first? Here is more from the series that you should enroll in:
---
An introduction to graphic design theory
Graphic design theory volume 1
Graphic design theory volume 2
Book cover design

---
Who is the Course for?
---
Solopreneurs
Entrepreneurs
Business owners
Marketers
Social media influencers
Advertisers
Anyone who wants to learn about Canva.
Those who want to know how to create stunning graphics using Canva.
---
What you will learn
---
How to create an account on Canva
Manoeuvring the Canva dashboard
Diving into the design dashboard and exploring its elements
How to navigate Canva
How to add the artwork to your design
Adding text to your design
Creating attractive backgrounds
Uploads and how to make them
Putting everything together into one design
How to select the right format
How to download your design
Some designs in Canva's primary dashboard
How to share your designs
---
Lessons
---
An introduction to the course
Signing up on Canva
The main dashboard
The design dashboard
Navigation
How to add artwork
How to add text
How to create backgrounds
Uploads
Assembling everything
How to select a format
How to download the designs
Some designs in the primary dashboard
Sharing the designs
---
Course Requirements
---
An active email address
A computer with an internet connection
---
FAQ's – Questions about the Beginner's Guide to Canva for Graphic Design Course
---
Q) What does the free-forever package on Canva offer? Is it dependable for a novice or should I get the PRO version?
A) First, for a beginner, you are still making baby steps so the free version will be great. Until you are at a more advanced level, then you can subscribe to the Pro version if the features you need aren't in the free one.
The free forever package features over 250,000 templates and more than 100 different design types ranging from letters to presentations, social media posts, and more. There are also hundreds of thousands of font styles, graphics, and photos.
You will have access to 5GB worth of cloud storage. A user with a free account can invite friends to their team and comment or collaborate on designs in real life. The maximum number of invites in this version is 3000 people.
You can create a maximum of 20 teams.
Q) Is there an age limit for Canva? My niece is a teen and loves creating designs to share in art class. Is it recommended?
A) Canva has an education site and children of all ages can use it. However, if below 15, it is advised to have them supervised as per the terms and conditions of the site.
Still, for tech issues, check school guidelines and local laws.
Q) Must I use the free templates that Canva offers?
A) It isn't a must. You can create designs from scratch. Templates make your work less hectic especially as a beginner. They are also time savers when creating visuals. You can make changes to the templates to suit your needs.
If you want to add more text, you can adjust the font sizes.
Q) Is it possible to use the software on the go?
A) Sure! An application exists for this on Android and iOS. You can create designs and edit images on your tablet or phone. There is a desktop version in the pipeline. This opens the possibility of using the program without an internet connection.
Q) What are the best way and most effective methods of mastering Canva?
A) First, courses like this one help a lot. Besides being very informative, they are practical and you can see what the instructors do.
Next, trying out different projects and assignments exposes you to various challenges. You will discover other tools and features that you have never used.
Q) What makes Canva so special that most people prefer it to other software?
A) The program is free and besides it has a drag and drop interface. This makes customizing a bevy of templates simpler and easier.
Also, it has a wide array of tools and features for editing images without extensive experience or knowledge in photo editing.
---
Last Few Words
---
With the wide array of templates, you can choose any and use them to customize almost anything online or offline for your personal or marketing endeavors. Many agree that Canva is a big deal for professional and expert graphic designers.
Everyone is eager to learn how to DIY their stuff in the quickest way possible. Canva has succeeded in making this possible and for FREE!
Photoshop, Adobe, InDesign, and illustrator nerds can try out Canva. Whether you want to stay ahead of trending tech or because of exploration, it is a fantastic program.
If you are creative, there are techniques in your line of work that will force you to work with other DIY marketing programs. Head on to Canva anytime for an awesome experience.
Creative tools and DIY marketing are here to stay! The software is easy and fun to use. If you are in dire need of changing how the world sees your images and graphics, starting here will be great.
As you learn how to use one of the world's most competitive graphics design software to create striking visuals, you get to save some bucks with the free version.
But if you feel more pro after completing this course, jump on the Canva PRO bandwagon and enjoy the additional features.
---
What Students Say About the Course
---
A concise and thorough beginner's course on Canva. The course has a great flow and the examples he gives are extremely helpful.
Being a Photoshop nerd, the learning curve was huge over there. Canva made everything simpler, fun, and easier.
The delivery was excellent. At least, there is a free version with tons to explore here at Canva!