November 7, 2022
Adobe Photoshop CC – Essentials Training Course Review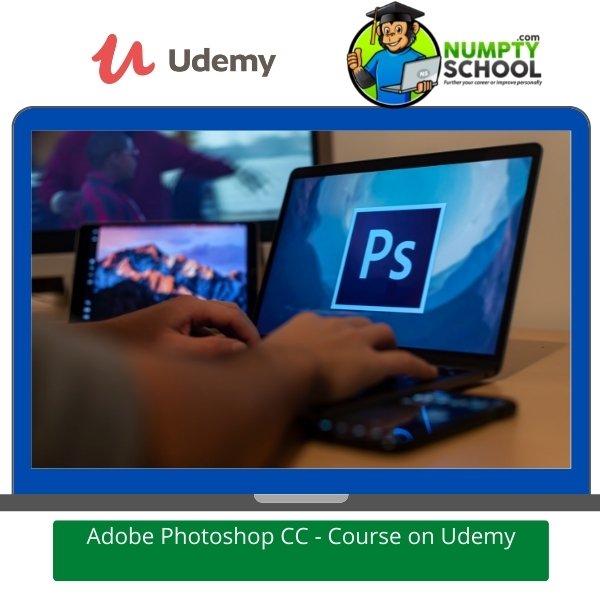 Learn everything you need to know about Photoshop retouching and Photoshop for graphic design to perfect your images professionally and get paid for your skills.
---
---
Description of the Photoshop Course on Udemy
---
Are there crowned Photoshop experts? There could be!
The platform is deep and for you to identify one person who is perfect at all its aspect is difficult.
Anyways, anyone interested in learning how to use the program can perfect their skills.
I know that Photoshop is very versatile and you can use it in various ways.
It is a tool that can help you be a great picture analyst, illustrator, photographer, web designer, or graphic designer.
Here is the right course to help you start your journey.
The course is instructed by Daniel, an Adobe Certified Instructor and a certified expert in the same.
This means you are learning from one of the best.
So many people seem interested in learning Photoshop as the numbers tell.
This is a BESTSELLER course with a star rating of 4.7 after 100k+ students enrolled.
I was impressed. The commented reviews are from a quarter of the students who have taken the course.
While some have a few small concerns, the majority highly recommend the course.
Never worry, some of the concerns I picked from the review are about speed. Some prefer him faster than he is.
Another one is from advanced students who feel like the course is tailored for beginners.
Sure! This is a great beginners' course.
It is an 11-hour on-demand course with awesome tutorials on how to improve your Photoshop skills.
There is a ton of resources for students to use as reference material when taking the course and tackling real-time problems.
Most of them are downloadable and you can use them online.
Getting started with Photoshop isn't difficult. If you feel some difficulty, it could be because you don't have the right material to use.
This is why comprehensive courses like this exist.
Here, you will learn how to use the program in graphic design and retouching your photos.
I know how the majority feel about their images and social media photos.
This is the right course to take if you want to get more lives, shares, and comments on your social media images.
You will create numerous projects you can add to your work file and portfolio.
This should help you when looking for a job in this area.
Dan's teaching style has remained professional in this and other courses.
It is easy to understand.
After completing the course, you will have gained a skill set to tackle both small and huge projects.
He also has an advanced course in Photoshop that you can take after this.
The course should help you be a pro in Adobe Photoshop and use your creativity to exceed all visual boundaries.
With practice, you will learn how to use design to bring life to concepts and ideas.
You will work on strategic and tactical briefs, conceptualize designs for mobile applications and websites among other projects.
The same course is also on Skillshare, a platform whose courses I also review.
What boosted my confidence is how often the course is updated.
This means you will learn how to use the latest version of the program.
You know, this software is prone to change and today's version has huge differences from its first or second version released since it was launched.
There is a guarantee for anyone who purchases this course.
It is a gem and with practice, it should change how to view and do your graphic design projects.
In case to buy the course and are dissatisfied with the delivery, there is a 30-day money-back guarantee without any questions.
---
Course Content and Overview
---
Before being an expert, you need to put in the work.
This course will help you do this.
You will be a real expert who knows where each tool is and what it does.
You can easily solve issues that arise in your project.
The course is geared towards beginners who know nothing about using Photoshop for graphic design.
You don't need previous experience or knowledge of the same.
Dan starts from the grassroots as he works his way up step-by-step.
There is a Photoshop secret that he shares.
You will learn how to enhance your background magically and remove people from photos where needed.
Follow along with him in the tutorials as you refer to the downloadable files.
Also, there are numerous tasks he sets for you to practice and gauge your progress.
Share them so that you can know of the areas to improve if any.
Upon completing this course, you will have super skills.
Below are some of the things you will gain experience in:
---
How to completely mask anything from dreaded hair to large and visible body marks.
How to clear-cut images using the great masking skills you have learned.
How to make different types of photos interactive.
How to look at the common current visual styles. You will learn the tricks and tools to use when recreating them.
There are fun sections too. Learn how to transform, distort, and manipulate photos.
How to create your graphics with the help of simpler techniques from the beginning to the end.
Ways of professionally retouching photos
You will learn smart tactics that can help you put islands inside bottles.
---
Who is the Course for?
---
New Photoshop users
Amateurs with very little experience in graphic design using Photoshop
Graphic designers
Illustrator users
Motion graphic artists
Beginners to Photoshop who want to use it professionally in their careers and earn from it.
Freelancers
Creatives with an interest in designing their graphics and editing their images from scratch.
---
What you will learn
---
How to start earning from the Photoshop skills you learn.
How to add Photoshop to your portfolio and CV.
How to add projects to your portfolio.
How to create social media images for your posts to use on Instagram, Facebook, Twitter, Pinterest, and YouTube.
Clear-cutting images.
How to mask everything that includes dreaded hair.
How to create awesome typography.
How to create common visual types.
How to create distorted images.
How to create graphics from scratch.
How to create postcards.
How to professionally retouch photographs.
How to create adverts.
How to create posters.
How to resize images.
How to build flyers.
How to alter the colors of your images.
How to fix colors in photographs.
How to change hair and eye colors.
Combining two images to make great compositions.
Putting storms in teacups.
Creating texts that resemble stone.
Building logos with a type that can wrap around like a badge.
Creating texts that wrap around women.
Creating more background in images from the thin air.
Building multi-page banner advertising projects.
Removing graffiti from walls.
Removing people from images.
Creating realistic shadows.
Clear-cutting photos of shoes, people, and different products.
Creating texts that wrap around colored smoke.
Building duotone images that resemble those in the Spotify effect.
Turning images into more realistic oil paintings.
Creating images with anaglyph effects.
Ways of adding halftone effects to photographs.
Ways of bending images and revealing background pictures.
Retouching overweight people to make them look slimmer.
Distorting logos to bend around real-time objects and photos.
Making galaxies appear as if they are coming out of someone's head. Creating spray paint styles of graffiti with the help of brushes.
Creating paper cut effects in fonts.
Building texts using 3D paint that drips out of it.
Removing dust particles and scratches from old photos.
Building fantasy images. For instance, putting clouds, oceans, and islands in small bottles.
Retouching faces to remove freckles and pimples.
Whitening yellow teeth.
---
---
Lessons
---
An introduction to the course
Layers
Colours and adjustment layers
Shapes
Text
Layer styles
Cropping
Selections and masking
Filters
Smart objects
Transformation and distortion
Retouching
Blending modes
Visual styles
Artboards
Resolution and colour modes
Brushes
Shadows
Export
What next
---
Course Requirements
---
Adobe Photoshop downloaded and installed. The latest Creative Cloud version is the most preferred.
A computer with an internet connection.
Willingness to learn and practice.
No prior experience or knowledge of Photoshop.
---
FAQs – Questions about the Adobe Photoshop CC – Essentials Training Course
---
Q) Does the course teach me how to organize layers using Photoshop?
A) Sure, it does. You will learn how to put different photos in separate layers. Know how to lock unused layers and unlock those in use. You will learn what you need to do if you need to change two, three, or more layers.
Q) What happens if I am to use a different version of Photoshop?
A) Different versions have different features. Using an older version limits your access to all the useful features you need to use. It is recommended to use the Creative Cloud version as it has everything you need for Photoshop retouching and graphic design.
Q) Can I use the program on two or more devices?
A) This is possible regardless of the OS your gadgets are using. But, activation will be limited to only two gadgets per membership. You can read more on the terms and conditions of use on the Adobe website. You can also learn how to deactivate a license on one device.
Q) I am a slow learner and sometimes would need to stop in between courses and get back to previous sections. Does this have a manual I can use first to make things faster for me?
A) There are PDF versions and web material of the Photoshop manuals. Visit the user guide page to learn about the features and other important aspects of the program.
You can also use the available reference material in the course as they are detailed and well-explained.
Q) Do I get a certificate after completing the course? Is it in hardcopy?
A) You will get a certificate of completion from Udemy after you are done with the course. However, it is a digital copy that you can print. This should be proof of completing the course and experience in the same.
---
Conclusion
---
Adobe Photoshop is among the foremost graphics and image editing software in the world.
Its latest version is popular among millions of beginner and amateur graphics designers and photographers worldwide.
If you'd like to be among those enjoying how it works and earning from it, this course is ideal for you.
It is for the novice who wants to scale in the industry and learn how to make the best out of the program.
Regardless of your level of experience, it will help you add touches of style and class to your images.
You can use its numerous features to alter images, create graffiti, and illusions.
It shouldn't take you forever to grasp the fundamentals as Dan is clear and detailed in his explanations.
I love that he uses real-life examples and leaves some projects for you to attempt and rate your progress.
He is responsive and will assess your projects and answer your questions on time.
I love that he shares some workable tips and tricks to better your experience using the software.
Most importantly, you will learn how to tell stories through your images.
While at it appreciate treasured memories.
Completing the course means that you will have in-depth knowledge of Photoshop's latest features and can confidently work on projects with minimal to no help.
If you want to change how people see your images, try this course and you will not regret it.
---
What Students are saying about the Course
---
I enrolled with zero knowledge and came out with a handful of it.
My graphics design passion had stalled because some aspects were proving complicated. This course rescued my situation pretty fast.
I got my first pay from my Photoshop retouching project last month and I am excited to do more.
---