April 29, 2021
Fundamentals of Photo Editing with GIMP Beginners Tutorial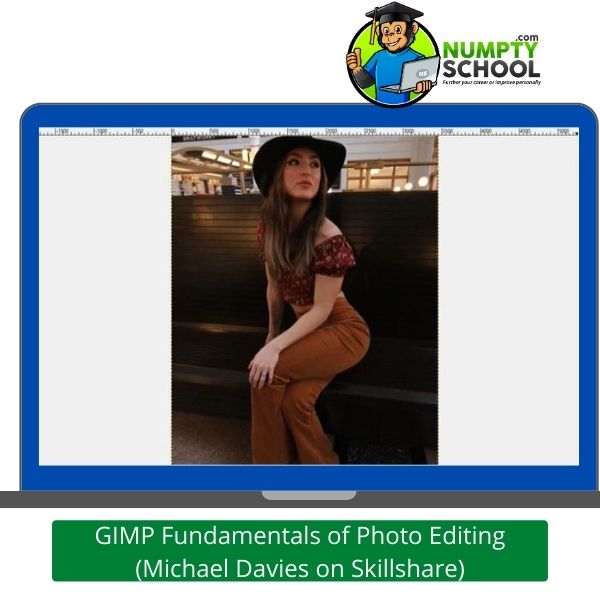 A detailed course of how to use an awesome alternative to costly programs to edit your photos professionally.
As an open-source editing program, it is widespread and supports operating systems that other paid programs don't. Isn't it a deal? Let's learn more!
Description of Fundamentals of Photo Editing in GIMP: A Course on Skillshare
Photo editing sounds complicated to many but it isn't!
Only with the right resources, you can scale from knowing nothing to editing the worst of photos into something admirable.
This course by Michael Davies focuses on the editing aspect only.
And yes, you might have read a few more reviews by this instructor on our platform.
Stick around for more.
Just plugging you on some awesome content that might interest you.
Over 1600 students have completed the course on Skillshare.
Considering it is a sub-section of the GIMP, the number is impressive.
Michael Davies hits the nail on the head in about 1 hour 37 minutes.
See? It won't take you that long!
With only 14 lessons, this might seem shallow. You are wrong! Check the reviews.
They will shock you. He vividly explains all the vital tools you require to edit photos professionally.
Let's be honest: you can edit a photo that was average to worse or transform it into the best image you hadn't seen in a while.
Sorry, he doesn't use shortcuts. Just the right procedure from the beginning to the end.
Don't be scared! It is his professionalism that I love most. Davies wants you to be the best.
Doesn't he save you money too? Okay, you'll pay for the course, yes! But must you again pay for photo editing software?
When there is a FREE yet powerful program like GIMP, we can save the money for a good photography accessory when there are bomb sales on Amazon.
In the course, you'll learn how to use the latest version of GIMP and learn the procedures step-by-step.
The instructor doesn't only show you how to use the tool. He first explains it and gives some techniques you use whether you want a technical or artistic approach.
There is a project and resources section. This is to test your skill after completing the course.
After editing your photo, as part of the project, it should appear similar to that of the instructor.
There might be very slight differences depending on one's artistic preference.
It is a short course. Shorter than your walk-in lessons at the technical institute that will have 8 or more lessons on this and might not cover everything.
But you will come out of it with so much information about the fundamentals of photo editing.


---
Who is the Course for?
Michael Davies rates the ability at the beginner level. But, we list this and other categories that can benefit from this course.
Persons of any level of skill willing to learn more about GIMP editing tools and filters.
Novice GIMP users who need to familiarize themselves with the free photo editing software.
Photographers looking to use a free yet powerful editor to touch up their photos.
Novice GIMP users who need information on how to edit photos.
Photoshop lovers who want to test a free editor and stop paying for editing software.
Advanced GIMP users who know a little about the software but need to dig more into the editing aspect.
Anyone willing to master how the GIMP photo editing tools work.
People who want to improve their creativity in photo editing.
Those who want to use the software for professional or personal use.
---
Contents and an Overview of the Course
GIMP is among the popular photo editing programs worldwide.
It uses various tools and plugins to make the editing task less burdensome.
Most people love it because it can be used with so many operating systems, unlike most paid platforms.
It is FREE and the majority of graphic designers and photo editors use it more than others.
Here are some reasons why they prefer the GIMP photo editor to other free and paid programs:
---
A cross-platform
Open-source and free
High-quality editing
Can be used to create original artwork
Has a graphic design section
Numerous plugins
Programming algorithms
Numerous brushes
Advanced filters
Greatly supports basic editing
Flexible
Customizable
Supports various layers
Can support multiple photo editing at the same time
---
Besides the above advantages, there are more inbuilt features that can convince you to shift from other editors to GIMP. Also, it can handle both basic and complex editing tasks.
In the course, you will learn a few things to do first before you start editing your photos with the GIMP software.
An example is zooming out the photo for impeccable results.
GIMP doesn't offer support for any non-destructive editing.
Here's what it does: It permanently stores all changes. But, there exists an editing history.
This allows you to undo and redo any option. Michael recommends performing every operation in its separate layer.
This helps to edit every part later and retain the original photo. Does your ordinary course teach you this?
You will learn more about the filters and tools you can use to edit your photos.
Its interface is user-friendly as any other traditional photo editor can be.
If you have used other photo manipulation software like Photoshop before, GIMP will be familiar.
Before heading straight to the editing aspect, you must have downloaded and installed the program on your computer.
After setting it up, you can begin editing as Michael explains in the lessons.
If you have a background in photo editing, you know that it isn't limited to several tasks.
If you didn't know this, learn it here in Michael's course. Everything will depend on your level of skill.
In the first stages, a novice can't edit a photo like a pro would.
Even if they can gamble and almost do it, it will take longer for the fresher. This course can make a difference in less than two hours.
GIMP works with numerous plugins and extensive features to allow you to edit a basic or worse photo into a clickable one.
---

Lessons
The course has 14 lessons only by the time we are compiling this review.
However, it is bound to be adjusted from time to time.
Especially with any upgrades to the GIMP photo editing software.
It only covers editing photos from the basics to the complex aspects.
If you need to learn more about GIMP, we have reviewed several courses on our site. Check them out.
Here is what Michael explains in the course from the beginning to the end:
---
About GIMP and the reasons you should choose it as your photo editor
How to open images in the GIMP software
The image window and a brief introduction to it
How to scale and crop your images
How to adjust highlights and shadows
How to identify the right colors using the color balance tools
How to adjust the levels of an image and information on color correcting
Using the saturation tool to bring out a photo's color intensity
How to adjust the color temperatures and more about cool and warm setting
Using the curve tool to add contrast
Using heal and airbrush tools to touch up your photos
How to sharpen your images. More information on the high-pass filter and unsharp mask
How to properly frame a photo using a vignette
Using various formats to export your images
---
Course Prerequisites and Requirements
You should be computer literate. Even the basics will do here.
Have some photography skills and know-how to upload photos to a computer.
Background on the GIMP software though this won't be mandatory.
---
FAQ's – Questions about the Fundamentals of Photo Editing in GIMP
Q) I began professional photography and photo editing about a month ago. Can I use this software for commercial purposes?
A) No doubt and congratulations on your new venture. GIMP photo editor is a free program.
It also doesn't restrict where to use it and the type of tasks you want to create with it.
Q) Does GIMP have a license? Also, how can one comply if any exists?
A) Yes. GIMP has a license under the General Public License (GPL) v3.
Briefly, it means that you can freely use GIMP for whichever purpose, you can distribute it, you can learn how it works and customize it to your needs and you can distribute the customized versions
Q) Are there any prerequisites for distributing the customized versions?
A) Distributing the customized versions will need you to publish the changes also to the source's code that is under the General Public License (GPL) v3 too.
Q) Why do some people sell the GIMP editing software on 3rd party websites?
A) It is legal to do this under the General Public License (GPL) v3 terms.
If you choose to buy a customizable GIMP version from a 3rd party site, feel free to use it.
Q) Does GIMP use GTK+3?
A) Unfortunately, for now, GIMP doesn't use this. A GTK+3 version of the software is underway and might be in the v3.0 version.
You can read more about the GIMP roadmap from their site.
---
Conclusion
Focusing more on the photo editing aspect on GIMP without fluffing it up with other aspects, Michael did a commendable job on this one.
The course is very detailed and explains how you can positively alter your photos to something better, highly marketable, and payable.
From the history of GIMP, it might have begun as a free and basic editing tool.
However, the current tools it has show that there have been great improvements over time.
Today, GIMP is one of the most preferred alternatives to most paid software such as Photoshop.
I am not discrediting the latter. Only that most people prefer free yet powerful software to edit their photos if any exists.
You might opt to switch to the GIMP software from another free or paid version.
This is the right course to take if your primary focus is on editing.
Don't feel lost if you have used other GNU programs before as Michael explains how the editing interface works.
He explains the basic differences to note. A fumbling teacher will make the student fumble.
Michael is precise in his instructions and overall, the delivery of the course is worth the time.
He systematically explains every aspect and the organization of lessons is something that most tutors should emulate.
Practical courses shouldn't lack examples. You will love how the instructor makes it easy to understand and enjoy the course with as many examples as possible.
Since this is a short yet clear course, there wasn't a need for piling projects for the students. He gives one to work on and test your skills.
You can share your work in the discussion section and he'll assess how far you've come and your potential.
Ask any GIMP photo editing questions in this section too.
Is an hour and a half too much to spare? Not really! Why not up your editing game and make your social media photos worth dying for.
We are there for the likes, comments, and shares. You might love the outcome and turn it into a money-making venture.
---
What Students Say About the Course
Michael's approach is procedural and he perfect instructing decision for a beginner. It makes it easy to understand how to use the GIMP photo editing software.
I didn't know that such a program exists until I came across this course being advertised online. I am completely sold and not turning back to paid programs.
I love courses I can learn and complete in a single sitting. While it didn't consume much of my time, I learned so much I didn't know what the GIMP software can do to my photos.
Of all the photo editing courses I signed up for, this has proven to be better.
The working knowledge offered here might prompt me to think about converting my interests into a business. Each lesson is brief and covers the topic well.