April 3, 2023
Is Gimp Good for Professional Photo Editing?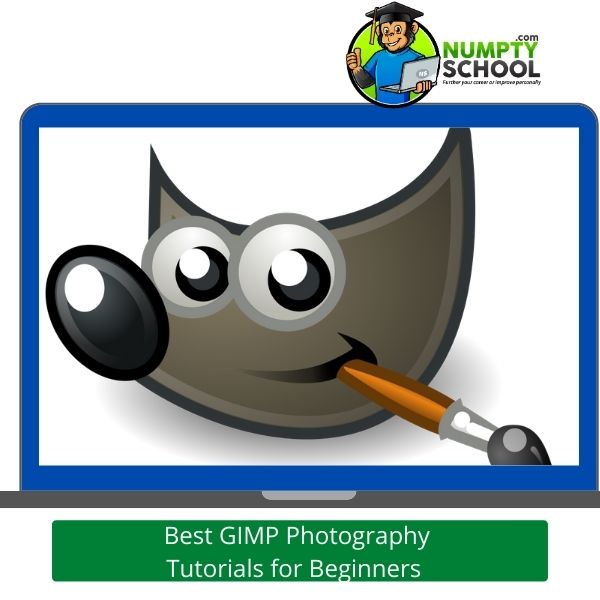 Gimp is a FREE open-source imaging editor used by thousands of users in many categories from personal bloggers and photographers to multinational corporations.
As an opensource program, it is continually being developed by the community to further enhance the tools and performance.
As its FREE it is a great place for users to grow their skills rather than getting other programs like Adobe Photoshop or Illustrator which have their place in the editing business but come at a large cost.
Here we have provided a list of some of the best courses available on the internet to learn how to use the GIMP program to make better use of your photographs. So let's dive in and see why Gimp is good for professional phot editing.
---
---
A 1h 44min long video course by Chris Navarre.
Description of the course
A series of fourteen 10 minute videos showing many of the basic tools used to manipulate photos in GIMP. As it will be assumed basic knowledge is known the tools will not be explained fully to help save time in teaching the techniques. Each tutorial goes from start to finish to complete each task.
Who is the course for?
The course is aimed at anyone who wants to make their photos look better or for those who want to learn photo editing techniques.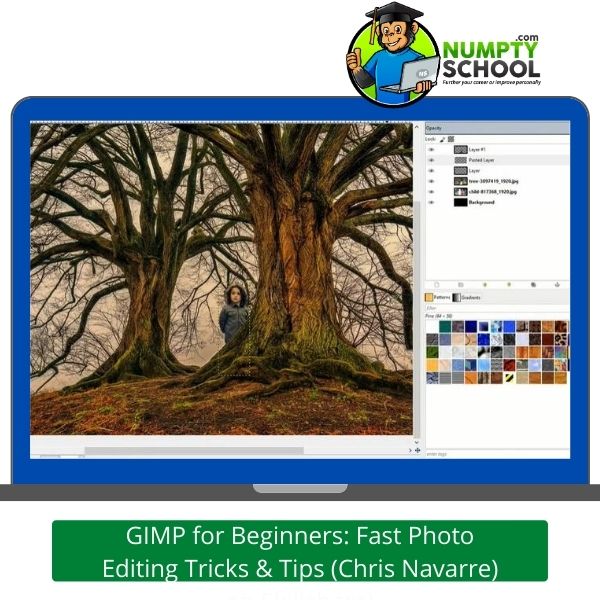 What you will learn from this FREE course?
How to add images into shapes, working with text in images, working with light and silhouettes, working with backgrounds and colors, working with layers and paths.
Plus the Bonus of 2 extra videos on "10 tips beginners want to know from GIMP" and "putting text in a swirling path".
Lessons
Put image inside text shape
Draw straight Lines
Turn day to night
Outline and stroke text
Type text around in a circle
Place people behind an object
Put text on a custom path
Two ways to create and add shapes
Make a black and white silhouette from any person animal or object
Transparent clothing effect
Change photo background
Change eye color
Remove stains and dirt from a photo
Checking distances and angles measuring tool
Requirements
To use the course you will need to have Gimp installed on your computer and have a basic knowledge of the program where to find the tools and opening images.
Conclusion
This GIMP course scores 4.3 out of 5
There have been 4,000 plus students who have completed this online course already.
You can find Chris on his channel at Udemy if you need to ask questions or make contact.
What Students Say About the Course
"Course is a good introduction into the world of GIMP with loads of examples for beginners"


---
---
A complete guide in GIMP, go from a beginner to a Pro with this 31-hour course from Michael Davies.
Description of the Course
An in-depth BEST SELLING course of lessons with over 31 hours of on-demand videos plus 10 articles and downloadable material. With over 6000 happy customers so far and a rating of 4.5 out of 5 you know it's got to be good.
The course has assignments and once completed a certificate. The course takes you from a beginner to a master with ease. There is also a 30-day money-back guarantee so you can cancel at any time.
Who is the course for?
Any photographers who want to edit their photos with GIMP the free opensource software package. Any budding bloggers who want to improve photos for their website needs.
Anyone with old damaged photos they want to fix and freshen up.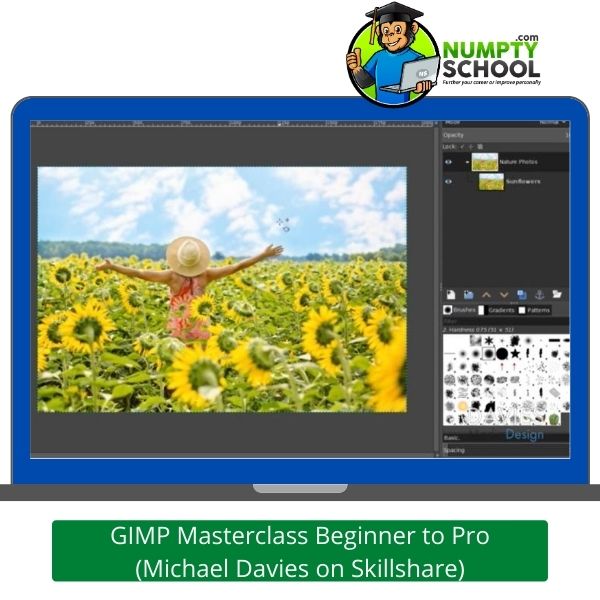 What you will learn from this course?
How to master GIMP 2.10 including, total tool inventory, how to use the 38 layer mode and important features. How to edit photographs including resizing, skewing, sharpening, and cleaning up impurities.
How to use the Vignette and Dodge and Burn tools to create awesome effects. Using the tools for image color and brightness cropping and size adjusting to make sure they work on the web.
Also special effects like black and white, compositions and old photo repairs.
Lessons
Getting started with GIMP
The GIMP layout and other GIMP Basics
A comprehensive overview of ALL GIMP tools in the Toolbox, including:
Setting up the program interface for photo retouching
Opening RAW images into GIMP
Editing your photos to improve their color and quality
Designing a Photo Collage Using Multiple Images and Layer Masks
All 38 layer modes found in GIMP for blending images
Scaling and cropping your images, including cropping images into a circle shape
Enhancing your photos with lighting effects and filters
Editing Black and White Photos
Creating social media marketing banners for Facebook, Twitter, and LinkedIn
Exporting your images out of GIMP for use in print or web projects
PLUS you'll get access to over 10 hours of Bonus Photo Editing Tutorials, Graphic Design Tutorials, and Photo Manipulation Tutorials (including GIMP 2.10 tutorials)
Requirements
The ability to take your own photographs and import them into the computer is required. The use of layers would be an advantage but not a requirement and basic computer knowledge in using files etc.
Conclusion
Is it time for you to master GIMP? As an alternative to Photoshop do you wish you knew all the tools and techniques GIMP has to offer?
Do you take your own photographs and want them to look better or fix minor problems when you get them back and on a PC screen?
Are you new to GIMP but want to learn all the tools that the platform has to offer? Then the masterclass is definitely for you.
Why not follow the 6000 students already through the course and learn everything GIMP has to offer. The course has loads of resources projects and assignments to make sure you can master what you have learned.
Instructor Michael Davis 8 years of working with GIMP knows it inside and out. He will guide you through the course
What Students Say About the Course
"I'm so glad I found this! I have been using GIMP for several years (a couple of decades actually) and have been looking for a comprehensive GIMP course like this forever.
This course has finally given me exactly what I've been looking for. Michael's course and teaching method are absolutely impressive!"
Michaels Youtube Channel is full of tips and hints about GIMP. If you have time to go through it you will find most of what is available in the course however it will take a lot longer to learn it.
This Masterclass has all the bells and whistles and will save you a lot of time trying to learn it by yourself.


---
---
Description of the Course
This FREE course on Skillshare by Rebecca Vadnie is a beginners guide to getting started with GIMP in working with images taken with your camera.
It has a very friendly tone which go through 6 lessons showing you how to manipulate images to make them look the way you want or at least better than the original photography.
Who is the course for?
You can follow along with Rebecca but will need to have GIMP downloaded and installed first. Rebecca gives images on the course as well for you to try out your skills.
You don't need a full paid membership to view this but you will find it leaves you wanting to know more which is available other courses on Skillshare. Course breakdown. 48mins approx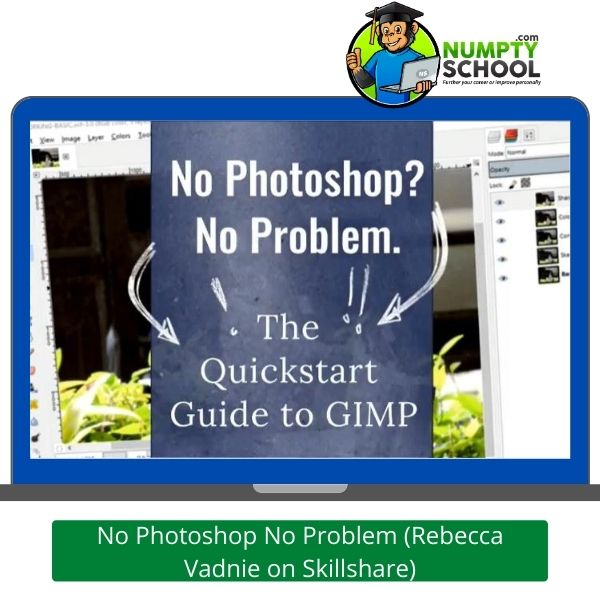 What you will learn from this course?
Some basic photographic editing including, rotation and skew, control of tones and color, cleaning up an image and sharpening.
Lessons
1) Saving and Exporting: You are shown how to open an image (your photo) and how to save it to other formats as well as saving as a GIMP project.
The basics of image scaling are also shown so you can upload your image fully optimized to a website without it being too large or glitchy.
2) Rotation and Skew: Many images we take with our camera don't always turn out properly aligned. Sometimes straight lines are moving off in angles we would rather they didn't.
With these tools, you can straighten out images so they flow much better to the eye.
3) Brightness and Contrast: Rebecca shows us how to use GIMP's slider controls to make our image look nicer, bringing out dark spots and fading overly bright areas.
The control of blacktones grey tones and whitetones make for some excellent imagery changes from our original photograph.
4) Hue, Color and Saturation: Using color balance tools allows us to bring the midtones, highlights and shadows into better ranges using the sliders.
The Hue Saturation tool has the ability to change effects on a single color adding more control to an image. As Rebecca says noodling with these tools can bring some great effects to use on special projects.
5) Sharpen: Very often when we take a photo the image is slightly blurred. With these tools we can bring back a bit of sharpness to add to the quality of the image.
6) Creative Cropping: Rebecca shows us in the last lesson how to set the dimensions of the cropping tool. We are also shown how to use the tool to do some creative effects by cropping different layers on a multilayer image.
Requirements
Basic understanding of the tools and GIMP installed on your computer.
Conclusion
Overall the course is well received as Rebecca's friendly nature adds to her ability to show the tools and techniques effectively.
What Students Say About the Course
I am following a longer and more comprehensive class with another SkillShare teacher and I needed a break as it was getting too intense for a beginner like me.
This class was refreshing, easy to follow and brought me another angle to the tools. I finished the class thinking "I can do it!". Thank you Rebecca. Sterenn Rutherford


---
---
Another offering on our list from Michael Davis but this time on Skillshare. For a yearly subscription of $99 or approx £84 you get access to this course plus all the others available by Michael and other GIMP teachers.
Description of the Course
1h 37 mins of 14 lessons discovering all the tools required to professionally edit photographs and images. Michael will walk you through the techniques explained in detail showing you where to find and use the tools required.
With his expert training you will be an expert in photo editing in no time. With Michaels very quick presentation you get a lot of techniques for the time spent
Who is the course for?
Amateur photographers looking to edit their own photographs to take away dirt or imperfections in your shot.
Budding website owners looking to add their own images to their blog posts.
Anyone looking to fix up old photographs.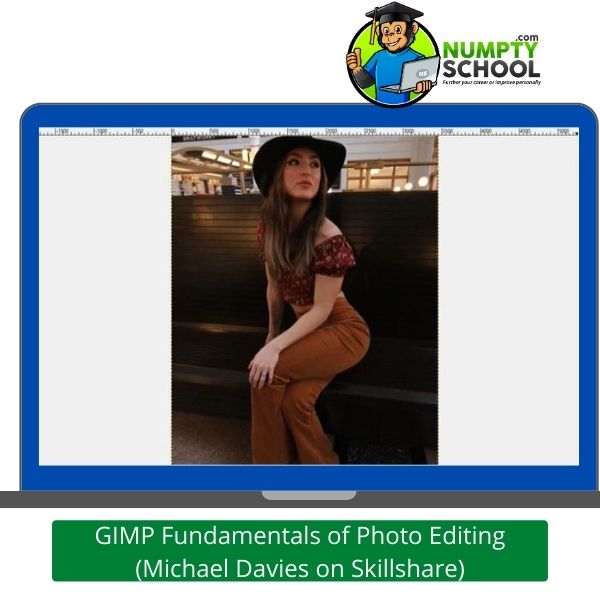 What you will learn from this course?
Introduction to the GIMP user interface and tools. How to open and save images within the open-source software.
Michael shows you how to position the windows and images within GIMP and how to use rulers and scales to get the exact image size.
You will also find out how to scale and crop adjust image color, brightness, shadows, highlights, levels, how to cool down or heat up an image color map.
Also how to adjust and edit your images that have blemishes or errors. How to sharpen up contrasting edges and improve the overall image.
Lessons
What is GIMP, and Why Use it to Edit Photos?
Opening an Image into GIMP
An Introduction to the Image Window
Scaling and Cropping Your Image
Adjusting the Shadows and Highlights
Getting Your Colors Right with the Color Balance Tool
Adjusting the Levels of Your Image (Plus Additional Color Correcting)
Bringing Out Color Intensity with the Saturation Tool
Warm vs. Cool: Adjusting the Color Temperature
Adding Contrast with the Curves Tool
Touching Up Photos with the Airbrush and Heal Tools
Sharpening Your Images (Unsharp Mask vs. High-Pass Filter)
Framing Your Photo Properly with a Vignette, and
Exporting Your Images in a Variety of Formats
Requirements
The basic requirements are that you have GIMP installed on your computer and basic knowledge of file structure so you can find and save your images.
Michael provides a copy of the photograph that he works on in the tutorial so you can follow along and practice.
Conclusion
This tutorial for photo editing for beginners with GIMP is packed full of content and technique. Michael has a no-nonsense approach giving value for your time as he progresses while explaining the tools and techniques.
If you are looking to edit photographs or imagery then this course will have up working like a pro in no time.
What Students Say About the Course
This is the first class I've ever followed on Skillshare, and I gotta admit. This dude is helpful in teaching me something I literally knew nothing about.
I will use this teacher again sometime, and I encourage every beginner to do the same….Mike Wilhelmsen


---
---
Description of the Course
A 24 min tutorial showing beginners the basics of GIMP and the top ten questions new users want to know how to do.
Who is the course for?
A beginner looking to get a quick basic overview of GIMP so they can edit their photos to make them more professional.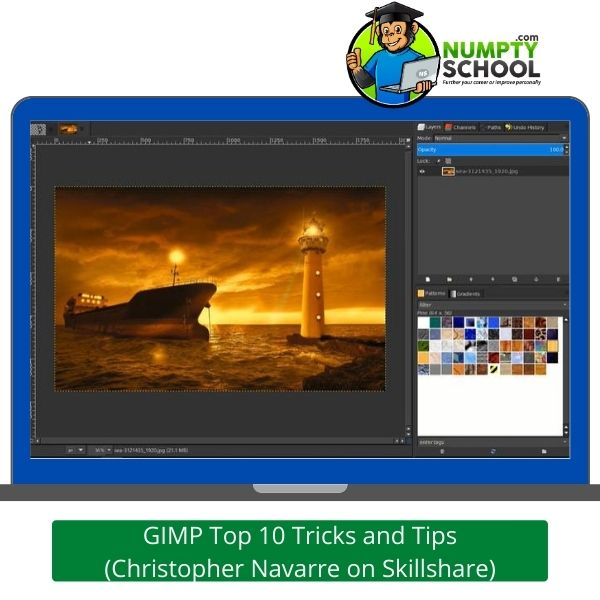 What you will learn from this course?
In this GIMP beginner photograph editing course you will learn how to remove a background from an object so you can put in other backgrounds or set into another object or photo.
How to use guides and rulers so you can set your image in the exact position required. You will also learn how to improve color saturation within an image and change images from daylight to nighttime for example.
Also how to use the path selection tool to select objects in the image to be used for other projects. A tool that every photographer looks for is how to clean up images with the heal tool is also covered.
Cropping images is also covered so you can take a section of an image from the main image easily. Another great tool is the dodge and burn tool so you can highlight and darken segments of an image rather than controlling the whole image section.
Another great asset is the addition of symbols, Christopher goes over ASCII additions and clipart that can be used in projects.
Drop Shadowing is also another great asset and covered in the 9th section. Finally using the perspective tool you are shown how to add images to other items like screens of TV's etc. Useful for e-commerce or product photography.
Lessons
Topics covered in this sequence.
Remove Background – Scissors Select tool
How to Create Guides – Snapping to Guides
How to Target Zones with Color Changes – Hue Saturation Tool
Make a Selection from a Path – Paths Tool
How to Remove Acne – Heal Tool
How to Crop an Image – Crop Tool
How to Brighten Up Colors in an Image – Dodge and Burn Tool
How to Add Shapes and Symbols (Arrows, etc) – ASCII and Clipart
Drop Shadow – Alpha to Select, Dropshadow on Layer
How to Use Perspective to Put a label on an object/screen – Perspective tool
Requirements
Have GIMP installed and have a basic understanding of where the tools are.
Conclusion
Not an in-depth course by any means but if you are on the lookout for a quick no fuss tutorial to give you the basics on how to edit photos with GIMP then this course should be the answer.
What Students Say About the Course
Great preview for those wanting to jump into Gimp with no experience at all. Michelle Jett


---
---
Description of the Course
24 plus hours of video classes, articles and downloadable resources make this course from a pro photographer a must for any budding GIMP user.
Over 11 thousand students, many with very positive reviews. Best Selling course on Udemy.
Who is the course for?
Anyone wanting to be able to edit images or looking to create graphics or special text projects.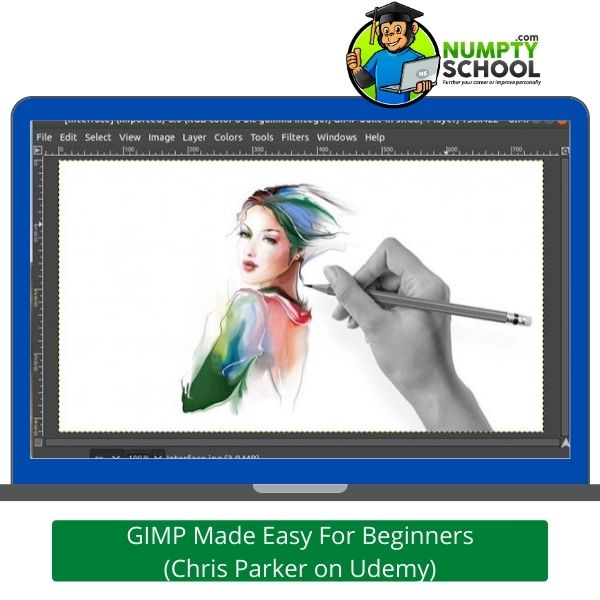 What you will learn from this course?
This course is divided into two sections, the Basics and Advanced GIMP projects.
The Basics will teach you how to open the platform and use the tools to manipulate your images with selection, paint, transform paths and colors.
Selection – 7 tools to selecting sections of an images needed for advanced projects
Paint – How to add, clone, erase and adjust color.
Transform – Rotating, skewing, moving, scaling are all included.
Paths – Drawing and manipulation curves and shapes
Colors – Applying color to edit images, shading, highlights etc
Advanced section takes these concepts to a further point with projects to practice with. Take your creative self to a higher level while learning new techniques and skills.
How to create shapes – squares, rectangles, triangles, circles etc.
How to edit images with color tools, levels and curves, retouch with clone and heal tools also how to dodge and burn. Playing with text in images, using reflections, illusions with smoke, light sources, a big one for beginners taking backgrounds away from images.
How to work with RAW files (images taken by digital cameras containing all the information before compression).
Lessons
Installation and setup
Working with files
Layers and how to use them
Mastering color
Blending Tools
Transform Tools
Selection Tools
Paths Tool
Text Tool
Filters
Creating Shapes
Editing RAW images
Web design images
Retouching
NIK Google collection
Each of these lessons comes with projects to practice using the tools.
Requirements
The desire to learn how to use the program.
Conclusion
Overall Chris has produced a well written and educational course for editing images. As the Udemy bestseller it has proven to be well worth the time and effort to go through the 24 hours of material.
The course also has a lifelong attachment so as new material is available you will have access to it. ( New updates to GIMP and techniques)
What Students Say About the Course
Thanks, Chris for a great course. I had no idea how capable Gimp is nor what a valuable tool it is until now.
Your course changed that. I plan to reference your course often, as well as review your other course offerings. Ed Peterson (5 stars)


---
---
Description of the Course
Over 12 and a half hours of video tutorials in 13 sections. Learn how to create 2D and 3D book covers, make social media images, touch up photographs, make logos and how to implement them on our websites.
Who is the course for?
A beginner who wants to design images for a blog or social platform or wants to manipulate images taken on a camera especially on a budget.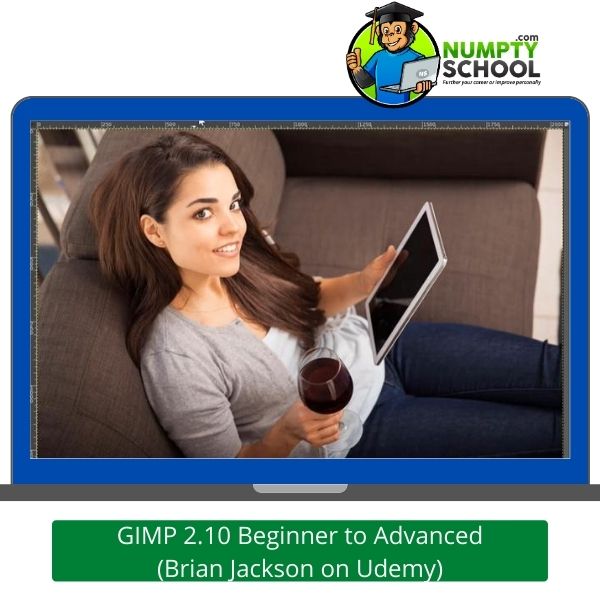 What you will learn from this course?
The course divided into 13 sections will guide you through the tools and techniques that are available in GIMP. There are projects to complete in each section so you get hands-on experience with the tools.
These include creating 2D and 3D book covers. Create memes for distribution on social platforms. Learn some HTML to improve image effects on a WordPress website. Then be able to touch up photographs with the tools available.
How to draw using a Wacom tablet is a good project for anyone in art class or has a designer flare. Don't forget you can watch the first couple of sections for FREE before you decide to take it on.
Lessons
Installation and creating logos
Selection and layers tools
Text effects
Making a book cover
Making a 3D book cover
Tips tricks and techniques
Photo enhancement
WordPress and HTML displaying
Using a Wacom tablet for drawing
GIMP extensions
Drawing with a 3D perspective
GIF animation
Filters
Requirements
A PC or tablet to install GIMP on and a working internet network to download the software and resources.
Conclusion
A self-publisher with over 100 books Brian knows what it takes to give a good book cover image and graphics. With all the tricks and tips you will learn how to master social media images and get more followers for your blog or business.
A beginner will rise to become a pro and be able to freelance with this software. A great course for anyone with an interest in images and photography.
What Students Say About the Course
There were 3 courses on Udemy about learning gimp that looked interesting. I looked at the other two and this one and I thought "this one is the best".
Well, I guess I was right! Brian Jackson really involves his students and teaches the basics as well as more advanced, cool stuff. Thank you for this wonderful course Brian Jackson! Edward Temple (5 star)


---
FAQ's – Questions on Best Gimp Photo Editing Tutorials for Beginners
Q) After completing the GIMP courses can I use the editor commercially?
A) Sure. This is a free program that doesn't have restrictions on the kinds of work you want to produce using it.
Q) Are GIMP courses better than Photoshop?
A) I'd say each has its bright and dark sides. They offer the same services but one primary difference that sets GIMP apart from the competition is that it is free. Photoshop has a basic trial that doesn't last a lifetime. You have to buy a package to continue using the software.
Q) The courses don't talk much about non-destructive editing. Why is this so?
A) Current GIMP versions don't allow any forms of non-destructive editing. You can't do layer adjustments, layer filters, and such things. The developers plan to bring this in in the new GIMP 3.2 as per information on their site.
Q) I have gone through 6 courses on GIMP editing but would like to know if the software can open a raw .CR2 or .NEF files from a camera.
A) From version 2.10, the software has plugins to use RawTherapee and darktable for processing raw images. There is also a preference for the default raw processing plugin.
Q) Why doesn't my macOS system allow the opening of the GIMP software?
A) GIMP hasn't been part of the Apple Developer Program. This means that the DMG files the program provides are unsigned. Thus the warning of 'unidentified developer.' You can follow the instructions on the Apple knowledgebase.
Q) Does the software have a user manual?
A) Yes, there is one available in PDF and HMTL form.
Q) Is it possible for GIMP to install its colormap?
A) Sure. You could be on a personal gimprc or system-wide gimprc files. Uncomment that line which includes the install colormap option.
---
Conclusion on the Best Gimp Photo Editing Tutorials for Beginners
Don't only take my word for it: take action too!
You could be deeply interested in exploring the rich space of graphic design.
But where to start from has been your primary concern.
It can get incredibly daunting especially if you are not familiar with GNU programs like GIMP.
Current kings in the graphics world exist but GIMP is a great consideration if you are looking to start your journey without coughing out much.
But, you can't head straight to using the software without prior knowledge about it.
Taking a good course will be an ideal starting point.
Walking into a college or university to pay for a graphic design course is a severe hurdle.
Especially for the budding artists and those on tight schedules.
What do you do if the urge is becoming intense?
Assess our reviews above to see the best course that will suit your needs.
As you progress on your design journey, you can enroll in more advanced classes to hone your skills.
Trying your hands at image manipulation and photo retouching could be for fun, personal use, or business.
Whichever the reason, equipping yourself with the right information, knowledge, tips, and tricks will make it easy when using the interface for your practical work.
The courses I have compile aren't overly complicated.
You'll meet a few new terms though! This shouldn't scare you.
It might take you an hour for the shortest courses and others will go past this.
To learn the basic features of GIMP, start with a beginner's course.
These are very straightforward as the options and interface are quite standard.
They are also easy to use and navigate.
If you are adept at image manipulation in other programs, chances of feeling at home are very high.
There are also advanced courses to scale you from your intermediate level to a professional GIMP user.
Why won't you take the chance now!