April 19, 2021
GIMP 2.10 Made Easy for Beginners Tutorial Review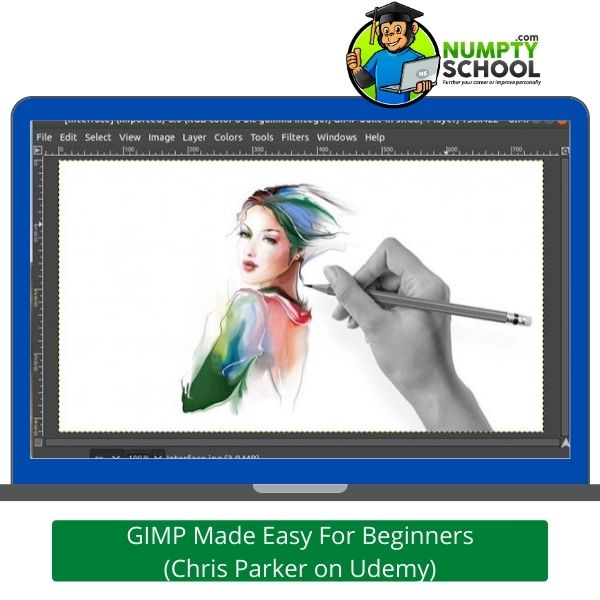 A 29.5 hours exclusive GIMP beginner course accessible on both TV and mobile and instructed one of the recommended GIMP Pros. If you want to be a GIMP Pro, take this one from a fellow pro!
Description of GIMP 2.10 Made Easy for Beginners Tutorial on Udemy
Think about this for a moment:
Learning how to edit photos and create graphics is costly in walk-in institutions.
Most online tutors also don't cover everything you need to equip yourself with the best GIMP skills for the future.
But a GIMP Pro makes every aspiring photo editor and graphic designer's dream come through by compiling an affordable starter course on Udemy.
You should consider it if you'd like to scale your levels and transform a hobby into a profession or money-making venture.
Everything in this course is rounded up in 29.5-hours' worth of videos.
The instructor adds 24 articles to highlight and briefly explain topics and sub-sections.
What interests me more is the bunch of downloadable resources.
The 26 resources allow you to read offline and master the aspects of GIMP.
While most courses end after the test and download your certificate of participation, Chris makes this available on a full-time basis.
This is relevant as he keeps updating the course as often as possible.
What you learned last year might not be the same as what the course will carry next year.
There are so many additions as the GIMP program keeps getting updated.


So, always come back for a refresh!
It is another bestseller course like the one instructed by Michael Davis. OK, I know what you might be thinking:
That maybe it has been bought for reviews like other crappy online course owners do to rank higher.
So far, over 13,200 students have taken the course and currently, at 4.6 stars, there is no doubt that the majority are more than contented with its structure.
Instructed by Chris Parker, he is a renowned photographer, GIMP, Lightroom, and Photoshop expert.
Why won't we list him among the legends and pros when he has over 40 courses, an instructor rating of 4.5 stars overall, has over 10,400 reviews, and has instructed more than 170,000 students?
With 30 years as a photographer, there is no doubt that his skills can be highly vouched for. Let's see briefly what he has in this course!
---
Contents of the Course
You are in a never-ending battle if you still need to decide whose GIMP beginner course to take.
This GIMP course is for graphic designers and photographers who want to be more marketable.
There is so much you will learn in only one GIMP course.
Unlike others that rough up everything haphazardly, this one is divided into two bits.
You will begin with the basics that cover all the GIMP tools then learn the advanced GIMP projects.
For the latter, you practically learn it.
The basic section creates a solid foundation for learning how to use the program and work on advanced projects.
The Sections: Section One
The first section when the course was launched isn't similar to what is in it today.
Its first 7 sections have been adjusted and include some areas with detailed lessons on photography.
There are new images and a simple essentials guide to GIMP.
The guide is printable and can be used offline as reference material.
Sub-section 1 covers a basic introduction to the GIMP course and has a bunch of downloadable resources.
Sub-section 2 teaches you how to install the program on a MAC, Windows, or Linux device.
Sub-section 3 explains how to edit, re-size, and save your image for use on various social media platforms.
Sub-section 4 talks about the basic aspects of GIMP from setting up the interface, customizing it, creating new file formats, documents, to how to navigate your documents, save, and export them.
Sub-section 5 vividly explains the four types of layers and their use. You will learn how to customize them and use layer masks. There is more about layer boundaries here and how to adjust them.
Sub-section 6 covers adjustment layers and how to use them on GIMP to improve photography editing. Chris promises to add more information to this section.
Sub-section 7 entails deeper information on light and its color. It explains how light influences your images. Here, you learn different controls and how to use them for precise editing.You will appreciate how the lessons have been compiled in bits to allow you to go through a sub-topic easily and quickly while retaining the most information.
Section Two: Advanced GIMP Projects
From the basic GIMP overview section, you get into the practical section that covers more detailed GIMP sections.
You will be working around the Path Tool to help you hone your skills.
There is more about GIMP patterns and filters that you need to learn.
After completing this section, you will have more experience downloading and installing patterns made by different artists and using various filters to build your creativity.
Note that the first section is serious learning without any fun.
The advanced section is where you'll have as much fun as you should.
How is this possible?
You will be using the information you learned in the first section and put it into practice.
GIMP has no basic shaping tools. However, you can learn how to create your shapes.
---
Who does the Course target?
Anyone with an interest in photo editing using the GIMP program.
Any graphic designer who wants to use a free program to create shapes, text, and graphics
---
Lessons on GIMP made easy
Installing GIMP on MAC, Windows, and Linux
Processing raw files to use on GIMP
Techniques, tips, and tricks on how to edit images and create graphics
Configuring a GIMP interface and boost your productivity
Setting up and using the history panel for convenience
Saving files to upload on the web, use for Photoshop, or print
How to use seven different blending modes in GIMP
Using brushes
Creating and customizing your brushed to use on GIMP
Differentiating JPG and raw files
Using color balancing tools, hue saturation, level tools, curve tools, posterize and desaturate tools, healing tools, dodge and burn tools, free select tool, fuzzy tools, quick mask tools, text tools, and filter tools to edit your images.
Adding images to shapes
Editing raw files
Adding images to text
Adding reflections to text
Adding light to images
Layer masks and how to use them
Layers and how to use them
Different types of files and how to use them on GIMP
How to save an hour of all the 8 you have worked
Blending modes and how they are used
4 primary GIMP tools and how to use them
Installing pre-made brushes on GIMP
Using presets and palettes
Creating color tool presets for convenience
Using colorize tool and brightness contrast tools to edit your images
Reading and using Histograms
Using Threshold tool, heal and clone tool, and clone tool to edit your images
Learn about selection tools
Using foreground select tools
Using select by color tools
Using path tools
Using pattern tools
Creating shapes on GIMP
Learn Chris Parker's editing tricks and how he processes images
Learn how to edit JPG files
Editing text along paths
Creating texts from grass
Making superhero pop-outs of iMac screens
Adding smoke to images

---
Requirements for this Course
Have a device with a MAC, Windows, or Linux operating system.
Deeper interest to learn the bits and bytes of GIMP and how to maneuver advanced projects.
---
FAQs – Questions about the GIMP 2.10 Made Easy for Beginners by Chris Parker
Q) Does the course entail photography lessons?
A) You can get a few photography lessons from the basic section that has seven sub-sections. They aren't so many as this isn't a 101 Photography course.
Q) Can I use a Fedora, Free BSD, Ubuntu, or Solaris device to access the course and practice on it?
A) Unfortunately, the recommended systems are MAC, Windows, and Linux.
Q) Is it possible to customize the GIMP program on the device you are using?
A) Yes, you will learn about interface customization after setting it up as part of the basic section of this course.
Q) Can you zoom a document using the program like you would do using Photoshop?
A) Yes, you can zoom in and learn how to pan your document besides other navigational means.
Q) Is there a money-back guarantee if I am dissatisfied with the product?
A) Sure. Chris offers a 30-days money-back guarantee in case the course is below what you expected. However, we are sure you will love the course as it is detailed, expounding, and can quickly scale you from a novice to a pro GIMP user.
Q) How many modes does the course cover?
A) If you are concerned about the blending modes, then the basic section covers all the 7 blending modes.
---
Conclusion on GIMP 2.10 Made Easy for Beginners Tutorial on Udemy
Let's be honest, this is one of the best GIMP courses on Udemy, and being among the site's bestsellers, you can agree that it is worth your time and money.
If you want to learn GIMP from a pro, this is the right time to buy it.
The course will improve your graphic design and photo editing skills.
This article tries to give an overview of the course, what you need and gets slightly into what it covers.
So far, I can confirm that it is among the most detailed GIMP courses.
Dividing it into two sections makes-basic and advanced allows you to go through the foundation before practically handling projects.
Chris, by doing this has made it easy for students to understand sections and use the downloadable resources and guides as reference materials when handling the advanced projects.
If you'd like to get it from a Pro, don't think twice.
Also, shoot any queries and your course experiences in the comment section.
Rounding up, it is easy to understand the course in the shortest time possible.
Of course, from the title, it has been made pretty easy for beginners and they are loving it!
The title and sub-title chosen by the instructor already communicate what the training is about and the level of skill needed.
You must be needing an instructor who communicates boldly and clearly.
That is what Chris did! He conveys the subject matter clearly and gets your attention from the start to the end.
If you aren't moved by the first few minutes of this course, then it might not be for you. You might opt to choose other design courses.
If you take the course and have any questions, Chris has been praised as one of the most responsive online instructors, quick, efficient, and detailed in his replies.
You can go through the course reviews on Udemy and see what students are saying about his presence.
So take the next step:
Buy the course and make the most out of it.
You can turn your interests into a money-making venture.
If you are already in the editing or design business, it helps you be more professional.
---
What Students are saying about this GIMP Course?
For a detailed course with step-by-step guides, this one is the most recommended.
You can take as much time to go through each lesson.
Master one at a time before advancing to practical projects.
There has not been an instructor as thorough and detailed as Chris.
One of the responsive ones-quick and follows up if you are at par with the lessons.
From the first few lessons, I can tell how much effort Chris has put into delivering the course.
The impact is HUGE. I mostly use Photoshop but wanted a cheaper option-preferably a free yet detailed one.
I love how he explains everything about GIMP. Especially the tools.
The instructions are clear and should make you more knowledgeable by the time you complete the course.
If you are already aware of the GIMP basics and how each tool works, you can head straight to the advanced section and put your knowledge to practice.
There are more than 1000 reviews about this course and the majority are overwhelming. Add to them by giving the course a go!