April 14, 2021
GIMP 2.10 Masterclass Pro Photo Editing Tutorial Review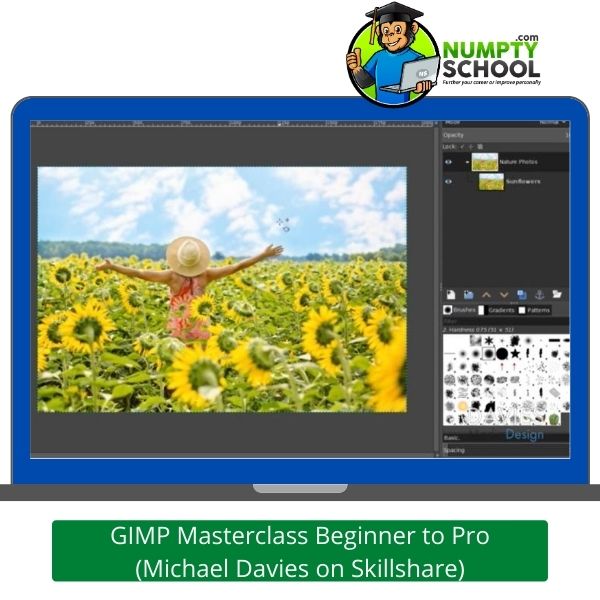 One of Udemy's best-seller courses with over 8200 students. It boasts the most GIMP content compared to the rest all in about 250 lectures and more than 35 hours of learning. Of all the GIMP courses, it is the highest-rated one.
Description of the GIMP 2.10 Masterclass Pro Photo Editing Tutorial – Udemy
Do you want to learn how to use GIMP from the best of the best? Michael Davis has 9 years of experience as a GIMP expert, a designer, and a photographer and currently instructs two courses on Udemy. From his expertise, he compiles this course that runs through 35 hours of video tutoring.
It might seem so much already but from the 8000+ students who've reviewed it, it is worth your time. Nine articles aren't too much to go through and comprehend. What will excite you, even more, is the downloadable resources and full lifetime access to these lessons.
The course has been made accessible to TV and mobile users. You certainly won't have any reason not to up your editing game. There is a bunch of assignments to help you assess your progress. They aren't compulsory but attempting them will be a good way to rate your skills.
Even as one of the best-seller courses on the Udemy platform, some students might be dissatisfied. Michael issues a 30-days money-back guarantee in such instances.


---
Who is the Course for?
The Pro Photo Editing Masterclass is for anyone who wants to know more about GIMP and how it works. Your level of skill isn't a limiting factor.
Novices who want to know how to perfectly use the free editor before investing in payable versions will love it.
If you are a photographer who needs a non-paid photo editor that is highly efficient can consider taking the GIMP course.
New GIMP users who want to hone their photo editing skills will love this one.
If you don't want to purchase the Photoshop program but need to Photoshop a few images, you need this GIMP course. Let's be honest, some of the paid programs aren't as efficient these days.
Especially with the dynamics of software and new gadgets in the market.
Advanced GIMP learners from other platforms who want to build a stronger knowledge base on the same should try it.
If you are only interested in knowing the editing and design tools, there is a chance to familiarize yourself with these sections only.
Creative photo editors can learn a few tips and tricks from this course.
Whether you want to use the knowledge from the course for personal or professional use, it is one of the best deals to grab.
---
What you will learn from this Course
Have you wondered why so many students have rated it highly? Maybe I'll spill the beans and leave the rest to you to decide what to do next. The course explains all the features of GIMP and especially as a great alternative to programs like Photoshop.
Whether you are editing personal photos or working on a client's task, this course will be helpful. Upon completing the course, you should have understood the bits and bytes of GIMP. You should use the editing tools to achieve professional images with ease.
Even though correcting and coloring images needs practice, using the assignments will be a great way to check your progress. Image enhancement becomes breezy with time. Davis started the course to teach his students professional photo editing skills, how to create marketable graphic design compositions and projects.
Here's the truth, there is no shortcut or guesswork here. You must put in the time and work. You can learn at your pace and keep repeating a section as many times as you want before going to the next. Take advantage of the lifetime access and make the best out of it.
---
Lessons
An introduction to GIMP
The GIMP outlook and a brief section on its features
Detailed classes on GIMP tools like the selection, path, transform, paint, text, and miscellaneous tools.
Trying out photo retouching
Uploading and opening a fresh image into the program
More on editing the colors of images and learning about color balance, adjusting levels, contrast and brightness, hues, eye enhancement, creating vogue looks, sharpening, and touching up images.
How to create and use photo collages
A detailed explanation of all the layer modes (38) of the program for blending photos
How to scale and crop an image
How to use filters and lighting effects to enhance your photo
How to edit black and white images
How to create banners for social media platforms like LinkedIn, Facebook, and Twitter with the help of free templates
How to export photos from GIMP for printing or other uses
---
Bonuses
When I say this course is one of the most detailed, it is. Imagine this, accessing more than 10 hours of extra graphic design, photo manipulation, and photo editing tutorial at no added cost. Some are from GIMP 2.10 to help you be a step ahead of other editors. Here's what you learn from the bonus package:
5 common photo enhancement styles
Fixing lighting for dark portraits properly
How to add a picture in a text while achieving a 3-D pop out result
Photo manipulation using the rain effect
Details on GEGL
Some things GIMP can do that you were unaware of
How to remove acne and improve skin complexion
The content of the previously released GIMP versions from 2.10.2 to 2.10.24
How to use Darktable to open fresh photos in GIMP 2.10
Fixing and refreshing old and damaged images
Recoloring photos
Importing palettes
Creating pixel art to use in-game design
NOTE: Michael keeps updating the course frequently. If you took it earlier, there is much more you can learn.
---
An Overview of the Course
It is one thing to learn GIMP and another to learn it from one of the most experienced instructors. Michael's tutorials and lectures cover almost all concepts in photo editing and design.
And the icing of the cake will be the confidence in using a GNU Image manipulation software that is free and an excellent alternative to Photoshop.
With over 200 video lessons, the course features a blend of on-screen lectures and screen-sharing classes that feature this GIMP program. The experience is more immersive and interactive.
You will learn the corners of the free design and photo editor program while getting free content minus any self-promotion.
Since there are no interruptions, the student can solely focus on sharpening their GIMP skills in design and photo editing. You will be better at image composition, authoring, and manipulation.
It has manifold uses and this course gained prominence because of how extensive it is.
As a graphics editor, you must familiarize yourself with transcoding between different file formats. Also, it isn't as complex as programs like Photoshop.
You can use it on macOS, Linux, and Windows. Most image editing programs come at a fee regardless of the Adobe product you want to use.
You won't have to shell out anything when using GIMP as it works effectively at no cost. So, if you are looking for a pocket-friendly option don't think twice about this course.
GIMP is space-conscious and doesn't take up as much space on the computer. It has proven to be 20 times smaller than most programs.
Having been built with the digital photographer in mind, it is stable and very fast. You can omit all the tools you don't need from the toolbox.
You will love how flexible and customizable the interface is as it applies to all systems. It speeds up tasks and you can customize your keyboard shortcuts to work smoothly and conveniently.
If photo editing fascinates you, give this course a go. The masterclass will take you on a comprehensive ride and teach you how to use various techniques and tools to edit your pictures.
The GIMP software isn't complicated to master the nuances.
---
Requirements
You should have experience in taking photos using a phone or camera and know how to upload them to a computer.
If you don't you can take one of the photography courses we have reviewed on the site to meet this requirement.
Some experience on how layers operate within the GIMP program.
However, this isn't compulsory as you can learn as part of the course.
Knowledge of how to operate a computer.
---
FAQ's – Questions about the GIMP 2.10 Masterclass: From Beginner to Pro Photo Editing Review
Q) Why is the 2.10 Masterclass Photo Editing course relevant?
A) Michal Davis's course allows you to customize images for free with numerous features, unlike paid versions. Whether you want to create illustrations or logos, it is very effective. For both complex and simple graphics, it gets the job done.
Q) Is this course difficult to learn and understand?
A) From what other students are saying, it is simple enough but covers everything you need to know about photo editing on GIMP. There are numerous tutorials and downloadable material that you can use for reference.
Q) What are the benefits of taking the course?
A) As an open-source editor for graphics, the course allows you to learn the corners of GIMP and how to use it. The program is free and an excellent tool for creating illustrations, visualizing data, and creating new images.
Q) How many sections that the course have?
A) For now, the course has 29 sections but the course is frequently updated. So this number can change at any time.
Q) Which section takes the longest time to cover?
A) If you mean the duration it will take to complete a section in one sitting, that has to be the photography tutorials that last slightly over 7 and a half hours.
Q) Can a student skip to the sections they don't want to go over the entire course?
A) Yes, this is possible for students who have some knowledge in GIMP and only need to focus on specific sub-sections.
Q) Can I take the course without any knowledge of photography?
A) You can but comprehending all sections might be a problem as the course doesn't have a detailed section on how to take pictures from a camera or a smartphone. You could be forced to take a course on this.
Q) Can you use GIMP and Photoshop at the same time?
A) This will depend on your taste and preference. If you are looking to save some bucks and get the job done as great as a paid software can do, you could opt for GIMP as it is free yet very efficient.
---
Conclusion on the GIMP 2.10 Masterclass Pro Photo Editing Tutorial
If you are looking to enroll in a best-selling masterclass course on GIMP regardless of your skill and expertise, this one by Michael Davis will be an ideal choice.
It has several real-life practical examples that you can learn from and emulate.
The instructor is a professional photographer and designer with 9 years of experience in GIMP. The course runs for over 30 hours and is incredibly comprehensive.
There is still no photo editing course that can compete it.
The learner is taken through course topics like installation, layers, paths, scaling, selection tools, cropping, lighting effects, inversion mode, bit depth designing, and editing.
The extras are what makes it a go-for for many students. Who gives over 10 hours of free tutorials and expects people not to bag the deal?  If this course is not to your satisfaction then check out our list of GIMP tutorials for beginners.
---
What Students are saying about the Course
The course is comprehensive enough and can take a novice to a professional level in the shortest time possible.
You will love the structure of the masterclass especially if you are looking to learn at a slower pace or don't have a lot of time to cover so much in one sitting.
Available to learners of all levels, this can make you turn a passion into a business without spending so much on editing software.
Students can replicate lessons and practice after each section until they are confident in their skills.
Mark went deep and thorough on the main topic which was the GIMP software and how to use it to edit your photos. If there is something useful you can spend on this year, let it be this course.