October 1, 2021
Digital Photography for Beginners with DSLR Cameras Course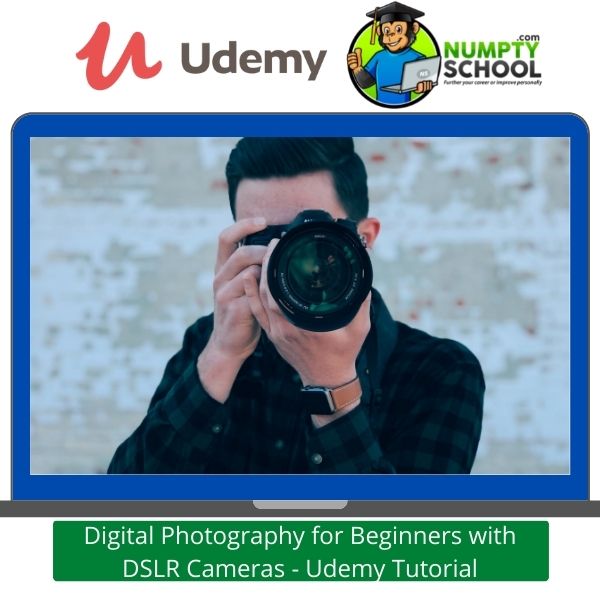 The first and one of Villiers Steyn's digital photography courses to walk you through the world of DSLRs and understand how they work.
Description of the Course
Wait a minute!
Cameras can be complicated.
If you are new at using a DSLR, you can agree that you fumbled a lot on the first day and few more weeks ahead.
Especially, if you didn't get any help whatsoever.
Sometimes, even YouTube doesn't help that much.
At one time you could capture what you saw through your viewfinder and couldn't manage the next time.
You might have taken tons of trials and errors before things changed.
But you might not have mastered how these gadgets work.
Here is help!
Easy breezy and you get everything about its basics done in 2 hours max!
I know it might have taken you months but I understand.
Here is a detailed course on how to start your photography journey using DSLR cameras.
It is one of the BESTSELLERS on Udemy with a rating of 4.7 stars and enrolment of 13,600+ students.
This is the first bit of a six-series course on digital photography.
So, it would be of great importance if you strive to complete the remaining five.
We are talking about an updated course.
Forget those that talk about cameras built over half a century ago.
If you are using any modern DSLR camera, this course will be helpful.
Whether it is a NIKON or CANON, learn the important settings of your camera and master them.
These gadgets help you view your surrounding through newer and creative eyes and should help you take magazine or Pinterest-quality photos of anything beautiful or inspiring to you.
Here's what Steyn helps you to do in this course:
---
Know the necessary equipment and how to use each properly
Learn and master the crucial camera settings
Identify various light sources and know-how each influences the look of your images
Know how to detect striking compositions
Have more creative eyes when looking at your surrounding
---
Even in pre-colonial times, people captured memories and moments.
I wouldn't want to go into the depths of how it was done but this is a practice that humans have carried forward to date.
Do want to know how to get stunning shots?
This course has everything you need.
Those breath-taking photos you see on Pinterest and magazines were taken using DSLR cameras.
A DSLR is more powerful and captures all the details and special aspects you experience.
This is an excellent way of creating memories and documenting experiences.
What you have to do is correctly use your camera as you will be taught by Steyn.
Oh! He is a professional photographer, a TV presenter, and a travel journalist.
So he has vast experience using photography equipment.
Novices might feel intimidated and overwhelmed by the settings, buttons, and dials.
It is normal but you will be familiar with everything upon completing the course.
Steyn's primary goal is to make you confident to choose great settings and compose awesome images.
---
Course Overview and Content
The course is sectioned into two broad categories.
The first component covers every technical aspect including camera support and equipment including crucial settings of your camera.
From there, you progress to the artistic point of photography.
This focuses on creativity, composition, and light.
I love the scope of the course as it is procedural enough and free from jargon.
There are no obscure principles or complicated camera settings and functions.
I love how he keeps the entire course simple and clear.
He tackles each vital photographic element individually in shorter and more straightforward lectures lasting two to five minutes.
You will benefit from the teacher-style tutorials explaining settings, principles, or tips and the slides alike both containing audio and photographic examples.
Here are some main categories and subsections that Steyn covers in the course.
If you are a fresher, begin from the top.
Amateurs can head straight to their areas of interest:
1) Using Camera Equipment
---
Holding a camera properly to avoid resulting in sharp photographs all the time.
The types of lenses and which one to use for which type of photo to allow you correctly capture specific scenes or subjects.
Changing lenses properly to avoid irritating dust spots from ruining your photos.
The limitations of your DSLR camera and methods of compensating for them when in scenes with higher contrast.
Reasons and times to support your camera on bean bags and tripods.
---
2) When and How to change your Camera Settings
---
Different shooting modes for more creativity.
File sizes and formats for the best quality shots.
Metering mode and white balance for influencing the coolness or warmth of photos and how your camera will expose what it sees.
Drive mode for faster shots.
Autofocus mode tells the camera if your image is still or moving.
Autofocus point selection helps you to focus on the whole scene or subject or specific parts.
ISO should help with taking sharp photos when in low light.
Exposure compensation to help you darken or lighten a photo faster.
Using Aperture priority to influence the D.O.F of your photos.
Using the scene selections or little pictures on the shooting mode dial.
---
3) The impact of Light on your Photos
---
How to use front light to take colourful and representative images.
Highlighting texture and detail in sidelight.
Capturing dramatic backlight images with golden rim light and silhouettes.
Taking photographs in diffused light especially on overcast days
Effectively using the camera in-built flash
---
4) What Perfect Composition entails
---
The appropriate times to change camera orientation from vertical to horizontal and vice versa.
Blurring the background to create awesome portrait photos using four easy steps.
Applying the rule of thirds to create well-balanced photos.
The right areas to leave the correct space in photos.
Using a leading lens to draw the viewer's eyes into photos.
Changing your angle to compose striking photos.
Five steps to the perfect composition
---
5) Becoming a Creative Blogger
---
Using reflections in photos.
Natural frames, what they are, how to find them, and properly using them in images.
Incorporating various complementary colours in photos.
Using repetition effectively in photos.
Highlighting sizes of things using scale.
Telling stories using photos.
---
There are course promo videos you can watch and lectures with free previews. I am sure this course will interest you.
---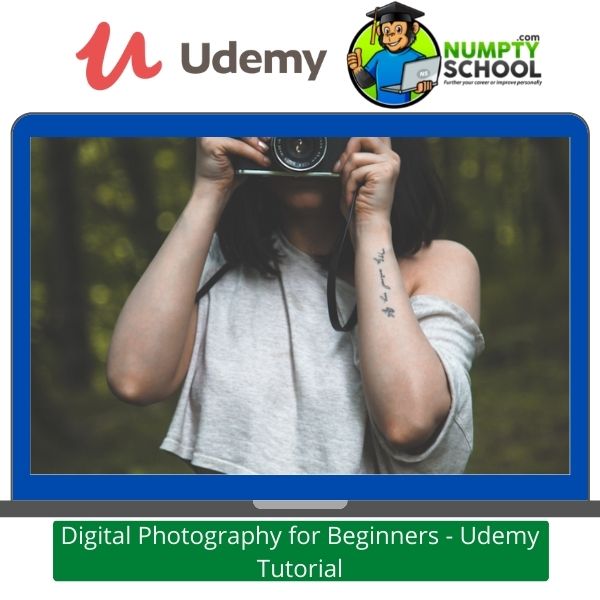 Who is the Course for?
Anyone who wants to understand and use a DSLR camera. Those exclusively using compact digital cameras and smartphones might not benefit from this course.
---

What you will learn
How to properly hold a DSLR camera to ensure you get sharp photographs all the time.
You will build confidence to change your camera settings well when needed and get perfect shots always.
Necessary skills to detect creative photographic opportunities to ensure your photos stand out from the others.
Proper advice on how to select the perfect camera lens for different situations.
Composing well-balanced and attractive photos.
How to take beautiful photos that can tell stories of adventures, vacations, and functions while capturing your memories.
---
Lessons
An introduction to the course
Camera equipment
Mastering your camera's settings
Shutter speed and aperture
Light
Composition
Creativity
Conclusion
---
Course Requirements
No prior photography experience
A NIKON or CANON DSLR camera especially those with interchangeable lenses but any model will work.
---
FAQ's – Questions on the Digital Photography for Beginners with DSLR Cameras Course
Q) How can I get my official certificate of completion, a hard copy but not pdf or jpg?
A) Unfortunately, the course doesn't include hard copies of the certificate. They are available in digital copies only. You can download and print it once the instructor sends it to you via email.
Q) What is the best time to use the lens hood on my camera?
A) You can use it all the time. It helps prevent any sun flares on your lens and protects it against accidental bumps.
Q) My photos always look grainy. Is it my photography skills or there is a setting that's messing me up and I am not aware of it yet?
A) The first cause of grainy photos is high ISO values. This could be 1600 or could go higher in most cameras. Or, you could have cropped the photograph too much. Check on these two issues and everything should be fine.
Q) Are there PDF files or handouts with technical info covered in the course? I find myself not having time to jot down notes while following along the tutorials and experimenting with my camera.
A) Yes. There are downloadable notes with basic information in the last section of the course.
Q) Can I use my DSLR camera for eCommerce photography?
A) Yes. You can take photographs of products and sell them online. Just ensure you have mastered how to use your camera effectively depending on the surroundings or scene.
Q) I am using a CANON DSLR and my photographs are turning out blurred. What could be the problem?
A) The shutter speed is very slow because either the conditions are very dark, your ISO is extremely low, or your f-stop is very high. Make the necessary adjustments and see if this changes.
---
Wrap Up
I understand the intimidation if it is your first time handling a DSLR camera.
But you will manage to work everything out once you enrol in this course and complete it.
You will be confident enough to set your equipment and take spectacular shots.
Steyn's photography course for beginners shares all you need to know about the basics and most importantly, what he learned from his mistakes.
Short and to the point, it can be done in one sitting but there is no pressure to complete it.
Take the course at your pace understanding one section before advancing to the next.
The instructor understands that novice photographers are visual learners most of the time.
He has made it his task to make this course as easy and clear as possible.
I know how overwhelming the jargon can be.
In fact, it could make you drop the course quarter or halfway.
If you have gone over the course overview you can agree that digital photography for novices isn't complicated.
Of course, there are a ton more things to learn on the topic which is why Steyn makes this a series course with five more sections.
I would encourage anyone who has enrolled in this section to continue with the rest.
In the meantime, if you want to get started and steadily improve your photography skills using a DSLR camera, this is the best place to start.
Whether you are doing this as a hobby, to make your social media pages admirable, or planning to make money out of photography, you will appreciate the information in this course.
Since it is divided into two sections, you could be slightly knowledgeable in the basics and need more attention on the advanced section.
No worries.
Head to the sections that interest you and cover them.
You can re-do the basic section and see the new pointers and tips that the instructor shares.
You never know what you missed in your research or class.
Practice makes perfect. That is the fastest way of learning any skill and perfecting it.
This isn't contrary in photography.
Attempt the projects in the course, do more and share with the instructor for corrections and feedback.
Once you are confident enough with what you can do with your DSLR camera, go out and make the best out of your equipment and abilities.
While cameras can be complicated, the art of using them isn't.
Enrol today and change how the world sees your photos.
---
What Students are saying about the Course
The pop-like quizzes here and there are the highlight of this course for me.
How else would you gauge your progress? Highly recommended!
Jargon-free! That was my main consideration when buying this course and I don't regret it.
The number of new things I learned here was incredible.
My Instagram is the topic among my peers and I am about to spill the secret.