January 27, 2022
GIMP 2.8/2.10 Beginner to Advanced Review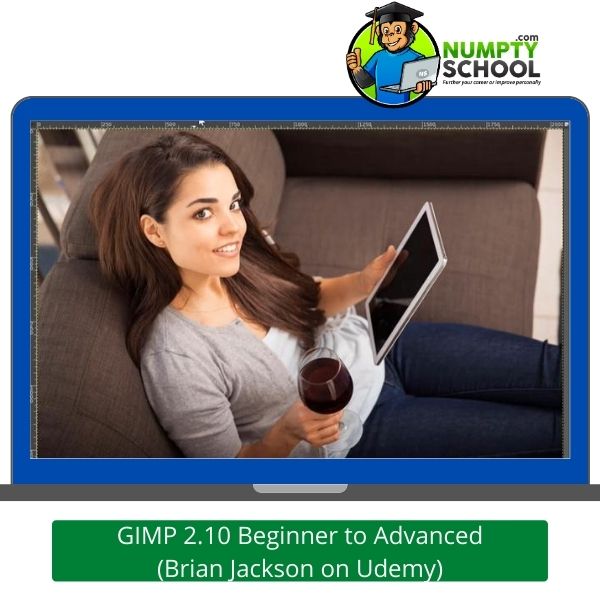 One of Udemy's most detailed single GIMP courses to help you scale your design skills from beginner to advanced level in 12 hours.
You are annoyed at how your designs on book covers, banners, and memes are turning out and are desperately looking for a quick way out. Relax. It isn't too late yet.
Here is a comprehensive course to help you level up in this sector and change how your designs look.
The feedback will be overwhelming so you must prepare yourself for the numerous likes, comments, and shares.
Instructed by Brian, he is an educator, a publisher, and an author and GIMP is part of what he often uses.
So he shares what he has learned in this course while still explaining how to go about the GIMP software.
He puts everything in this 12-hour course and commences from the basics of the software as he progresses to the advanced section.
I love how everything flows as it should. It makes comprehending each section easier.
There are lots of downloadable resources to use alongside the tutorials.
This should also help you with your daily practices as you can refer to them when necessary.
This graphic design course is free on Mac, Windows, and Linux.
Use it to improve your photography and design skills.
With most people spending time on social media and brands being more concerned about how their publications and designs look, GIMP knowledge is almost becoming a basic requirement among a larger group of people.
I am sure you'd love your Instagram, Pinterest, and Facebook photos to look captivating.
There is so much that goes into all those interesting and funny memes you see online.
The design aspect is what brings everything together to chuckle you out after a long day.
The same applies to project banners and brand graphics that always appeal to you.
The majority use design software like GIMP. From the figures, quite a number are interested in changing how their designs turn out.
The course has a rating of 4.1 stars after 14,600+ students enrolled.
I first went through the students' reviews before buying the course as I wanted to be sure of what I am investing in. So far, so good!
This course has been very helpful when designing stuff for my fly fishing website. Oh! Sorry for plugging myself!
But I needed to learn the skill to save on the much I'd pay a graphics designer.
And I must say, it took me a short time to learn the ropes.
---
Overview and Course Content
Brian starts by explaining what GIMP is and why you need it for your business or brand.
It is a popular graphic design program that is used on Linux, Mac OS, and Windows.
But, not everyone is using it. I know there are other alternatives in the market and everyone chooses what works for them.
Others freak out already from reading the software's abbreviation-which is such a lame thing!
A good number are interested in learning how it works but don't have the right resources yet even with YouTube tutorials and blog posts.
In-depth courses like this are what will help you know how to use GIMP, practice using the assignments and projects given by the instructor, and ask questions when you need help.
Brian is very responsive gauging from the Q & A section. He answers 99% of the questions on time.
You must be wondering why the 1% is left out. The remaining are answered by students.
This means you will get help from other students like you too.
You will then learn how to download and install the GIMP program before configuring it on your device.
This is among the first things to do before producing memes, book covers, and banners you'd wish to use for advertising or fun on HTML, WordPress, or social media.
There is a bonus class on photo touch-ups. He shares what he knows in a neutral order to help make the course flow as it should.
This GIMP course is different from most shallow ones you have come across on the internet.
The entire course is divided into 13 sections. Each section addresses a different thing and each averages 30 minutes. See? They are in bits to help you understand a topic faster.
In each section, there is at least one project but others have more for the student to complete.
This demonstrates your proficiency with the content that has been covered before proceeding to the next.
These projects aren't bogus as they produce great results you can apply in real life.
If you can spare 30 minutes daily, you should be done with this course in less than 2 weeks.
You will learn the fundamentals of GIMP and understand why it is one of the most powerful graphics programs that you can use for free.
If you are interested at this point, enrolling in the course will be the best thing to do.
You will watch as Brian creates an amazing 3D pool table with balls. You can do this as he does it.
There are projects on designing book covers and you can see how easy it is.
How much would a graphics designer charge you for a single cover? Probably $100 if he/she pitied you.
If you are to pay for 100 books, this means you will need to cough a huge sum.
In less than a day, you can save all that on work on everything yourself. Then, maybe treat yourself to a luxury buy or a small vacation outside town.
You will learn how to create memes and distribute them on 8 social media platforms.
If you have been having trouble learning how to use HTML direct from WordPress to create graphics effects, do it here through CSS and HTML.
With all these and much more at your fingertips, it should take you minutes to design anything basic and the advanced graphics shouldn't be a problem either.
I love how Brian is consistent and keeps updating the course. Recently, he added another section titled digital drawing & painting using the Wacom tablet.
This means that you will be learning using the current version of GIMP.
This is software and it is prone to change at any time. Often features are added, some removed, and a few are improved.
Brian ensures you are a step ahead of students taking other courses. In short, he keeps it relevant!
There is a specific lecture on how to install and configure GIMP on Windows. But the others will apply to the other platforms.
He demonstrates how to use the program on Windows 10. If you are using other versions, this should work the same way.
Udemy as a 100% money-back guarantee in case you are dissatisfied with the course within thirty days.
To be sure if it is a course you need (which I know you do) preview the lectures by watching the first two sections for free.
Don't waste any more time if you want to improve your design skills. Enroll today!
---
Who is the Course for?
Bloggers
Social media users
Social media managers
Influencers
Freelancers
Website admins
Authors
Publishers
Anyone who wants to learn how GIMP works
---
What you will learn
Installing and running the GIMP software on Linux, Mac OS, and Windows
Creating 2D and 3D book covers and designs
Producing graphics necessary for use on the eight listed social media networks
Using the GIMP program to touch up your images
Making logos, screenshots, and web graphics
Making memes and distributing them on social media
Using WordPress with HTML when displaying web graphics
---
Lessons
An introduction to the course
Installing and using the GIMP software to create graphics and logos
Layers and selection using a pool table and balls
More layers and selection using a colored butterfly
Using GIMP Text to make awesome text effects
Recreating a book cover ''The Last Divine''
Making simple book covers at no cost
Making 3D book covers at no cost
GIMP tricks, tips, and techniques
Social media graphics using Facebook
Intermission
More tricks, tips, and techniques
Photo manipulation, touch-ups, enhancements, and correction
Displaying GIMP web graphics with the help of WordPress
Displaying GIMP web graphics with the help of WordPress and HTML
Using the Wacom drawing tablet with GIMP
Drawing and painting using GIMP
Themes, single window, and GIMP extensions
GIMP drawing using Surface Pro 4 Based tablet
GIMP drawing using 3D perspective
GIMP frame-by-frame GIF animation
A guide to GIMP filters
Questions and answers
Conclusion
---
Course Requirements
A computer with a Linux, Mac OS, or Windows software installed before you can use the GIMP program
A functional browser for downloading the GIMP software and accessing fonts, images, and resources
---
FAQ's – Questions about the GIMP 2.8/2.10 Beginner-Advanced: Free on Windows/macOS/Linux Course
Q) I would like to take a graphics course and do it commercially once done. Does the software allow for commercial use?
A) It does. You will learn all the basics of using GIMP in this course and most importantly it is free software without restrictions on the types of work you create with it.
Q) Does this course show how to get the GIMP license?
A) No, it doesn't show it as it isn't something complicated. GIMP is under the terms and conditions of GPL v3 and has no hidden costs or rules that should worry you. But, it is important to go over it and understand what the policies state.
Q) I would like to upload my first assignment and ask a few questions that I need help with. Is there a project section in the course?
A) On the cPanel, there is a Q and A section where you can ask questions. Scroll to the bottom of that page and click on 'ask a question' then type your concerns and project as well. You might be answered by the instructor or students and most often both will share their answers.
Q) Can I take the course and download it to use offline when I am traveling or far from a cable?
A) No, Udemy doesn't allow students to download its courses and use them when offline. You need to be on an internet connection to access the course.
Q) What happens if I don't attempt all the assignments? Will I still be able to get my certificate of completion?
A) It is important to try out the assignments to know how far you are from understanding the course. But you aren't forced to do them. Still, whether or not you attempt the tasks, you will be able to download your certificate of completion.
---
Conclusion
I know there are other superior paid image manipulation software that compare to GIMP.
But if you can use a free one why subscribe to a paid program? This course shows you how you can use this freeware software to manipulate and improve your images and designs.
GIMP has become one of the most powerful alternatives to competitors like Photoshop.
But, most of the techniques Brian teaches here will be adapted to similar platforms or have been picked from there.
I love that he teaches you how to use the software from the photographer's perspective.
You will explore its offerings and work along with him to see its capabilities.
Being a GIMP user I can agree that this course was very helpful in helping me create a solid foundation for the designs I post on my websites and pages.
If you want to improve how your designs look, starting from here will be the best thing to do.
In no time, you will be proficient with the fundamentals of GIMP.
---
What Students are saying about the Course
I have been an Adobe user for a long time and was happy to try something different. So far, so good.
I love how every section has a goal. You will focus on one thing, try it, and achieve it before proceeding to the next.
The projects made me very experimental to try out so many tools I didn't know existed.