April 22, 2021
WordPress Academy Learn Step-by-Step Review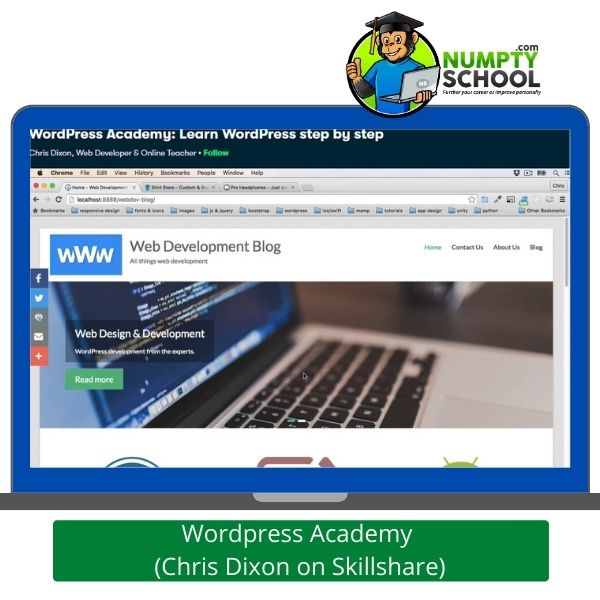 In 2021, build a striking responsive WordPress website that is appealing on any device.
Fortunately, you need no experience to start but will leave with a bucketful of knowledge.
In 8 and ½ hours, you will cover 84 lessons from the basics to the advanced levels of HTML and CSS.
Description of WordPress Academy: Course on Skillshare
Want to know the best part of running a successful WordPress website? Build it from scratch!
It will be among your proudest things to do this year. You will commence by familiarizing yourself with WordPress.
Installing it using local hosts has proven difficult for starters who do not know anything about the site.
Here's help! Take the course!
Creating landing pages has never been this fun.
Chris teaches you how to use the Gutenberg editor, add widgets to your site for convenience and add pages to allow readers to have easy navigation.
There is so much about the media library and installing themes.
Chris Dixon is a web developer and an online teacher. So far, he is top-rated on Skillshare which means most students recommend his courses.
He loved the technicality of WordPress from its early days and has seen it evolve constantly.
His first website is slightly over two decades old.
With over 20 years of experience building websites, there are more reasons to trust him and what he does.
He makes his course more enjoyable by including as many practical examples as possible.
A WordPress site isn't complete without the essentials.
The good news is that you can learn as you build your website alongside the instructor's demonstrations.

You will learn how to add navigation menus, pages, blog posts, and themes.
These are some of the basics that any novice MUST know.
Once you can add all these to your site, you can customize your blog to something you like.
The instructor teaches how to use widgets, sliders, and header images.
Doing this with a customizer makes it easy to master. SEO is a crucial aspect when it comes to website and content ranking.
You will learn how to optimize your site for various search engines. It is vital to create backups for your content too.
It doesn't end there! At this point, you are past the beginner level.
You are slowly becoming an amateur. You can make money out of your WordPress site by adding a shop to sell your products or services.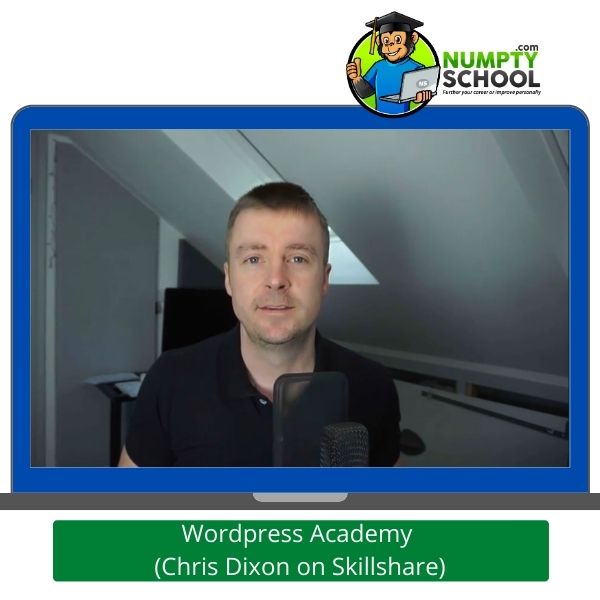 Chris takes you through how to create an eCommerce store. Here, he takes an example of a T-Shirt store.
As you tackle the project, you learn so many tricks, tips, and techniques. Here are a few you will learn:
Taxes
Shipping
Categories
Themes
Products and how to deal with them
By now you should be more confident.
But wait, isn't there still more to learn?
You aren't done with the 84 lessons yet. At this point, you must have been through with the two projects.
It is now time to learn about WordPress and theme development.
You will convert an HTML and CSS website into a beautiful and functional WordPress theme.
Is coding your thing? You will love it here. This lesson has PHP coding.
Don't worry if you are blank on PHP. There are lessons on the basics of PHP to create a foundation for this section.
This section also covers how to use WordPress templates and functions.
Chris is a generous guy and teaches you a few techniques that no one else will teach you.
Some include useful plugins and how to export a localhost site to a good live server.
---
Who is the Course for?
Anyone that hopes to be a WordPress go-to buddy will love this course
If you're taking over an already built WordPress site or are building one but have no clue on how to do it, this will come to your rescue.
Those looking for procedural over-the-shoulder lessons from a Pro shouldn't mind spending on the course
If you need to learn and master WordPress without all the jargon bogging you down, you are at the right place.
Whether you are building a WordPress site for business or personal use, this site will be helpful.
If you are learning WordPress but don't want to spend money on web hosting, you will appreciate this course.
---
Contents and an Overview of the Course
It has never been this easy! Never at all! Creating a WordPress site without paying for a domain name and web hosting is now easy.
Chris, through this course, teaches you how to do this and create a good-looking WordPress site using free software and tools.
The course targets freshers as there is everything step-by-step to grow from a novice to a beginner.
Relax: this doesn't have the technical jargon that y'all loathe. Upon completing this course, you must be able to build a beautiful and responsive WordPress website.
Of Course, you will be using WordPress's latest version.
Straight from its installation to completion, you can do this for free without paying for hosting or a domain name.
Once you install the site, you can learn how to run it and ensure it is as beautiful and responsive all the time.
Chris takes you through all the primary options of WordPress. He explains each aspect and how to set it up.
You can do this on another computer as he works through it.
If you always wanted to build a WordPress site but don't know how to begin, this is the right course for you.
This beginner's course is excellent for everyone regardless of their technical ability.
You don't have to have prior knowledge of WordPress or coding to ace this.
Starting with a free site is a good thing to help you master WordPress before you can upgrade to paid domains and web hosting services.
Once you decide that it is ripe to go online, you can check out how to buy domain names and purchase web hosting.
The course begins at the very start by allowing you to familiarize yourself with the basics of WordPress.
You will be able to navigate around the new tools as you work around getting a responsive site ready.
Below are the lessons in the 8 ½ hour course. Note that the course keeps getting updates from time to time to suit the current WordPress version.
So far, there are only four resources to work with. I love how detailed each is and all of them are downloadable.
This makes it excellent to use them for reference if you didn't master everything during the course.
There are three main projects that a student has to work on to completion to gauge their mastery of the WordPress site.
The projects are customizable and are to be built from scratch. Each project teaches a different skill.
Chris includes a free month for web hosting. If you are serious about building your WordPress site, here is an offer to grab!
---
Lessons
An introduction to the course and why you should choose WordPress
To choose WordPress.com or WordPress.org
How to get WordPress themes
WordPress server
Installing with MAMP or Local and the recommended option
WordPress dashboard, files, and folders
Everything about the music festival project from what you will build to the widgets
A project set up for the WordPress blog
Import sample data, add and update posts, how to find perfect photos for the blog, including media, permissions, users, managing comments, add pages and navigation menu, about the customizer, and how to add header images to the WordPress blog
Still, on the WordPress blog project, you will cover how to: add background images, integrate social media and plugins, set up widgets and homepage, create a footer, add a slider, create a contact form, improve SEO, and backup your site.
The WordPress eCommerce project entails the project setup, about WooCommerce, reasons for using child themes and setting them up, creating product categories, attributes, and tags, adding products, variable products, the homepage slider, and layout, customizing how your store looks, using page builder to make flexible layouts, rearranging menus, the footer section, managing your store and WooCommerce settings.
PHP Basics cover an introduction to the section, strings, constants, and variables, data operators and types, arrays, functions, conditional statements, and more operators, switch statements, loops, and codex.
Theme Development talks about WordPress installation and database setup, underscore starter theme, PHP templates, understanding WordPress, header and footer areas, adding CSS and images, converting front pages, converting menus, index page and how to set up, adding blog posts, sidebar, single post page, about page, and the search box.
For the WordPress Multisite, you learn what it is, how to activate a WordPress network, adding sites to your network, the super admin and other users, plugins and themes, and allowing other users to add sites to the network
The techniques section gives information about how to upload a site to a live server, adding east child theme plugins, resetting the database, and getting rid of sample dates, how to set up another project with Siteground hosting.
---
Course Prerequisites and Requirements
No need for any prior knowledge on building WordPress sites. You will learn everything in the course.
A functional computer with an internet connection and a web browser.
No coding experience is required.
---

FAQ's – Questions about the WordPress Academy: Learn WordPress Step-by-Step
Q) Can I use Local for running the PHP files?
A) Unfortunately, this is impossible. To get more help on this lesson, you can go back to sections 47 to 49.
Q) Once I create a local site list in the app can I remove a site? I made a mistake and keep getting an error.
A) You can delete. Simply right-click on a site you want to omit. On the left sidebar, you will find delete options among others.
Q) Do I need a WordPress email for use in lesson 6?
A) No, you can use your email to set up the site.
Q) Will the process in lesson 78 apply when using premium themes?
A) Yes, it is possible to develop them locally and migrate them to a chosen live server after you are done.
---
Conclusion
WordPress is among the incredible Content Management Systems. It is the reason why there are numerous WordPress courses both online and offline.
However, of all these, very few are legit informative and practical like this beginner's course by Chris Dixon.
The course teaches you how to create a beautiful yet responsive site on the most flexible and powerful platform.
It might seem very daunting as you get into the vast and unending space of WordPress as a starter. You will learn the basics and more advanced sections.
The good news is that there is a huge WordPress community. It is thriving and there are so many buddies to help.
Chris is an engaging instructor and going through the course's discussion page, it is evident that he responds to all questions and offers more help.
Whether you have general questions on WordPress or those relevant to the course, Chris strives to solve them as fast as possible.
The downloadable resources are excellent. However, the best way to gauge your progress is by attempting the projects and sharing them on the platform for the instructor to assess and give feedback.
It is time to drop everything and try the course!
---
What Students Say About the Course
There is so much to learn in this course. Let the bunch of steps and information not scare you. Every section is useful.
Errors are common when creating WordPress Sites from scratch. The discussion section has so many answered questions that could help.
What I love about this course is that it doesn't need any coding experience. I dread coding but I appreciate Chris for the easy introduction and steps without the jargon you find in other courses.
The tips, tricks, and techniques in the last section are wholesome. These help you to improve your skills and proficiency.
I love how comprehensive the course is. It is well-explained, thorough, and clear. The project examples illustrate everything the instructor explains. I highly recommend it.