January 28, 2023
How do you Create a Website using WordPress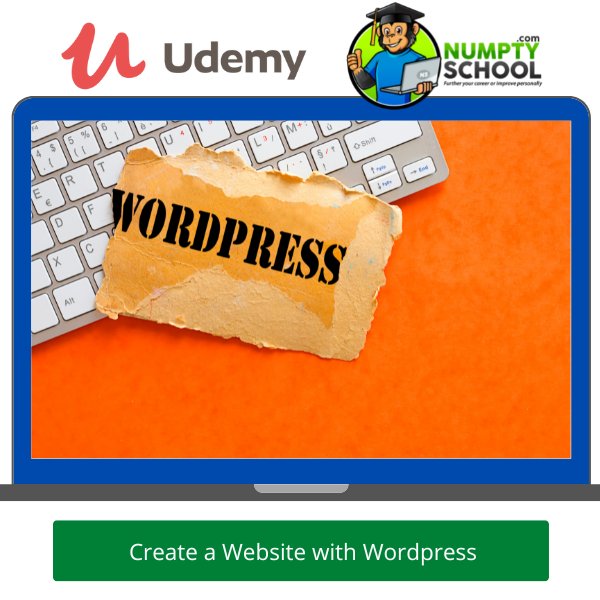 An in-depth 1-hour course explaining how to build a website on WordPress and discovering tricks and tips to help you enhance the user experience while boosting conversions.
---
---
Description of the Course Udemy
---
Have you ever thought of owning a website or creating one?
You must have thought of how overwhelming it is, right?
To some extent, it can get frustrating.
Especially, if you are doing this without any background knowledge of WordPress.
Others could be freaking out because of the coding aspect.
Yes, there are sections of WordPress that require knowledge on how to code.
You might have to learn this or hire a coding expert.
But that isn't what we are here for today. We are here for something simpler and more fun to do.
Designing and building a WordPress site from scratch.
Whether you are a novice or amateur at creating sites, or are totally blank of the idea but want to learn, this is the best place to start.
Martie has compiled a 1 hour 7 minutes course teaching you the basics of WordPress.
What's fantastic enough is that it is a free course! Yes, you don't get to pay for anything!
But you might need to pay for a domain and hosting for your website to go live.
In less than two hours, you will be able to create a beautiful and responsive website.
Whether it is to share your hobby or for e-Commerce and you'd love to add a store to it in the future.
Initially, it seemed almost impossible to create a website on your own if you weren't a developer or had no knowledge of web design.
Today, there is so much information on the same that makes this easier.
But how do you source these resources?
Not every blog post or tutorial you come across will guide you correctly explaining every aspect and practically showing the steps.
Most of them are bogus and have been quickly compiled.
Investing your resources in courses like this is one of the best things to do.
You get to see what the instructor does, try out the projects and gauge how you are progressing.
Paid courses are also great alternatives to free ones.
We have reviewed several of them from incredible tutors on our site.
Check them out and see those you can enrol in.
Remember, the topic of discussion could be the same but the tips, tricks, techniques, and strategies shared by each instructor are different and this is what you'd like to capture.
While we can keep practicing to find what works for us, sometimes using tips that have worked for others is an awesome way of saving time and money.
And, we are all about that here!
This is a free course and that comes with some limitations.
First, there is no certificate of completion once you are done with the course.
These are only available if you enrol in paid courses which you can get on our site.
You don't get to message the instructor directly neither is the question and answer section available.
But, if you are here for the knowledge and to pick the tips, keep reading.
If you feel like student-instructor interaction is something you'll need, this course might not be ideal for you.
However, you could still take it as you don't know what impact it could have on your website.
I was moved by the statistics of the course.
Well, we all love free things. Not all of them are great though!
This one stood out for me as a thorough one addressing the fundamentals of WordPress and I could see in the numbers.
So far, it has a rating of 4.5 stars with an enrolment of 194,300+ students.
Over 16,000 have left reviews and they are overwhelming.
Let's be honest: In a world with a lot of clickbait, traps, and crappy courses, going through reviews saves you the agony of blindly enrolling in a course and wasting your resources.
Yes, you can recover your fees if it was a paid course but you won't recover your lost time.
Here, the numbers don't lie.
I love that it is a step-by-step tutorial and you will begin with defining WordPress and understanding what it is first before advancing to its features and tools.
Somewhere in the course, it begins to get advanced but only to a point that a beginner needs.
Other complex topics can be addressed in advanced courses.
Martie is a fluent instructor and has all his points right.
The scope of the course is admirable and something that other instructors should employ.
He divides the entire course into sections of about 3 to 15 minutes each.
Every section covers a specific topic to make understanding easier and referring to the course less stressful.
In about an hour and a few minutes, you will have learned how to build an attractive WordPress website and be ready to add more content to it.
---
Course Content and Overview
---
Here's good news: You will be learning about one of the easiest software to use to build a website.
Of all the content management systems, WordPress is the most recommended for hosting and building websites.
I love that it contains a template system and a plugin architecture to help you customize your website to suit your online store, portfolio, blog, or business needs.
Having an attractive, functional, and responsive website matters so much.
It will determine how you connect with subscribers, leads, and visitors.
You will want to create a positive impression the first time each one visits your site.
While at it, need to maintain this impression throughout.
This should in return boost your conversions.
You can choose to take the course to learn and build your website if you'd like to own one.
Or, you can learn, enrol in advanced courses and start a career as a developer or a web designer.
Web designers and developers earn so much from designing and building websites.
I had a chance to browse some of the popular freelance sites to see what the experts charge.
About $4000 on the minimum for a designer who is in the budding stage.
Imagine what an expert would charge you? Walk into a company and enquire.
If you are willing to spend the figure they mention, no biggie!
But if you are not, you could have a beautiful and functional website up and running for less than $500 a year. Imagine how much you would save.
Anyways, regardless of your reason for taking this course, the most important thing is to master WordPress and how it works.
Here are some of the reasons why you should consider taking this course:
---
You will create a striking and responsive WordPress site in minutes.
It will be a responsive website even on mobile phones as that is where most searches are made.
Martie shares a coupon that will get you the first month of hosting for a penny.
You will learn how to create logos for free.
Besides learning how to create websites from the course, you will get a link to Martie's tutorial on how to create logos at no cost.
---
Who is the Course for?
---
Anyone who wants to create and build a fully responsive website that can be easily used on a PC or phone in minutes.
Those who want to know the fundamentals of WordPress.
Small business owners
Brands
Online marketers
Students
Affiliate marketers
Anyone who wants to own a website
This isn't the right course for those who want to learn CSS coding and HTML.
Freelancers
Corporations
---
What you will learn
---
How to create a website from scratch and make it fully functional on PC and mobile phone.
How to make it attractive and learn skills for making it attractive. Overall, you will learn how to use WordPress.
---
Lessons
---
An introduction to the course
The five main steps
Domain name and hosting
How to install WordPress and log in to the software
How to delete the demo content
How to change the theme
How to customize the theme
Adding pages
Adding blog posts
Changing fonts
Creating a navigation menu
Changing a sidebar
Adding the contact form
Linking a call to action button
Conclusion
---
Course Requirements
---
A computer with an internet connection.
No prior knowledge or experience of WordPress.
Willingness to learn
---
---
FAQ's – Questions about the How to Create a Website using WordPress (Step by Step) Course
---
Q) How much should it cost me to create the most basic WordPress site?
A) There is so much that will influence the overall cost. Most important are the plans you choose for your domain, hosting acquisition, WordPress plugins, and themes. Also, different companies price their packages differently.
On average, a basic site should cost you about $23 annually. If you will need to use advanced theme features, you will spend $100 or thereabout.
Q) Does the course teach me how to be familiar with the WordPress interface?
A) Yes. You will go through the dashboard and all its nine sections. It is advisable not to get cold feet as the interface is easy to use and everything is pretty straightforward.
Martie shows you how to do this in a few minutes.
Q) Is it possible to build a WordPress site for free? Absolutely free and run it without issues?
A) Here, I would say yes and no. Yes, you can build your WordPress site for free. But, it will remain branded and your options of customization will be fewer.
You can download self-hosted WordPress but, you must pay for some elements before using it. These are domain, hosting, and more. There are numerous high-quality plugins to use with this program.
Premium options also exist and you can buy them. WordPress is costly as you wish to make it.
Q) Is WordPress a safe and secure place to build my website?
A) Well, WordPress is a legit and safe site to use, you need to follow all the security best practices it offers. Neglecting your site will make you easily susceptible to any cyber-attack.
Several services, tools, and plugins to help you make your website more secure exist. It is also crucial to keep your plugins, installation, and theme up to date.
Q) Can I use my WordPress site for blogging only?
A) Yes, you can use it for blogging only or add a store to it and have an e-Commerce section. It might have begun as a blogging site but has grown over the years and boasts great versatility.
You can use tailored themes and plugins to make any type of site. Others have WordPress sites for business and portfolios.
Q) Must I maintain my WordPress site?
A) Your WordPress site is like a car. If you don't maintain it, it will break down. Maintenance on your site requires updating it, backing up, monitoring its security, and many other things.
The great news is that you can automate lots of these tasks in WordPress. Some services will maintain your website for you if you wish.
---
Wrap Up
---
Understanding WordPress as a novice doesn't have to be overwhelming.
Learning the fundamentals will give significant insights into how the program works and ways you can use it to accomplish your tasks.
This is a basic course that doesn't go into the complexities of HTML and CSS coding.
You can learn this once you are familiar with the advanced sections of WordPress.
Or, you can get an expert to handle these tasks.
WordPress is a user-friendly platform with a lot to learn for freshers.
This course will help you create a solid foundation and understand its basic concepts.
Once you are done, you can jump into the program with both feet and confidence to start working on WordPress.
---
What Students are saying about the Course
---
The course is awesome and was what I needed as I didn't know what WordPress was. I had never heard of it. I am ten times knowledgeable in only an hour.
I love that I came across this course when I was about to dump my site. I created it following a tutorial on YouTube and it was getting frustrating.
Martin's pace is good and I loved that it allowed me to follow along as I am naturally a slow learner.
---