February 3, 2023
How to Build the Ultimate Professional Website with WordPress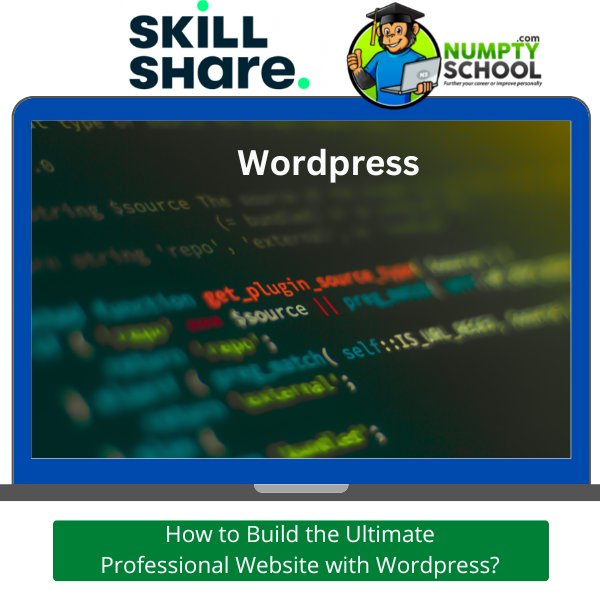 A 3-hour 49-minutes course with step-by-step procedures that teach you how to build a beautiful yet professional and responsive website using WordPress.
---
---
Description of the Course on Skillshare
---
I know you have admired hundreds of websites you have read content on ever since you started using search engines. It took work and time for them to look as striking as they are.
Perhaps, you wished and still hope you could create a similar one in the future. Let me bring it closer: Your future could be as soon as today or tomorrow!
But don't make it tomorrow. The sooner you learn how to go about WordPress, the earlier you begin to reap from your desires and efforts.
With a plethora of content online and offline about creating websites on WordPress, it must be daunting to pick the most resourceful. Yes, YouTube and Google have plenty to read on and watch.
However, not everything is up to date, relevant, informative, or practical. Malik has made it less stressful to get the right information by compiling this course.
He is an expert web developer, designer, and software engineer. Since he started practicing his passion, he has built and managed numerous state-of-the-art sites and apps.
In this course, he shares how you can build a fantastic $3,000 site in a day or even less! It depends on your level of comprehension and execution. Also, your availability to complete the course and implement the steps.
Well, as an online course, you get to enjoy the flexibility that comes with learning online. There is no completion deadline. Learn, practice, and work at your pace.
For areas you don't grasp, feel free to retake them until you are confident enough. It is a 3-hour and 49-minutes course.
If you have as much time at your disposal, you can easily complete it within a day and even start creating your blog if you are the type that needs to learn first before execution.
If you love learning and practicing simultaneously, do your thing friend! The course targets novices and amateur WordPress users.
There is no need for prior knowledge or experience in WordPress or website building. Malik starts from scratch as he paces through the advanced section.
If you have been using WordPress with difficulty and without any help so far, here is the chance to learn and be guided by a Pro in this field. This is purely a practical course.
The theory is very minimal. So you will be hands-on for the better part of the course if you learn and work at the same time.
Creating a website has been on most people's bucket lists for months or years now. I know you too could be in this situation.
It can be such a terrifying thought especially when you don't know where to start from. More so, if you aren't techy.
Worry not! Malik has helped thousands of people create their websites using WordPress and other platforms.
Through his step-by-step guide, he teaches you how to build an attractive WordPress site without experience in coding. I know how much coding scares most people. It shouldn't, though!
Once you enrol in the course, you will enjoy full-time access to it. Also, it is an updated course and Malik keeps adjusting it from time to time.
This ensures it is as per the latest version of WordPress for relevance. There is nothing as difficult as learning how to use a program with notes of lectures of a previous version.
Even after completing the course, keep returning to see what is new.
He is also responsive and you can engage him in the discussion section if you need any help with your projects or setting up your website.
---
Course Content and Overview
---
Do you have an idea how much a professional web designer is paid to create a custom, professional, responsive, and uniquely designed site?
If it doesn't shock you, then you could easily pay the same to someone to create a state-of-the-art one for you – which is absolutely alright!
My research on UpWork, a popular freelancing site got me wondering. An expert-level web developer will charge about $4500 as the lowest figure for a simple website. Simple, I said!
Imagine if you wanted a sophisticated one with all the admirable concepts. It will cost you an arm and a leg.
I own several websites and I can't insist on the importance of knowing how to design one by yourself.
WordPress is professional yet very common software that allows you to build stunning websites.
Mine too are built using WordPress and I am loving it there!
You can do this to save the huge cost of paying professionals to do it for you. Or, learn the skill, perfect it, and earn from it.
You can easily land clients on freelancing sites, social media, LinkedIn, through referrals, and other different ways.
The course takes you step-by-step from the grassroots until you are ready to add content to your website.
Whether it is a business site, for personal use, or you would like to add an online store to it in the future, the lectures cut across all of them.
If you are looking for an action-oriented course, stick here!
The course begins from the most basic aspects like why you need a website as it progresses to some of the smallest details before advancing to deeper sections.
All the content in the course has been painstakingly compiled and tested.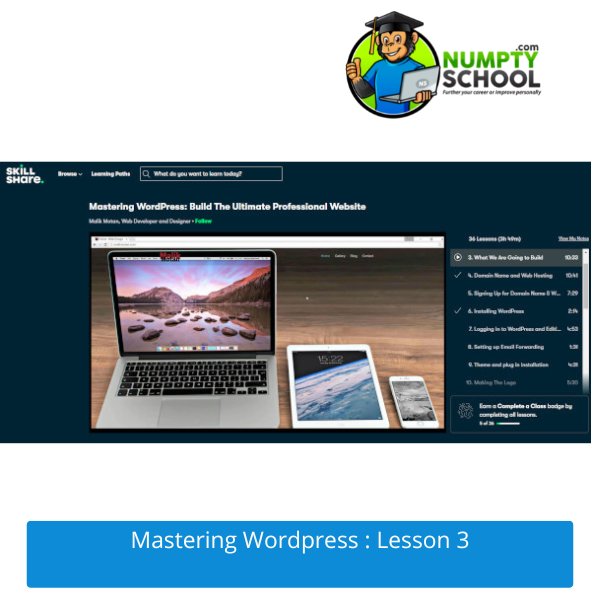 For him to offer it on an online platform like Skillshare, there is no reason to keep procrastinating. Malik shows you how to optimize your site and make it more secure.
You will learn what it takes to better the performance of a WordPress site and optimize it for search engines. We are all interested in the rankings, engagement, leads, and sales.
The course has some downloadable resources that you can use alongside and after training. These are awesome reference materials you can use offline.
Also, the main project is building your professional, secure, and optimized WordPress website. You will come across individual tasks and assignments in each section.
There is no way you will not attempt them if what you want is a great site. Malik, under the Projects and Resource section, explains how you can share your project.
He and other students will pour their thoughts and learning from feedback is one of the best ways of honing your skills.
If you want to learn how to create a site with awesome performance, tight security, and properly optimized for search engines, enrol in this WordPress course.
---
Who is the Course for?
---
Anyone who wants to start a new yet profitable career in website design and earn decently for each site they create.
Business owners that want to increase their productivity and earn more online.
Brands that want to reach more people online through creating content about their services and products and posting them on the site.
People who have ideas they would like to share with the world through online means.
If you need a professional website for personal use.
If you have heard about or are an amateur in WordPress Content Management System and would like to master it.
Anyone who wants to learn about WordPress
---
What you will learn
---
What WordPress and WordPress Content Management System is.
How to get a domain name and website hosting account.
How to properly install and configure the program on your domain name.
More about plugins and themes, what they are, and how they are used.
How to get an awesome $49 theme for FREE and install it correctly on your domain name.
How to build your WordPress site from start to finish without help.
How to create your simple logo for FREE.
How to optimize the security and performance of your site.
How to publish your site and optimize it for SEO.
More about the general layout and theme settings.
How to create your editing header and home page
How to create your call to action
How to build the services, customers, and testimonials sections.
How to add various social media icons to your website.
How to create your gallery page.
How to create the blog page and the very first post on it.
How to create your blog's second post.
How to edit sidebars.
How to create the contact page.
How to add images and text.
How to add a map.
How to add a contact form.
---
Lessons
---
An introduction to the course
About the instructor, WordPress, and its content management system
What you are going to build
Web hosting and domain name
How to sign up for a domain name and web hosting
How to install WordPress
How to set up email forwarding
Installing themes and plugins
How to log in to WordPress and edit your profile
Making a logo
The general layout and theme settings
Creating editing header and home page
Building the services section Part 1
Building the services section Part 2
Building the services section Part 3
Call to Action section
Building the skills section
Building the team section Part 1
Building the team section Part 2
Building the testimonial section
How to add your social media icons
Creating a gallery page
Building a gallery page Part 1
Building a gallery page Part 2
Creating the blog page and its first post
Creating the second post
Editing your sidebar Part 1
Editing your sidebar Part 2
Creating a contact page
Adding an image and text
Adding a map
Adding a contact form
Optimizing the performance and security of your website
Optimizing your site's SEO
Conclusion
---
Course Requirements
---
A computer with an internet connection.
No prior knowledge or experience in WordPress or website building.
No experience of how to code.
---
---
FAQ's – Questions about Mastering WordPress: Build the Ultimate Professional Website Course
---
Q) Overall, what should be the cost of a WordPress website?
A) This depends on so much. If you are buying an existing site, this could be from as low as $4000 if sold to be an intermediate website builder. But if you are trying to build from scratch, it is lower.
For instance, a business site can cost you $100 yearly while others can go to over $30,000 annually.
Q) Must I use WordPress to create the best site?
A) Most people recommend WordPress because it is the most popular platform. But, you can choose others. It is a free open source platform with thousands of custom-made website designs and extensions.
WordPress is more flexible and will work with most third-party services and tools available to you.
Q) If you say that WordPress is free, why then are there costs coming up? Or, does it have any hidden charges?
A) First, WordPress has no hidden charges. It is free but you must arrange for your web hosting and domain and these cost money. Companies like Bluehost offer cheaper web hosting and their domain names are free if you host with them.
---
Wrap Up
---
By now, you must have realized that it isn't as difficult as you thought it was. Malik will show you how to create your new WordPress site from scratch until you can publish it.
It will take time to grow an online presence but one step at a time. All sections in this course will point you in the direction of a professional and responsive website.
This course is an ultimate step-by-step guide that will take you from a fresher to a website owner and a more knowledgeable buddy in WordPress.
Of course, it doesn't cover the development parts as this is a separate field with individual courses that can guide you.
If you'd like to learn more about WordPress development, check out the section on the site.
Meanwhile, you should now be confident enough to join the course and learn how to build websites in less than a day!
---
What Students Say About the Course
---
I started building a WordPress site four years ago and stalled. I can't recommend this course enough now that it has taken me three days to rectify the errors and have everything in check.
This has helped build my lifestyle blog. I will update my review after a year once I see how much growth my site has achieved.
For you all waiting for a simpler course, I doubt there will be any as good as this one!
---