January 17, 2023
How is Digital Marketing Important for Small Businesses?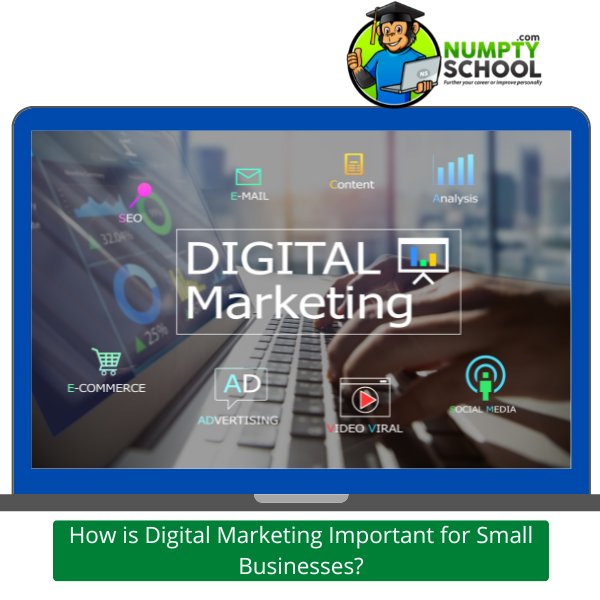 Changes in time have impacted how businesses approach customers and fellow clients.
We are slowly dropping traditional marketing and leaping into the newest face of digital marketing; however, we might retain a few as they are almost irreplaceable.
The internet has created a new market, and the digital market has become crucial for most successful businesses.
Digital marketing has proven to come with tons of opportunities and growth in many businesses.
It has led to a lot of exposure and increased sales.
When creating a business, the general rule of thumb is to increase your profits.
If you run a business and want to witness an increase in sales and returns, get into digital marketing as soon as you can.
Here's how digital marketing is important for small businesses this year.
---
SEO rules and its dynamics
---
Most businesses have seen the benefits of marketing online, making SEO a vital skill for all business owners to master.
If you can't (for whatever reason), you need to hire a reliable professional.
Search engine optimization determines if your business' blog or website is visible to the world and, most importantly clients using search engines.
It is essential for the success of a business' website and is a primary determinant of whether you will go bankrupt or garner more leads.
According to research done by tech.co, at least 75% of small businesses have upskilled in analytics, SEO and social media.
Also, if you are interested in learning SEO, you can check out some great course reviews on our site.
SEO strategies are ever-changing, and guys not versed in them don't know how they can grow their businesses.
Digital marketing pros keep a hawk-eye on shifting algorithms and are prepared to push up search engine rankings for various businesses to be on the top pages.
---
UX and its Importance
---
UX design, commonly described as user experience, is a digital marketing byword, and it can offer excellent experiences to users.
It makes services and products delightful for consumers and allows them to have fun while interacting.
The years ahead are set to be of high-end innovative consumer experiences.
Most people are becoming more interested in the aesthetics and visuals of services and products offered by clients.
Each of them expects meaningful experiences as they go through business websites.
Digital marketing can analyze core web vitals and then suggest changes in a UX design when needed.
As per Think with Google, about 40% of potential buyers won't purchase from poorly designed websites.
---
Social Media for engaging and retaining Customers
---
We all have seen the impacts of the pandemic on business and how things took a quick turn, from driving daily to the office to working from home.
People have hardly been going out, and the frequency has dramatically reduced from before.
Generation Z and millennials spend a huge chunk of their time on social media.
Instead of giant billboard advertisements that few can see, businesses promote themselves on social media and create a buzz.
Across different sectors, companies depend more on this avenue as an effective digital marketing strategy.
Social media draws the attention of potential buyers and converts leads.
Today, you can find new customers through social media and re-engage with your previous ones to retain them.
The importance of digital marketing for a business becomes evident since executives can identify the latest social media trends and know the best ways of using them.
Digital marketing executives can help businesses by tracking the newest features added by different social media platforms, generating ideas, attracting customers, boosting and promoting posts in ways that appeal to target audiences.
---
---
Cutting Costs
---
The importance of digital marketing has been linked to cutting costs and has proven to be less expensive than other marketing modes.
So many factors have recently taken a toll on finances, and most businesses feel the pinch.
I doubt there is a company that has been unscathed this year.
Cost-saving modes should be a priority for most, if not all businesses.
Digital marketing is hugely profitable since it yields a higher return on investments and increases the reach and scope of the audience.
Businesses can get pulses on how effective their sales strategies are through different digital marketing metrics for a modest expenditure.
You can tweak marketing campaigns and strategies without a noticeable setback in your budget.
Another reason why digital marketing is crucial and shouldn't strain your budget is its multiple aspects.
Businesses can benefit from digital marketing professionals since they have more expansive repertoires of means to attract audiences like banners, content marketing, social media marketing and email marketing.
Digital marketing is essential since it packs in different modes in a single campaign.
---
Better Reach
---
Nowadays, most people spend time online browsing the web, searching for products.
You can benefit from such a massive audience base by maximizing your online presence.
This is where digital marketing manifests its relevance since it is about reaching the correct audience at the proper time.
You should have an engaging online page or store with easy and quick navigation to increase audience reach.
Different digital marketing mediums can help build your brand while at it, like content marketing, social media marketing, SEO, and content marketing.
---
Competition isn't Biased.
---
Analyzing your competitors is vital in digital marketing.
Your business needs to keep up with the competition, especially among fast-growing brands.
Companies can push the envelope through multi-channel marketing comprising mediums like SEO, PPC and social media marketing.
Such an approach aids any business in achieving its goals and leveling the field.
---
More Brand Awareness for Small Companies and Businesses
---
Digital marketing is an excellent boon to any business.
Large companies use it to stand steady in competitive environments.
On the other hand, small businesses use it to make headway in the booming market, create brand awareness, and grow their businesses among large companies.
---
Increased Sales
---
You can measure your Conversion Rate Optimization in real-time.
The data can aid an owner in understanding the total search percentage converted into leads through buying products.
To get higher conversions, some active communication channels are affiliate marketing, SEO services, social media marketing, and PPC.
---
Return on Investment
---
The measurement metrics like profit and loss driven by digital media will help you know its value.
Return on investments in digital marketing defines your marketing campaigns' worth.
SEO has been known to generate higher ROIs compared to other marketing modes.
From basic metrics lie bounce rate and sessions, organic traffic generated by search engine optimization shows 41% more growth in revenue than other marketing strategies.
---
Maintaining a Good Brand Reputation
---
It is vital to develop a stronger brand reputation in the online space since it cements the business's ability to flourish in the market.
---
Targeting Ideal Customers
---
Digital marketing helps you reach out to the right audience for your niche.
You can analyze their behaviour online and take appropriate measures to deliver the best fulfilment.
Reaching the right audience means driving more traffic; this better results from your campaigns.
---
Different Avenues for boosting your Traffic
---
A business owner can use various avenues to increase their success in the marketing world.
These avenues range from social media campaigns and content marketing services to SEO services and PPC to boost traffic to their sites.
---
Better Engagement with Mobile Customers
---
We are in a portable world, and engaging ourselves these days is primarily through laptops, tablets, smartphones and the likes.
After the first mobile update by Google, most websites are built in a more accessible way, even through mobile devices.
Mobile users are becoming more common than before, and this group has higher chances of purchasing.
---
Internationalize your Business
---
Digital marketing can take the reach of your business overseas.
Business owners can connect with customers outside their countries and work together to expand their business worldwide.
Change is constant, and the digital marketing scope keeps developing with competitive technologies and incredible flexibility.
While at it, your site should measure up highly on the digital marketing front.
---
Tracking and Taking Actions
---
One of the most typical issues facing the market is finding appropriate ways of tracking and measuring the success rates of different digital marketing mediums.
Tools like Google Analytics, Google Search Console and Ads Manager pull in data and gauge how your search engine campaigns are performing among different groups.
Some tools help define measurable metrics to identify performance tracking and show you where to take the necessary actions.
Good examples are SEMrush, Ahrefs and Screaming Frog.
These tools analyze competitors' activities and provide data that helps your business to make informed decisions.
---
Conclusion
---
Digital marketing is becoming the 'new normal' in companies' advertising and sales.
It is the most distinguished and influential way of creating brand awareness, and reaching out to potential buyers has become easier.
While creating new business relationships with newly-found audiences, you can also stay connected with current and previous ones.
The points described above briefly explain how digital marketing is essential for business, and if you can implement them if yours is a start-up or on its last legs, the results will surprise you.