May 16, 2023
How Much Do Digital Marketing Consultants Charge?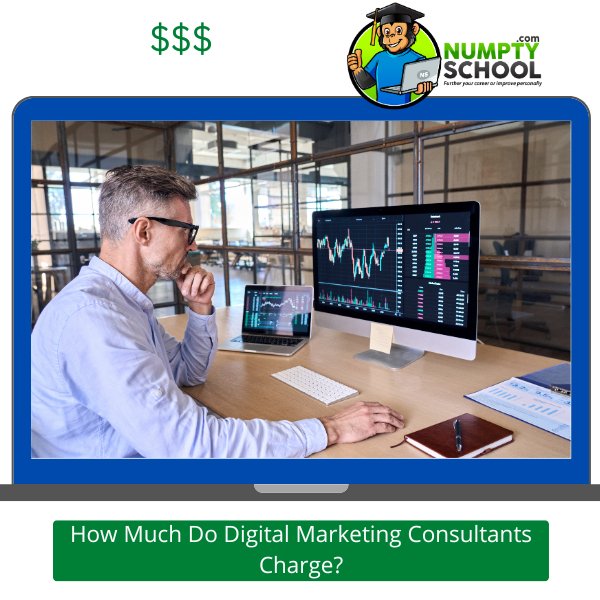 Digital marketing is a diverse field allowing one to take a path most comfortable for them without compromising productivity.
After learning the skill, niching down, and exploring the areas you are passionate about, you can choose to open an agency and hire more digital marketing professionals in each category, be a freelancer, or specialize in consultancy.
Some businesses have reported benefiting more from consultants than agencies and we are excited to share how much they pay for a service.
So, how much do digital marketing consultants charge?
On average, digital marketing consultants in the USA charge $46 per hour according to ZipRecruiter's findings.
However, so many factors influence the figure which is why we can see a crazy range from $10 to $100 per hour.
A few determinants are location, years of work experience, type of consultancy service you are offering, etc.
The salary scale starting from as low as $10 could be because of where the jobs are posted i.e. freelancing job boards attract some of the lowest paying clients.
---
How Much Do Digital Marketing Consultants Charge?
---
Sometimes, the consultancy fees can reduce if a client has bulk work that needs to be done.
Hence, all projects are consolidated and a general amount is charged for it as a whole.
Some consultants prefer taking a monthly retainer, while others couple this with payment for any other projects outside those agreed upon with a client.
Let's see how much digital marketing consultants charge with different working terms.
---
Hourly Payment
---
Most employees in the West pay hourly for work, even if it is a short project lasting minutes.
The average amount a consultant in the digital marketing field earns in the USA is $46.
However, this is subject to change depending on your experience level, location, and other factors.
In towns like Sunnyvale and Barnstable wages for these employees is as high as $55, while a consultant in Boston or Minneapolis takes home $31 which is still a middle cut compared to other cities worldwide.
Some companies pay hourly regardless of the duration you'll offer the services, 1, 2, or 4 months.
---
Payment Per Project
---
Digital marketing can entail heavy work, especially if you are starting or anything you do isn't working right for your business.
You might need a consultant to offer all-around help and help your brand get the benefits of digital marketing.
From there, you can choose whether to continue hiring a consultant, get agency services, or higher individual freelancers.
A business owner can decide to describe the job they are offering as a project e.g., it could be building a company website, tackling its front and back-end tasks, and ensuring it is fully responsive and functional before publishing content.
Thus, they are willing to pay for everything as one project.
Statistics by Credo show that more than 65% of digital marketing consultants charge $3000 or thereabout for single projects.
For instance, the website building and development project from start to finish can cost the estimated amount give or take.
Here, the number of hours worked isn't a consideration by the employer – that's for the consultant to plan themselves and give a time range to complete the project, whether it is weeks, a month, or two.
But, sometimes a client can give their deadline because projects need to be completed sooner for the business to keep running.
---
Monthly Retainers
---
How much do digital marketing consultants charge if they are working a few minutes to an hour for a company that needs their services for a long time?
The monthly retainer charges for digital marketing consultants are between $1000-3000 with others getting more depending on the company and amount of work.
Having a monthly retainer means you are available to render consultancy services each time the client needs you.
But, there are other working terms put in place to ensure it is a win-win situation for both parties and not the client exploiting the consultant because they are on a retainer.
Some companies with strong digital marketing foundations prefer this because everything is working well for them with their teams and they'll only be needing help from time to time.
---
FAQs on How Much Digital Marketing Consultants Charge
---
Digital marketing consultants are mainly involved in the creation of strategies, advising a business, and dedicated to a few clients because they are working as individuals and aren't agency-based.
Check out a few questions and answers regarding their charges.
---
Q) Why Are Digital Marketing Consultants Expensive?
A) A digital marketing consultant charges more because of their level of experience in the industry.
They have a higher level of influence and offer more than what an agency does e.g. strategy creation and advisory services (agencies execute these strategies and are only experts in their fields).
Luckily, they are flexible and you can discuss more than intended without additional costs.
---
Q) How Many Years of Experience Does It Take One to be a Digital Marketing Consultant?
A) For clarity, the primary qualifications for being a DM consultant are a bachelor's (minimum) or master's degree in the field and 5 years of experience (minimum) in the role.
You will have to have been a digital marketer for some years before advancing to a consultancy role.
Besides, you need a strong portfolio showing your previous works and successes, which should be easy to verify by prospective clients.
---
Q) What Are Some of the Duties and Responsibilities of a Digital Marketing Consultant?
A) A digital marketing consultant is tasked with developing strategies that work, analyzing analytics, overseeing a client's ad campaigns, and finding ways of increasing search engine rankings for websites among others.
---
Conclusion
---
How much do digital marketing consultants charge?
A digital marketing consultant in the USA charges an average of $46, but some companies pay more or less depending on the location, level of experience, and amount of work.
However, other brands prefer to pay for single projects which brings the take home to $3000 per project.
A few opt for retainers for their consultants and statistics show the amount to be between $1000-3000.
All in all, so many factors affect the figures mentioned above making some consultants' salaries more than others.