April 18, 2020
Top Ten Tips for Selling on eBay!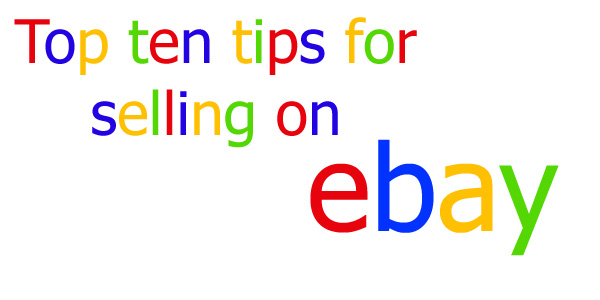 I have been selling on eBay for several years now and over that time I have learned a few tricks to help gain traffic and potential customers. If you start to use these consistently you should see gains in traffic and sales and help build your business into something you can be proud of. So here are my top ten tips for selling on eBay that have provided me with good sales and positive feedback.
1) Use the HTML builder found under "manage my shop" to build links to other products you are selling to provide options for customers. If you have cross-promotion within your store listings there is a good chance your customers will continue shopping rather than bouncing off.
This can generate loads of extra traffic and sales. There are also FREE tools available to build scrolling marquees and tables of products you sell for example. This website I found isdntek is very useful and has loads of other options and handy tools for promoting images etc. Cross-promote as much as possible to help gain extra visits and traffic.
---
2) Offer discounts on multiple buys. You can do this in several ways. You can set this up within the postage options by creating profiles for different categories etc.  Offer FREE postage on extra items within the same category and let the buyers know by highlighting in your description that buying extra colors or sizes will not incur any extra postage. You will be surprised at how many people think that if the next item is post FREE they will buy it.
Alternatively, offer buy 5 get one FREE deals within the "promotion manager" where you can create promotions for minimum order purchases. For example, spend £50 get 10% OFF or buy a camera get 10% off accessories etc. These options are available when you have shop categories in place within your store.
You can also have markdown events that can run for a few days. You can choose items or categories etc giving 15% OFF etc for the duration of the event sale. A good way to gain extra traffic just be careful you don't overdo the discount you don't want to lose all your margin.
---
Offer discounts on shipping and multi-buys!
3) Put a flyer into the package when shipping the items back to the customer showing them your best sellers, bargains or offer discounts off future sales. You can be inventive here showing images along with sharp descriptive text. Offer promotions also to give your customers the option to get some discount for multi-buys etc.
Offer FREE shipping etc or other offers to entice them back for more sales. You can also drop a freebie into the packaging if you can afford it. For instance if someone buys a higher value item you may want to drop in a FREE cheaper item from your store. Buyers love getting stuff FREE and this can prompt them to provide positive feedback and come back for more purchases.
---
4) Make sure to open up your listings to international sales. Selling around the world will allow for extra traffic and sales. You can put in the option for international shipping during the postage description allowing extra fees for different destinations.  If you correctly price out your shipping costs you should not be out a pocket but be prepared to add insurance to cover you in case of missing items. You can also remove countries you are un-happy shipping to so you don't end up with endless hassle.
---
5) Make sure to fill out your seller terms of conditions, payment and refund options within your store, you can create extra pages in the store to carry this info. Provide customers with as much information upfront as you can this will save on an unwanted barrage of questions from buyers. If you provide the answer just point the buyer to it and let them read for themselves.
Always offer at least 14 days no quibble money-back guarantee on all sales it is the law to have at least 7 days but I go an extra week to help customers decide if they want to keep it or not. Providing this will help them buy knowing they have time to return if unwanted. If you provide good descriptions you will find that you don't get many returns but this depends on your niche as clothing or shoes can prove problematic with sizing.
---
6) Try to update your shop every few days as activity on the shop gains traffic. I have noticed this loads of times for instance when I was not active i.e. not listing or changing items for a short period of time I would see a slow down in sales. However, as soon as I started to add new listings or change descriptions etc I noticed a peak in traffic and new sales.
So try to do something every day. Socializing your listings too is a great way to gain extra traffic. eBay offers three buttons to do this Facebook Twitter and Pinterest use all three. I try to take 3-6 listings and share them out every day or so.
---
Use the full TITLE line to describe your item!
7) Make sure to use as many of the characters available to you "currently 80" in the description to get your listing noticed under the searches. Be sure to put in the product name plus a description on why it's used or needed. For example "Men's Nike FS Lite Running Shoes blister reduction, breathable, snug fit" the more you have here the easier the search engines will find you.
---
8) Provide positive feedback to all customers, set this up automatically, saves time in administration. You can put in a half dozen responses which the system will choose randomly to provide back to the customer as soon as they pay.
There are a few options here and you can set it to wait to the customer gives feedback first but I find you are just holding them to ransom by not giving it up first. After all, they have paid for the item, but it's up to you how you go about this.
---
9) Take any criticism of your products with a pinch of salt don't get emotional, try to negotiate a compromise for disgruntled sales, that way you will reduce negative feedback. Better to offer a freebie that get negative feedback.
You will get one or two awkward buyers from time to time just try to work with them as best as you can. I would offer a full refund and return of the items first than fall out over a small profit.
---
Dispatch Quick, Quick and Quick!
10) Ship your items as quickly as possible. If you say three days make sure you complete in that time. Customers want items fast the faster the better. I am unable to provide next day delivery so I put on the description three-day dispatch and then post as quickly as I can.
This is usually quicker than three days and more often than not its dispatched the next day. If the first-class post holds up its end the customer will have the item in two days and so for my store, I have overachieved and the customer is happy. Win! Win!
It's better to put up realistic targets and get good feedback than try for broke, get it wrong and get negative feedback. Start off small and build up. If you find you have the time to ship items the same hour they are bought then great but make sure you stick to it.
Things do go wrong from time to time, an item was missed when printing and not posted when it should or dropped out of your bag etc. Its times like these you need to contact the customer right away apologizing for your error and providing some sort of compensation for your sloppiness. Again better to do this and lose a bit of profit than get bad feedback and hurt your score.
---
So there you have a list of ten top tips for selling on eBay, if you have any others add them below in the comments section. Thanks for stopping by and good luck on your listings. By the way, if you are working at listings now and need an extra set of eyes then drop me a line and I will give you my unbiased feedback. Two brains are better than one! 🙂
About Author
Mark