October 12, 2023
Are Digital Marketing Jobs in Demand Can you Start a Career?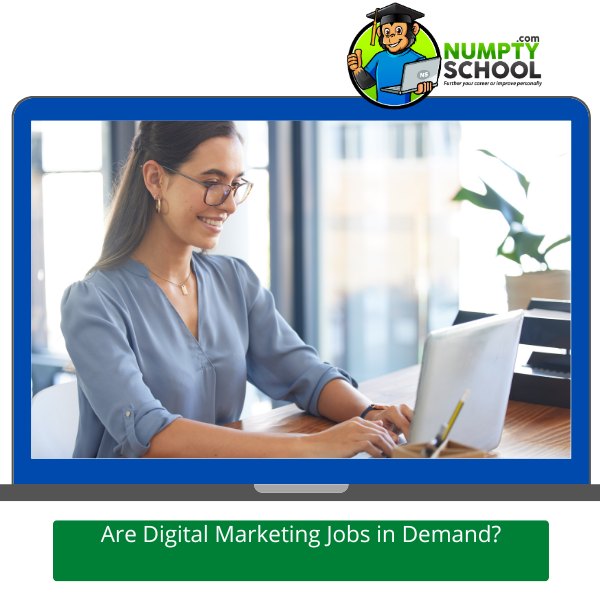 The history of digital marketing dates back to the 1990s after the internet became a thing and the Web 1.0 platform was developed.
However, the last two decades have seen this industry grow tremendously with many divisions cropping up under its umbrella.
This resulted in mass need for specialists in the field, and there seems not to be a steady rise in its opportunities.
So, are digital marketing jobs in demand?
Yes! In fact, it is one of the jobs with the highest workforce demand worldwide.
There are already 12 digital marketing channels so far, with each offering several job positions with different descriptions and salary ranges.
I have browsed a popular freelancer job board – UpWork – to confirm how many digital marketing jobs are posted in 24 hours.
194 jobs posted by verified clients with high hiring potential, and if you know how the platform works, you can agree that there are days when the number is high.
---
Are Digital Marketing Jobs in Demand?
---
There isn't a doubt that digital marketing jobs are in demand, especially in an era where most business owners are focusing on advertising their brands online, since that is where the majority of the consumers dwell.
Statista estimates the worldwide digital population to be 5.16 billion, slightly over 64% of the world's population.
So imagine the potential your business has if you invest in digital marketing to increase brand awareness and drive sales.
Here are some reasons why digital marketing jobs are in demand.
---
A Rise in Businesses Targeting Online Consumers
---
Businesses can run online offline, or take a blend of the two and be successful, but we are seeing more ventures focusing more on online advertising, hence the need for a digital marketing specialist.
From the above statistical brief, you can agree that most consumers are available online, which makes it ideal for small and established businesses to invest in different digital marketing models.
Depending on where you want to maximize your advertising, whether through a website, email, or social media, you will need an expert in one or more fields to help you achieve your business goals.
You will have hit a jackpot if you hire an all-rounder (who are rare to come by), but you can hire a social media expert for your brand's social pages, an email marketing strategist for your subscriber lists, etc.
It can be a huge expense, but it is advisable for any business to have a marketing fund to cater to such.
---
Thousands of Businesses Opening Monthly
---
A research by bussinessdit.com shows that 425,700+ businesses open monthly in the USA as of 2023.
The figure is a mix of online and offline businesses with potential for online advertising, hence there will be the need for specialists in the digital marketing field.
Though that is a huge number, remember that finances are a primary reason for struggling businesses and some never survive once things hit rock bottom.
Of the figure, about 25% of start-ups and small businesses make it to 15+ years, which tells why more people are learning digital marketing.
Note that not all business owners understand digital marketing, and since it highly influences growth and sales, the earlier they get a dependable digital marketer, the better for them.
Are digital marketing jobs in demand from the statistics above?
---
Numerous Digital Marketing Facets
---
Here, I mean the services that can be offered under digital marketing as a mother department.
Let's do the math: There are roughly 12 channels of digital marketing as of 2023, and according to LinkedIn's job postings, we deduced several general positions like below:
---
Marketing Manager
Marketing Expert
Marketing Specialist
Marketing Intern
Marketing Assistant
Strategist
Campaign Manager
Marketing Analyst
Marketing Officer
Marketing Executive
Marketing Trainer etc.
---
These are just a few, but the positions, including assistants are over 40 which makes it a considerable amount of posts under one digital marketing channel.
Small businesses might need 1-5 digital marketing employees, but big established companies invest heavily in this because online is where the money lies.
A company like Nike has 200+ members in its digital marketing team, including web developers, graphic designers, copywriters, marketing automation specialists, analysts, managers, planners, strategists, directors, and executives under each channel.
---
Are Digital Marketing Jobs in Demand? – FAQs
---
Now that digital marketing jobs are in demand, here are questions and answers to help you decide if it is a skill you can learn and earn from part or full-time.
Besides, it can be useful when you open your business and would like to run it yourself in its early stages.
---
Q) How Can I Get Started with Digital Marketing?
A) You can get started with digital marketing by enrolling in free and paid courses, niching down to a channel you are most passionate or experienced in, getting certifications, mastering analytics, and networking to get opportunities to work.
---
Q) What Is a Career in Digital Marketing Like?
A) Digital marketing is a job like any other, but it is diverse with numerous work avenues.
You can work as an in-house or freelance marketer depending on your schedule.
The company you work for will outline the benefits (if any) you get alongside your salary.
As one of the lucrative careers, you can sustain your lifestyle and throw in a few pleasantries here and there if you get well-paying clients.
---
Q) How Much Do Digital Marketers Earn?
A) A digital marketer's salary in the USA is averaged at $65,900 with entry level marketers earning anywhere around $49400.
Experienced professionals earn more depending on their location, qualifications, skills, job title, and work experience.
---
Conclusion
---
Are digital marketing jobs in demand?
Digital marketing jobs are in demand and will still be until another form of marketing overtakes it.
We doubt if this will happen soon because the future is still bright for this industry.
If you are thinking whether to take it as a career, now is the time!
In as much as there are already thousands of digital marketers in the field, they all can't fill the daily advertised job posts.
Learn how to be a digital marketer and network as you look for opportunities on job boards, social media, and platforms like LinkedIn which already has over 860,000 openings for the role of a digital marketing specialist.