January 12, 2023
SEO Training Course that Improves Your Website Rank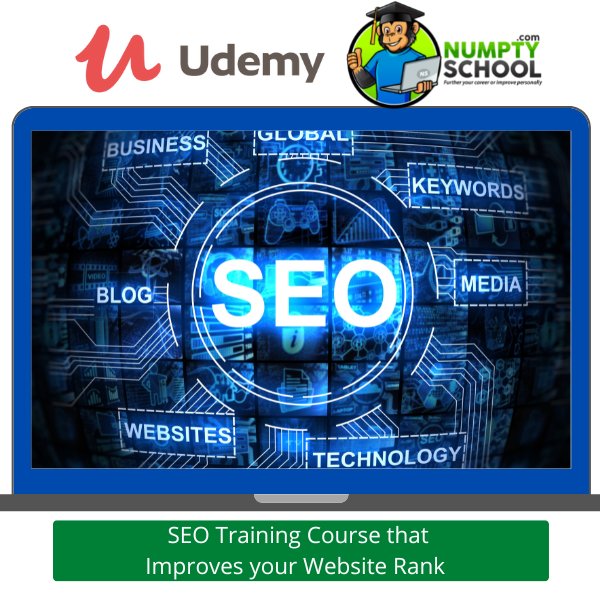 Learn how to steadily improve your website rank with better WordPress SEO, Google SEO, mobile SEO, and local SEO without being penalized.
Check Out the Course
---
Description of the Course on Udemy
---
Did you know that top Google ranks are the pinnacle of success for online businesses?
Research by Backlinko revealed that the top result on Google and other search engines gets about 27.6% of all clicks.
Yes! So, you need to improve your rankings, but how do you do this when the competition is fierce already?
Phil Ebiner and his colleagues have compiled an in-depth 4.5-hour course to teach you the ins and outs of Google rankings and improve your SEOs without finding yourself in trouble.
I am sure you didn't know that some strategies and techniques can lead to losing your site and its content if wrongly used.
It has become a norm that I must check on course ratings and reviews before committing to them.
Sounds strange, right? But, like when buying products on eBay or Amazon, you will be out of you're mind to add to your cart a product rated two stars by 300+ people, yet there is a similar one by a different vendor with 4+ stars rated by 300+ buyers.
Reviews speak volumes about the instructor, the course content, and the delivery, and this one is perfect for anyone who wants to improve their SEO for search engines.
The course currently has a rating of 4.7 stars after 125,500+ students enrolled.
It covers the most current SEO strategies and was last updated early in the year.
Phil keeps updating his courses frequently to get rid of obsoletes and add helpful sections here and there once any comes up.
I am saying this as it isn't Phil's first course that I have reviewed on this site – Oh! And he is such an experienced guy and has other courses from other niches like GIMP, Canva, Photography, and many more.
He has a professional background in video production and editing.
Phil has been creating and compiling courses for close to a decade now.
Over 2,000,000 students have taken his courses to date.
Ryan, too, is an expert photographer and entrepreneur, and his delivery shows how knowledgeable he is in his field.
This is a 4.5-hour course divided into six broad sections and 36 lectures.
I will categorize it under the relatively short courses as Udemy has quite a bit of longer ones lasting 38+ hours.
You will love the flexibility of enrolling in this online course as there is no deadline to complete it unless you set one for yourself and work towards achieving it.
Take a section or lecture bit by bit until you are done with the whole course.
Once done, Udemy avails a certificate of completion that you can download and use as proof of knowledge in the field.
Add the certificate to your CV or portfolio, and it will be a bonus when looking for jobs or projects, whether online or offline.
The course has a few downloadable resources and articles with important information relevant to the course.
These can be accessed offline when you need to refer to sections to read through when you don't have an internet connection.
Also, once you enroll in the course, you gain full lifetime access to it; keep returning to check for any updates as Phil is a consistent buddy.
While there is a bit of theory in the course, some parts are practical and will need you to work on the tasks to gauge your progress.
The projects are optional, but it would be great if you attempted them and shared them with the instructors for feedback – that is how to know if you are on the right track!
And since Phil and his pal want you to get the most out of your bucks, there is a 30-days money-back guarantee if you are dissatisfied with the course.
If you would like to improve your website's SEO and rank higher on Google and other search engines, browse the course content and requirements below to see what you need to get started and what Phil and Ryan will be covering in brief.
---
Course Content and Overview
---
Is your website not ranking as expected?
Or is it not on Google even after months of doing what you thought was right?
Here's what you have been needing!
A comprehensive course on how to improve all your SEO aspects and let Google do its magic.
The course explains all the most current best practices that will help you steadily increase your site's rankings.
You might want it quick, but going steady is the best idea!
Take the course, implement every section's SEO strategies and tips, and watch your site rank better on Google, FireFox, Bing, Yahoo, and other search engines.
Below are key search engine optimization topics that Phil and Ryan cover at a glance:
---
Find out the best ways of ranking number 1 on Google search.
Learn the meaning and importance of SEO and how you can use it to improve your site's rankings.
Know the actionable strategies and practice them to improve site ranking in search engine optimization training steadily.
Develop the essential skills to correctly use SEO keyword research, security strategies, and page load times to better your SEO ranking.
Optimize your site's posts, homepage, and pages to improve traffic, get more leads and sales.
Develop the right SEO link-building strategies that show Google and other search engines that your website matters.
Know how Google Business profiles, Google Maps, mobile SEO, and other local SEO can aid in remaining competitive.
Grow your brand and business using SEO best practices.
---
Phil and Ryan have created this course to break down search engine optimization into actionable steps.
Of course, it is a thing that has proven to be difficult for most website owners, but it is because they don't have the proper knowledge and skills to work around it.
Your website could be struggling and giving you sleepless nights, or you have been using outdated Google SEO practices.
You will learn appropriate hands-on steps to counter such problems and avoid them in the future.
Use the course to help you smoothly implement search engine optimization tips and strategies like keyword research, digital marketing, SEO content, and more.
All these work towards improving your rankings on Google and other search engines.
The instructors have created a high-quality SEO course to offer practical and real-time strategies with step-by-step directions on bettering your ranking through practical, affordable, and authentic strategies.
You don't have to be an expert at digital marketing to run a well-performing and highly-ranking website.
Neither should you undergo extensive training or spend an arm and a leg on SEO to get the best results.
The steps outlined by the duo should give you solutions to see results faster.
Here is what the course will help you with:
---
Increasing website visitors
Improving website management
Building your influence and brand
Growing your business and brand with new customers
The SEO program is among the highest-rated so far on Udemy and provides hands-on tips and tools to both newbies and amateurs alike.
I love that the instructors use real-world examples to explain their strategies and what's left is for you to implement them and see the results on Google.
They offer step-by-step guidance on what you should do correctly to start seeing results regardless of your experience.
Below are some of the topics on the course:
---
Mobile search engine optimizations strategies and applications
Keyword research methods and strategies
Local SEO strategies, applications, when and how to use all of them
Video SEO – the importance of growth using video SEO and how to use it
How to properly use SEO content to increase your site ranking while making the best out of each transaction
SEO link-building methods and strategies – how to find backlinks and build them to grow the influence of the site
YouTube and WordPress SEO applications, how they impact your SEO, and methods of maximizing on them
How to conduct SEO audits and find out where your strategies and rankings have improved and where you are going wrong, and you need to polish
Digital marketing strategies and applications since they are related to SEO and general marketing strategy
How to craft SEO content for the homepage
Use security to improve security ranking
How to register your business on Google to improve SEO
Use Google maps to draw visitors and boost your ranking
How to increase engagement and social shares to build and improve your brand
Submit your sitemap to Google
---
Besides all the strategies mentioned above, you will learn of some of the best site hosts and plugins to improve your SEO.
Specifically, Phil and Ryan tackle WordPress SEO best practices.
You will learn the importance of local SEO and why Google reviews can improve the SEO of your site.
After completing your course, you should have short-term and long-term plans to ensure your site ranks top on Google and have a professional and effective SEO strategy that works.
---
Who is the Course for?
---
Anyone with a website and wants it to rank higher on search engines
Those who wish to learn about SEO
Social media influencers
Web developers and designers
Bloggers
Businesses and corporations
---
What you will learn
---
Learn SEO, understand it, and use it to improve your site's rankings
The best way of ranking top on Google search
Actionable strategies to steadily improve your site's ranking
Improve site keywords, security, and load times to better your SEO
How to increase traffic and engagement on your site to improve search engine optimization
Optimize the website homepage, pages, and posts for SEO
The correct backlinking strategies that work
How to improve your website ranking using Google business profiles and maps
You learn how to grow your brand and business with SEO best practices from the program.
---
Lessons
---
Introduction
Understanding SEO
Location SEO using Google business and maps
Create content that ranks
Link building strategies
Bonus tutorials from Video School
---
Course Requirements
---
The course is geared towards beginners, and no prior knowledge of digital marketing or SEO is needed.
A computer with an internet connection.
An existing site or plans to build one to implement the SEO techniques.
---
FAQs – Questions on the SEO Masterclass: Easy Google SEO, Mobile SEO, WordPress SEO+ Course
---
Q) What are some of the strategies for ranking on Google that can be penalized?
A) Some things that can make Google penalize you are bad linking practices, over-optimization, and duplicate content.
Q) Can you rank on the top results of Google without spending anything?
A) If you can smartly optimize your site for organic traffic and work harder on free content marketing, you can rank higher on Google and other search engines without paying
Q) How long will Google take before ranking my site?
A) It can take close to six months to a year for your content to appear in search results. For some people, this could take longer than a year.
---
Conclusion
---
The key to your site ranking higher on Google and other search engines without penalties starts from creating helpful content and presenting it in the most beneficial way.
Take time and understand your audience, their needs, and desires.
Enroll in the course, learn, lather, rinse, and keep repeating the strategies and tips shared by Ryan and Phil.
Most importantly, churn out helpful content and promote it with everything you have!
And if you don't have a website yet and don't know how to go about creating one, beginner WordPress courses will help.
---
What Students are saying about the Course
---
Such an in-depth course if you want to improve your site's ranking.
The real-time examples came in handy to show how to work around each strategy.
The delivery of the course is excellent and for a fresher like me who had no clue on SEO, this helped a lot.
---